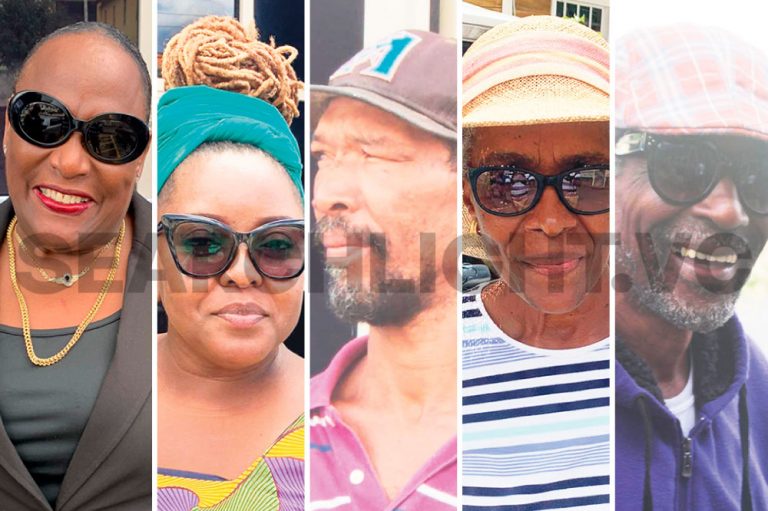 Lawyer describes arrest of four protesters as 'political victimization' (+VIDEO)
Lawyer Kay Bacchus-Baptiste has described as political victimisation, the arrest and laying of charges against four protesters who were charged for holding a public meeting illegally last Thursday, February 24.
Their appearance in the Kingstown Magistrate's Court on February 24, stems from a protest which was staged outside the House of Assembly building on February 23, 2023.
Luzette King of Mesopotamia, Adriana King of Belmont, John Mofford of Dorsetshire Hill and Robert "Patches" King of Rose Place were charged that on February, 23rd at Kingstown, they knowingly failed to comply with the direction of Corporal 471, Roycell Davis when advised to disperse from an unlawfully held public meeting which was held within 200 yards of the High Court building when the House of Assembly was sitting.
The defendants each pleaded not guilty to the charges and their matters have been adjourned to May 23, 2023 for trial.
Senior Magistrate, Rickie Burnett granted the defendant's $2000.00 bail in their own recognizance.
The defendants were all represented by Counsel, Kay Bacchus- Baptiste who told the court that "It is disgusting that I am standing here again with these defendants on what is clearly political victimization. " Her comments came due to her displeasure that her clients were denied station bail when they were arrested on Thursday. Bacchus-Baptiste said her client's should not have been in court for such a simple offence seeking bail.
She also highlighted the conditions in which her clients were kept.
She said the men were placed in cells "with faeces and ordered to take off their shoes and had to stay there overnight."
And, the females had to be taken to the hospital as they were unwell and were not fed while being in custody.
The lawyer said she was "distraught" at what men and women here in St. Vincent and the Grenadines are going through.
" We cannot continue accepting this, and persons can't continue looking the other way and not addressing the issue; it is really disgusting."
Bacchus -Baptiste spoke to the media outside the court on Friday and she said,"I asked the magistrate to grant them bail on their own recognizance simply because it is a petty charge. They are outstanding citizens, there is absolutely no reason why they would need to have a surety," she said.
" It was not a public meeting; they were individually protesting as every Vincentian has the right to do. They were speaking about the conditions in St Vincent especially the NIS situation which is something that should affect and interest every Vincentian."
The lawyer said "We all have a right to protest and we also have a voice and I think we all should raise our voices in this matter."
She added that "We cannot have them pulling our citizens in every Monday morning and wasting my time, wasting the police time, wasting everybody's time, clearly this is political victimization."
The defendants will return to court on May 23, 2023.