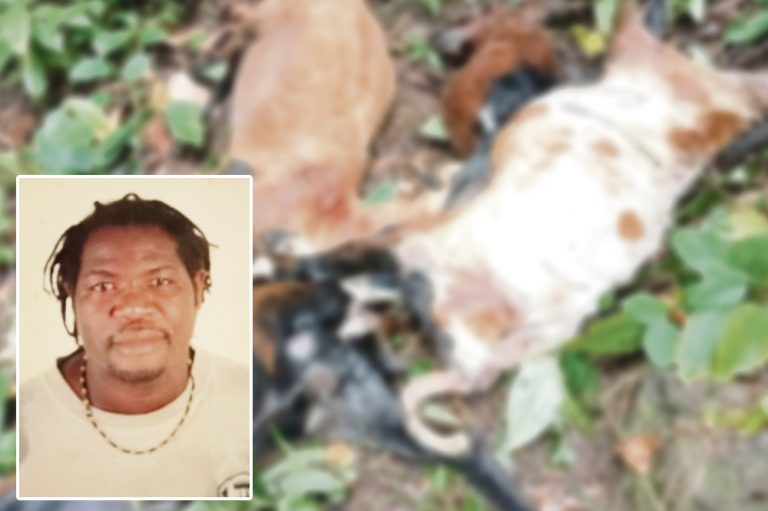 Farmer loses animals, blames devilish activity
One farmer is blaming the fatal attacks on sheep and goats in the Belmont mountains and surrounding areas over the last few months on something other than roaming dogs.
Ashburton farmer, Vernon Quammie said something is strange about the loss of the animals over several months now.
He told SEARCHLIGHT on Tuesday, February 28, that he went to 'change' his sheep on Sunday and discovered that four of them had been killed. He said that later that day other farmers who had sheep and goats in the mountain also discovered their animals dead as well, bringing the total loss to about 10 animals.
But while Quammie is upset and deflated by the loss, he said he does not think the mauling is being done by dogs, but by a person who he claims is drinking the blood of the animals.
He said he discovered his animals dead sometime after 6:00 a.m. and on inspecting the carcasses he found puncture wounds on all of them and it appeared to him that the blood was sucked out of the animals.
He said there was no blood on the ground where the animals were found.
The farmer said he later informed one of his cousins that he (Quammie) had lost his flock and when his cousin came to look, the cousin found that his animals had also been killed.
Quammie said his 'mother sheep' was found kneeling with two bite marks on the shoulder and one in the neck.
"…and I say, this can't be dog bite, and I see the other sheep, the shoulder blade and back leg…they punch it and suck the blood so I say this is not a dog else they would eat the meat…my cousin sheep, the same thing," Quammie said.
When he found another of his dead sheep, Quammie claimed that the blood was sucked out the animal's rear "…and a lamb born in January that dead too and two of the mother sheep been pregnant."
Quammie said the loss has rendered him sleepless.
"Me nah sleep last night, me nah sleep Sunday night. One sheep with lamb, two other one[s] were pregnant. My cousin lost one mother sheep and his two lambs-ram.
"That's not a dog. It could never be a dog, dog not doing that. If it is a dog, a dog would bite up a sheep and eat it up…just watch, them punch up, you could naturally see teeth punch," Quammie told SEARCHLIGHT.
He is of the opinion that it is someone involved in devil worship who is going into the hills at nights and killing farmers' animals.
"That is somebody dealing with the devil. The bites look like vampire teeth. A lot of persons have been losing animals. A man lost two sheep in his yard and he has dogs guarding. Something is wrong," Quammie concluded.
He said that another farmer told him that he stayed with his animals one night after he realized something was strange and that farmer saw red, glaring eyes and shouted "me nah fraid you", after which whatever it was ran away.
"I lose everything. I need to get back some sheep because I have space to raise animals but I will keep them home this time," the distraught man said, adding that he 'unofficially' reported the incident to the police.
He said that in the past, persons have stolen sheep and goats and skinned them on the spot and left with the meat, but over the last few months, the animals are just being left dead.
A forestry officer told SEARCHLIGHT on Wednesday that the attacks are most likely being carried out by a dog or a pack of dogs.
He said the attacks are happening mainly at nights all over the country and persons usually complain of losing animals in the same way described by Quammie, but sometimes the attacks take place during daylight hours.
The forestry officer also noted that dogs do not eat the animals but kill for sport, leaving teeth punctures on the animals they attack.
"We have never heard about anything other than dogs doing these things. There are people who own dogs who would know that when they kill animals they don't eat them, they just kill them and leave them there," the forestry officer said.
But Quammie is discounting this explanation and said he will be keeping his animals close, somewhere in the vicinity of his home.
The killing of animals by dogs is not a new problem. In June, 2011, this publication reported then acting chief agricultural officer, Leslie Grant appealing to dog owners who let their dogs roam freely to be aware of the destruction done to farmers and their livestock.
The appeal was made after a number of farmers in the Belair/Dauphine area had complained of harm done to their animals which often leave huge financial dents as some small ruminants can each fetch up to $500.
Grant then, had noted that the problem was also affecting the government's drive to reduce the meat import bill which in 2010 was well over $5.4 million.
A Peruvian Vale farmer also had reported to SEARCHLIGHT in 2016 that on November, 30, at around 2:33 a.m., a pack of wild dogs under the cover provided by a trough system that was passing through the islands killed six of his goats and two sheep.