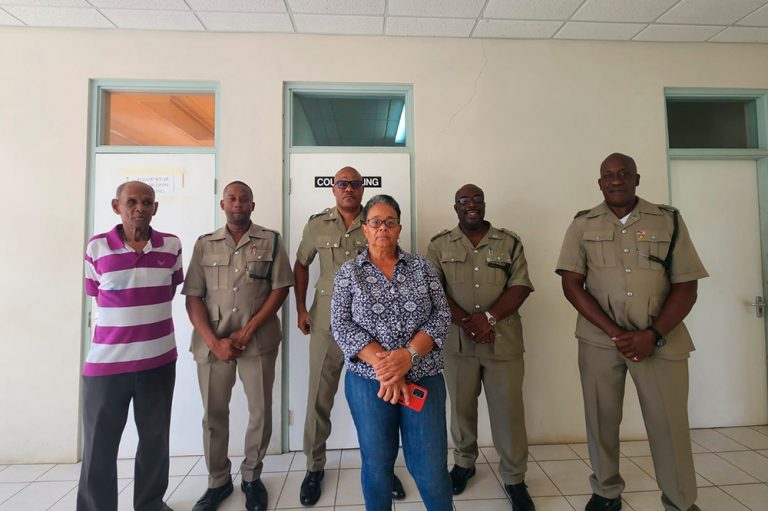 Belle Isle correctional facility gets donation of kitchen utensils
The Board of visiting justices on Tuesday, February 14 donated a quantity of kitchen utensils to serve over 200 inmates at the Belle Isles Correctional Facility.
The items, including a set of pots, pans and other culinary items were donated to the prison kitchen to help improve the efficiency of food preparation for inmates. They were presented by chair of the Board, Yvette Browne and her deputy, Curtis Shallow at a handover ceremony at the Belle Isle facility. Representing the prison were chief, Edson Matthias; superintendent Kevin Alexander; and acting superintendents Dwayne Bailey and Julian Clarke.
Browne credited superintendent Alexander for his persistence in getting her to tour the prison's kitchen and said the gift is as a result of that tour.
"…one day he got a hold of me and he said to me, 'come let us tour the kitchen', and after going with him and touring I met with the other member of the board of visiting justices and we wanted to give back something. Hence we decided on pots and pans, and whatever was necessary at the time…
"We were hoping to have them for Christmas,but they say better late than never…"
She added that the Board hopes to continue to work along with the prison in order to provide further assistance.
"From time to time, whatever help the Board can give to the prison, we will definitely do it. We are not here to just deal with matters pertaining to any problems that prisoners may face…but things that are needed, and from time to time that we see we can fill in, definitely we will do it once it is within our reach."
Deputy chair, Shallow said he was pleased that the Board had taken the initiative to provide the utensils.
"I am very happy to know that we could contribute. This is not the first time that we've done it. We will continue doing it as long as we have the health and the strength and the means."
Superintendent Alexander said the donation was timely.
"…It's something that we always appreciate, anything that is given to the prison, we appreciate it. Cooking for 200 plus inmates is not an easy feat and we go through these things pretty fast…the utensils that are handed over today are of really good quality so as the superintendent in charge of the prison, I really want to express my heartfelt thanks and appreciation to the Board for their donation…"