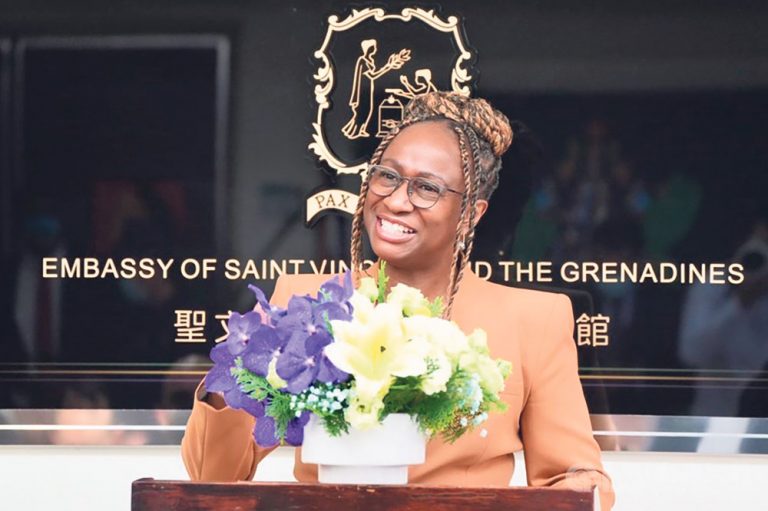 SVG officially opens reading room at Taipei embassy
by William Yen
A reading room with over 40 books by authors from St. Vincent and the Grenadines (SVG), was officially opened by the Caribbean nation's embassy in Taipei on Tuesday, February 14.
The reading room inside the embassy in Taipei's Diplomatic Quarter opened with approximately 55 books, including novels, poetry and non-fiction works by writers from St. Vincent and the Grenadines.
Among the titles are "Shape of a Warrior" by Taiwan-based writer Peggy Carr, a socio-cultural historical narrative about life in St. Vincent and the Grenadines before the arrival of the Europeans, and several books by the country's Prime Minister, Ralph Gonsalves.
At a ribbon-cutting ceremony, Ambassador Andrea Bowman said that she hoped the space would encourage "the process of close reading, as opposed to cursory reading, is quickly being lost in our 21st century's online bustle."
"Active reading promotes deeper thought and reflection, which should then lead to more thoughtful actions," Bowman added.
The reading room is also part of the embassy's contribution to Taiwan's goal of making the country bilingual by the year 2030, Bowman said.
The embassy will also invite students from elementary to tertiary level to share in specifically selected readings with trained teachers of English, Bowman added.
"What is more, our embassy welcomes ideas for the further utility of this important space. So welcome, for the love of reading we welcome you to the reading room of our embassy," Bowman said.
Foreign Minister of St. Vincent and the Grenadines Keisal Peters, who was making her first visit to Taiwan, cut the ribbon at Tuesday's official opening.
"In St. Vincent and the Grenadines, education is a very important cornerstone, particularly in our administration, we refer to it as the education revolution and one of the keys to that revolution is reading," Peters said.