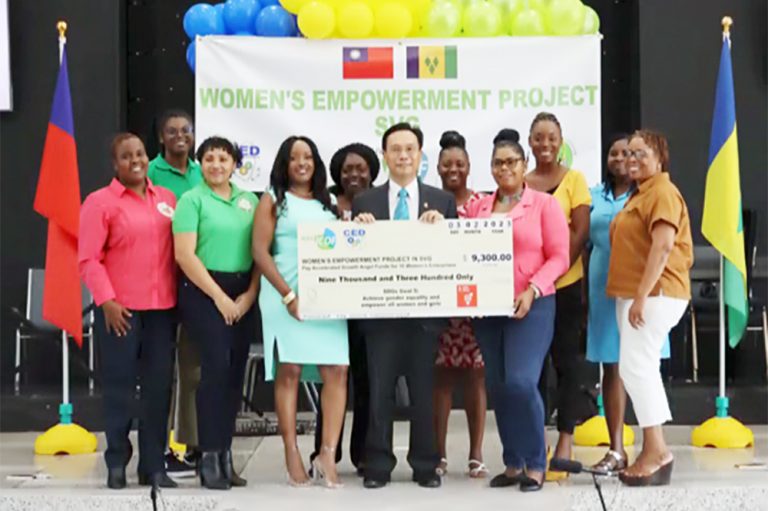 Ten women to contest WEP Business Plan Competition
Ten finalists will next Friday February, 17 contest the final Business Plan Competition to be held under the Women's Empowerment Project (WEP).
They qualified for the finals after they were drafted into the Entrepreneurial Elite Category of the WEP when they participated in the third and final cohort of the project, which is funded by the Republic of China (Taiwan), and implemented through the Taiwan Technical Mission and the Centre for Enterprise Development Inc.
They each received a grant of $9,300 at a grant awards ceremony on 3 February, 3 at which a total of $243, 000 was distributed among 31 women who participated in this final cohort from August to December last year.
The Finalists are:
Christilyn Williams Jarvis – Primal Herbal Health; Glendris Holder – Leb'Elle Skin Houz; Noddie Barker-Snagg – Casa de Snagg; Theresa Young – Tide Sand & Hand; Kimerly Williams – K's Amazing Cakes; Affisha Clarke – Teric's Poultry & Meats; Bernadette Warren – Brio Che; Auldine Browne – Auldine's Cosmetique; Molicia Charles – Taste of Happiness; and Semesha Corea – Edge Media Centre.
Three of the finalists will each win cash prizes of $26,000 and an award.
They will pitch their business ideas to a panel of judges, who will assess them in several areas, including business feasibility, revenue generation , sustainability, and innovation.
The WEP, which began in August, 2021, was part of an initiative entitled 'Assisting the Economic Empowerment of Women in Latin America and the Caribbean in the Post-Pandemic of COVID-19'.
The objective is to boost the country's economy following the impact of the pandemic and maintaining social stability by strengthening women's economic empowerment through employment and entrepreneurship.
The competition is set to take place at the Blue Lagoon conference room at Ratho Mill. (API)