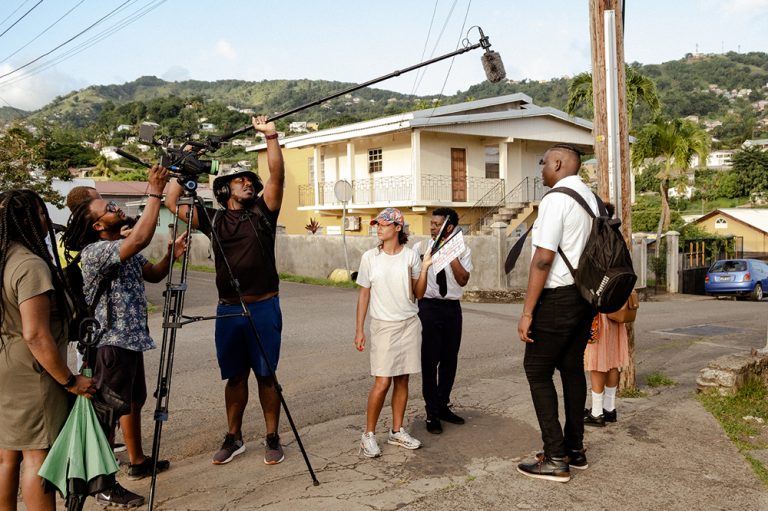 SVG to be represented at the Berlin Film Festival
ST.VINCENT and the Grenadines (SVG), will this year, for the first time, be represented at the Berlin International Film Festival (also referred to as the Berlinale).
Acting as the local ambassador will be Vincentian film maker Aiko Roudette, who told SEARCHLIGHT that she is "honoured" to be the one chosen by the United Nations Educational, Scientific and Cultural Organization (UNESCO) to hold SVG's mantle for the first time at this festival.
The Berlinale is one of the top five most prestigious film festivals in the world. The others are Cannes, Venice, Toronto and Sundance.
Roudette told SEARCHLIGHT on Monday, February 6, that the event is intended to enhance the Caribbean film industry's artists' representation and access to the European Film Market. It is also structured to provide highly specialized marketing tools for Caribbean film makers and producers, while facilitating entrepreneurial networking between both Caribbean film industry talents and European Film Market stakeholders.
"I'm humbled and honoured to have been chosen by UNESCO to represent my country in Berlin. I am extremely motivated to see the film and audiovisual sector grow in St.Vincent and the Grenadines, and events like these help put us on the map and build international partnerships that can support that growth in a multitude of ways," Roudette said on Monday.
She is also looking forward to connecting with the representatives from the film sector in other Caribbean islands, "and strengthening our integration into the regional landscape of Caribbean film."
Roudette who will leave on February 14, said she will represent Vincentian film and film makers and this is "pretty significant" in terms of the arts in SVG.
She will have on display not only her own work, but work from several locals, namely- Jamali Jack (the Digital Marketing
Officer at the St.Vincent and the Grenadines Tourism Authority and Chief Creative Designer at iMaculate iMagez); Dante Ollivierre (works with one of largest non-profit organizations in the world on their 11th and final European development fund Programme RESEMBID);Tolga Akcayli (writer of the film "Too Lickrish", selected at six international festivals); Akley Olton (winner of the international Creative Activism Award from the Cultures of Resistance Network); Javed DaSouza (founder of Alpha Studios); Colin Browne (founder of Mr. Retail, an audio visual production company established in 2006); and Hayden Billingy (script writer, author, actor, recording artist and music video director).
The presence of SVG and other Caribbean countries at the Berlinale is part of UNESCO's implementation of the European Union funded Programme, Transcultura: Integrating Cuba, the Caribbean and the European Union through Culture and Creativity.
As part of this programme, UNESCO teamed up with Berlinale in its hope to enhance the Caribbean film industry's representation and access to European Film Market (EFM) opportunities.
Roudette said when UNESCO contacted her, she reached out to all the film makers she knew here to build a portfolio of Vincentian work.
She noted that at the festival, there will be a Caribbean umbrella stand where photos and films from different industries in the Caribbean will be displayed.
The Vincentian work will be displayed in a segment.
"As an ambassador for Vincentian film my focus is to promote the work that is happening collectively here. Together, all the work we have is very strong and it shows a lot of potential that we have here.
"So it is really to create a portfolio and present it as best as possible to spread awareness that there is film going on in SVG," Roudette said.
She noted also that she will be trying to acquire resources for film production and education.
"I am really proud and humbled to be able to represent film makers that I admire and I know that they have worked really hard.
"We are at the very beginning stages of film, it is an emerging industry, and this is why UNESCO wants to do this," Roudette noted. Further, that it is becoming internationally recognized that the Caribbean has an emerging film industry in its early stages.
"…so what UNESCO is doing is trying to support the movement that is already going on in these islands to help them grow," Roudette said, adding that she is grateful and will represent everyone in the best way possible.
Roudette is an award-winning film maker and the director of the Hairouna Film Festival, an NGO devoted to the development of the film sector here.
At 19 she received a scholarship to study film in NewYork. While achieving her bachelor's and master's degrees, she acquired a number of freelance clients, including Quest Love's company Okay Player, and Little Monster Films, responsible for the Oscar Award Winning documentary Free Solo (2018).
Over 10 years Roudette has held primary production roles such as cinematographer, editor, director, producer, archival researcher and sound tech across a wide variety of content including fiction and documentary films.
She also has worked on international productions in Berlin, Dominica, Uganda, St. Kitts and London.
In 2018 she moved back to St.Vincent and, along with a group of creatives, started the Hairouna Film Festival which has been featured in the regional press including (One Caribbean), and the international publication (Vanity Fair).
"I am particularly proud of the Hairouna Film Lab launched in 2021, a script-to-screen competition offered exclusively to Vincentians," she said.
Roudette explained that the Hairouna Film Lab Festival aims to support the expansion of the Vincentian film sector beyond short form promotional content into fiction and longer form documentary.
In addition to festival work she currently has three short films in postproduction while participating in the development of film making workshops in SVG.
Her films have been shown at events in Toronto, London, Poland, New York, Trinidad and Tobago (T& T), Berlin, St. Kitts, Aruba, Tunisia and here in SVG.