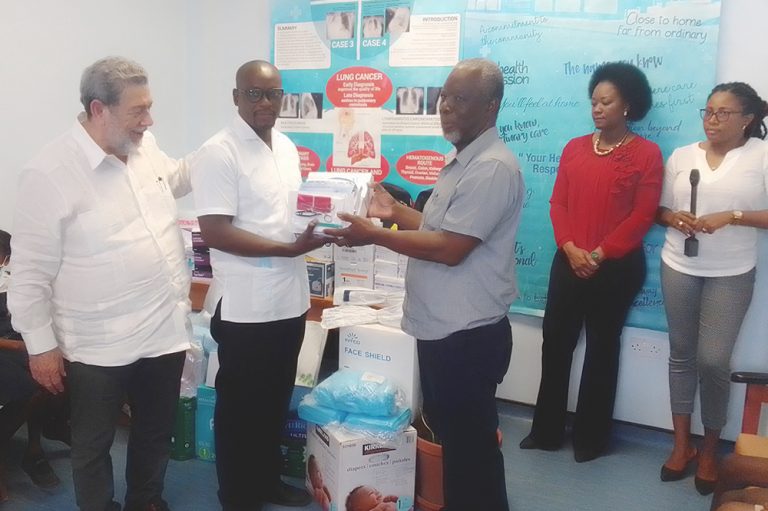 US-based Vincentian donates medical supplies and book bags (+Video)
Former Georgetown resident, Neil Corke who currently resides in the USA continues to give back to the community which raised him, and he is even extending his assistance to neighbouring villages.
On Friday, February 3, Prime Minister Dr Ralph Gonsalves was on hand to accept a donation of medical and school supplies which were sent by Neil Corke and his family through Corke's close relative, Tyrone Burke of Gorse.
Burke, a former chief personnel officer is Corke's first cousin and main contact through whom he sends donations back home.
The donation of medical supplies and book bags were handed over during a brief ceremony at the Modern Medical and Diagnostic Centre at Georgetown.
Burke and his wife, Debbie, were both present to make the presentation last Friday. In handing over the items to the Prime Minister Burke said that Neil migrated to the USA when he was about eight or nine years old, and has lived there since.
"He is not a wealthy man, he works in a correctional facility.
"He has been giving to us supplies for the medical centre about nine years now," Burke explained.
Apart from a large quantity of medical supplies, the donation also included 285 book bags for students in Georgetown and neighbouring communities.
Burke said the bags are for students of the Sandy Bay primary and secondary schools; the Langley Park Primary School; the Georgetown Primary School and the Georgetown Secondary School as well as the primary schools in Colonaire, Park Hill and South Rivers.
In accepting the donation, the Prime Minister said this is not the first time that he is receiving donations from Neil Corke.
Gonsalves who is also Member of Parliament (MP) for the constituency of North Central Windward is this month celebrating 29 years as MP for the area.
He said he is pleased to see overseas based Vincentians giving back to their communities, and he extended gratitude to Neil Corke and his family and also to Burke and his wife for making the donations possible.
Permanent secretary in the Ministry of Education Myccle Burke, was also present at Friday's handing over ceremony.
The PS expressed gratitude to Neil Corke and family on behalf of the Ministry of Education and noted that the ministry advocates that for education to grow, there must be a multi-stakeholder approach.
The handing over ceremony was also witnessed by deputy hospital administrator, Idinger Miller-Walker and students of the Georgetown Government School and the Georgetown Secondary School.