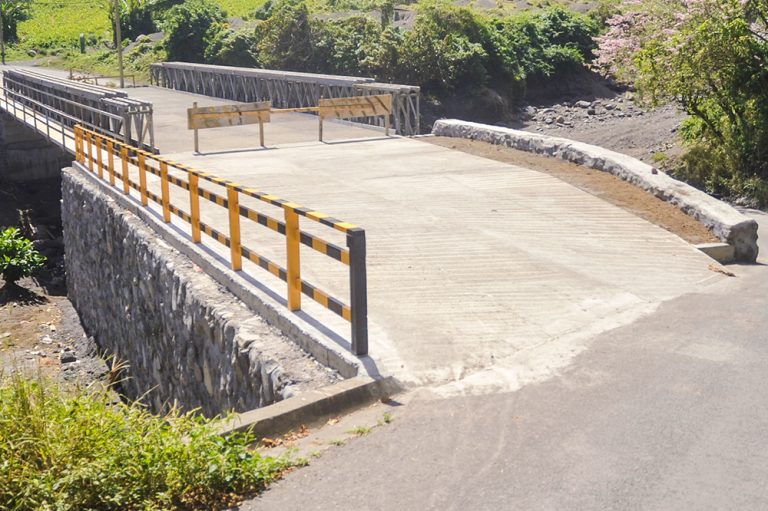 Gonsalves confident that Bailey Bridges will meet February completion deadline
Prime Minister Dr. Ralph Gonsalves remains hopeful that all works on the Bailey bridge projects at Overland and Noël river crossings will be completed by the revised deadline of February 2023.
Responding to a query on NBC Radio on Wednesday, February 1, the Prime Minister said "They should be done this month, certainly."
He also referred to a few issues in relation to the connection between the concrete access road to the northern end of the Bailey bridge at Overland and the existing roadway. He said that the turn needs to be "more vehicular friendly", and that the contractors would work on fixing this problem.
During a visit by SEARCHLIGHT to the area on January 31, a resident who gave his name as Chen had also raised that connection issue.
He said he had spoken to officials of the contracting firm that is undertaking work on that river crossing about the railing and the likely impact it will have on vehicles travelling south and turning onto the roadway.
"I went and spoke to a lady about that end of the railing. It is tight and if they would just break off a small piece at the end of that wall, it would be easier for cars," Chen had told SEARCHLIGHT.
Both access concrete roadways at the Overland crossing have been completed and the railing to protect pedestrians have also been erected, but work is yet to be completed on the Bailey bridge at the Noel river crossing.
The pedestrian access pathway has not yet been installed; however, the concrete access roadway to the north of the bridge is finished as well as the placement of the bridge roadway.
One official said that depending on the pace at which the contractor works it will not take two weeks to complete that bridge.
Heavy rains during the 2022 wet season were identified as the main reason why the bridges were not completed before Christmas as had been promised, and a new completion deadline of February, 2023 was set.