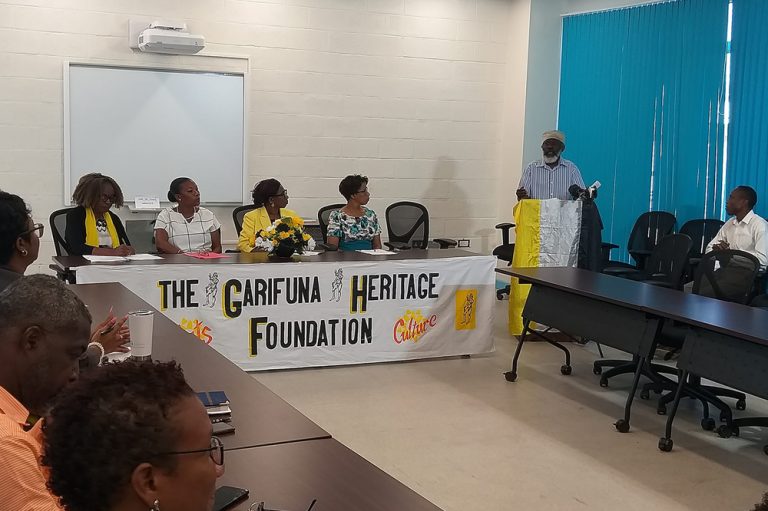 Garifuna Heritage Foundation unveils activities for National Heroes and Heritage Month
The Garifuna National Foundation (GHF) on Monday, February 6, unveiled a raft of activities to be held during March, National Heroes and Heritage Month.
The series of activities will begin with the 8th National Schools' Garifuna Folk Festival on Friday, March 3, and culminate with the 10th International Garifuna Conference on Saturday, March 11.
The festival will be held at the Victoria Park from 9:30 a.m under the theme, 'Children of Chatoyer, Fruits of our Heritage' and is being done in collaboration with the Ministry of Education. The ministry is also collaborating on the staging of the cultural aspect of the festival that will be a rally featuring dance, song, drama and choral speaking.
Senior education officer, Aldia Dyer urged students to participate in these activities and to exercise creativity in their performances.
"…we ask you to make creative and informative presentations. Students can also use costumes to enhance their presentations. The other activity is a display of local historical events and we have many that you can choose from: the 1935 labour uprising, and next category, they can present food: local food such as cassava, foods made from cassava…golden apple juice etc; and then we also urge you…to collect and display old appliances…and finally they are encouraged to do cultural presentations, songs, dances, poetry, music and so on."
The festival will be preceded by a march to be led by the Royal St. Vincent and the Grenadines Police Force band from the Bishop's College grounds to the Victoria Park. Students who are participating in the march will be judged and awarded as follows: largest group of students; most organised group; and the best/most creative use of Garifuna colours. With respect to the performance segment of the judging process, awards will be given for: best drumology; most outstanding Garifuna song; most outstanding Garifuna dance; most outstanding Garifuna choral speech; most creative presentation; best Garifuna fashion for teachers; and best Garifuna fashion for students.
The exhibition booths competition is designated for secondary school students who will be awarded as follows: most outstanding traditional booth; most outstanding research paper; most outstanding oral presentation, and most creative local dish.
A hybrid opening ceremony will be held on Thursday, March 9, at the conference room of the National Insurance Services and will conclude on Saturday, March 11.
The conference is being held in collaboration with The University of the West Indies Open Campus under the theme, 'From Reaction to Action: Challenges and opportunities for promoting Reparatory Justice for indigenous Peoples'.
At the opening ceremony, Dr. Frederico Lenzerini who is a professor of Public International Law at the University of Siena, Italy will deliver the first keynote address of the conference. On March 10, Dr. Garrey Dennie, an associate professor of History at St. Mary's College of Maryland will present the second keynote address.
There will also be a panel of speakers presenting on the topic, 'Elements of Reparatory Justice for Indigenous People in the Caribbean'. Presentations will also be done by members in the Diaspora including from Belize, Dominica, Suriname, Guyana, as well as participants from St. Vincent and the Grenadines. Professor of Faculty and Law, Ana Filipa Vrdoljak at the University of Technology at Sydney, Australia will present the final keynote address on March 11.
These presentations will be followed by those of overseas delegates from the Garifuna Diaspora. There will also be a homecoming celebration where representatives from the Garifuna Diaspora are expected to visit St. Vincent and the Grenadines. The conference will conclude with a final keynote address from Prime Minister, Ralph Gonsalves followed by a closing ceremony. Each day of the conference commences at 8:00 a.m.
"Through art competitions, essay competitions, exhibitions- all activities that we participate in on a regular basis, we have been able to engage the public to the extent that whenever we send out a call for participation in activities as part of our programme, as part of our public engagement, that call is immediately answered and very often we are oversold," president of the Foundation, David 'Darkie' Williams said.
" We are overwhelmed by the participation of the general public because within the GHF we believe that if you do not know the physical activities, things like the dance and the songs and even the music, if you don't have that background, if you do not have a knowledge of the history, then you may not understand why you're dancing, the significance of why you are singing this language. How could you use the singing and dancing and the music…to enrich your life and to make a Vincentian statement and that is what this foundation [hopes] to achieve in this programming."