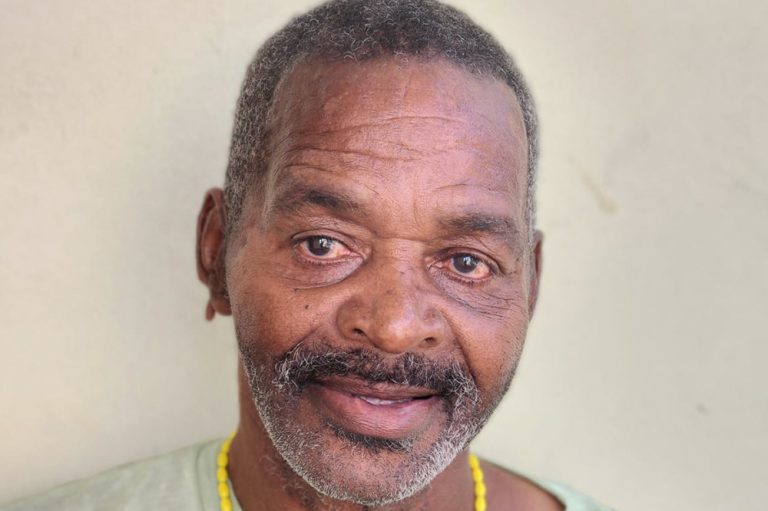 Lord Blakie moves from cocaine, says he's now living for the Lord
Calypsonian Lord Blakie known for such notorious lyrics, 'take off your panty' and 'no more long talk' has declared that Jesus has changed his life and he will not turn back as he has seen nothing on the other side.
McDonald "Lord Blakie" Cuffy took the world of calypso by storm when, as a 15 year old , he won the Junior Calypso competition in 1975. He has also claimed multiple titles since then, including Extempo Champ in 2009, and has worked alongside five-time Soca Monarch Champion, Skinny Fabulous and producer, Alex Barnwell of Nonfiction Studios.
However, Blakie is now 63 years old, and currently resides in a homeless shelter on the compound of the Catholic Diocese in Kingstown where he feeds from the soup kitchen, having nowhere to truly call his home. On Tuesday, January 31, Blakie spoke to SEARCHLIGHT about his drug addiction, having fame but no home, and encountering the Spirit of God, a moment which he said has changed his life.
"…so what happened is that…It's disappointment I get. I get a lot of disappointments. I didn't get the right thing done for me so that is how I end up here."
Blakie claimed that the system failed him. He said during certain periods of his fame, he had no home, and the people who worked alongside him knew that. They made many promises about assisting him with a home or land, and to this day he said he has received neither; and after not receiving the help he needed Blakie said he began to toy with drugs.
"I gone to smoke marijuana…smoke cigarette and marijuana…and blending the cigarette with the marijuana…and then after now, the cocaine come in. I go and smoke the cocaine, and it had me hooked, like captivated by the coke…when I work now, I work and getting the money to support the habit…work for the money, go buy coke and smoke, smoke, smoke, that's all I used to do…".
Blakie said he even ended up in jail, and during his incarceration, he lost his mother to breast cancer.
"I get into trouble with something I do, I can't even remember what…I made some trouble, either steal something or something, you know when you're young and inexperienced."
However, Blakie said that he had an encounter with the spirit of God six years ago while he was living in an abandoned building near the Victoria Park.
"… It have a Rasta head boy who [was] living in the same room with me but he was sleeping on cardboard…so when I was sitting…I saw the spirit, that is Christ coming there, a spirit walk up to the iron gate…so I calling to [my friend] and I telling him to…go see what that man there want, but is a spirit who come up there and I thinking it's a real man, so when he get up now and he go there, he go by the gate and say 'yeah man, what you want,' he's not hearing nothing, so he come back now…I know it's a spirit I see there, I don't believe it's a person…"
He said after that encounter, at age 57, he attended the Roman Catholic Church and gave up his lifestyle.
"…I never put no more drugs to my head, I never drink no more rum, I never smoke no more marijuana, I never smoke no more weed, I just changed, completely changed. I'm trying to look to be redeemed; and…redemption for what I lost. I want to gain it. I lose girlfriend, I lose all them things in my life…".
Blakie who has no regrets that his life is changed and is now telling others to do the same.
"Live for Christ so that you can be a testimony for Christ; you can be a testimony for God because if you're living in a foolish way, you're going to die and you'll go to hell, and all that is in hell is fire," he's admonishing.
" It don't have nothing else in hell. You're not going to hell and meet a girlfriend…that you can talk to and associate with, you're meeting fire," Blakie declared.
"They have a thing where they say who can't hear go feel, and I don't want to feel and I can hear, it don't make no sense, I'd be a fool…" he continued.
Blakie says he now living with an attitude of faith and is believing for his own home. He said he already sent a letter to the Prime Minister seeking assistance, and he also hopes to receive some financial aid from the Beckett Benefits Organisation, owned by Vincentian cultural ambassador, Dr Alston 'Becket Cyrus. Blakie also stated his intentions to get back into music, not promoting the things he previously did, but to glorify the name of God.