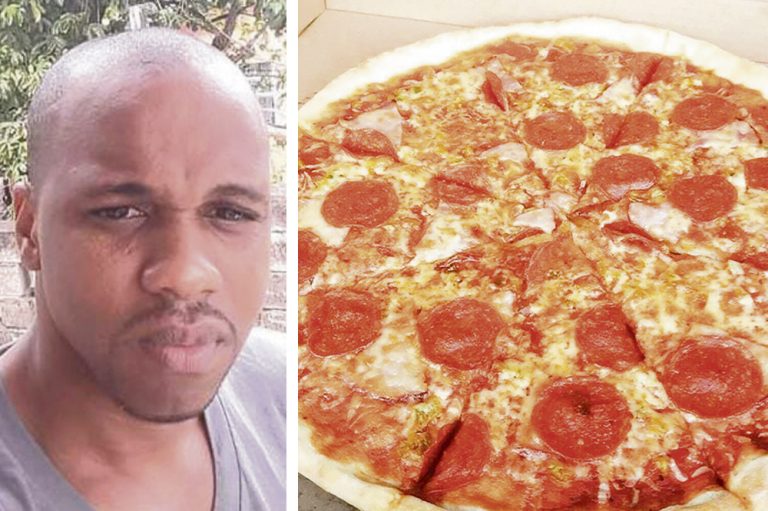 From 'hard times' to thriving hustle -Jamar delighting pizza lovers
Four years ago, 32-year-old Jamar DeRoce, was in rut.
He had been working as a tradesman and a labourer, but he was not satisfied with the direction in which his life was going.
"I hit rock bottom and I ask -you have to ask yourself, what am I good at?
You have to dig deep down and I am good at many different things but I had to ask what is the problem; why wasn't I reaching and trying to do something with my life?"
Deep introspection led Jamar to launch his own business, JD Delights, selling pizzas with what he calls his "special pizza recipe".
He explained to SEARCHLIGHT that his formative years were spent in his aunt's kitchen where his love for food preparation was born.
"Since I been seven and eight years old, my auntie Cheryl, always used to have me in her kitchen in Sharpes and everything she doing I just watching and I used to help and do things with her."
With the courage in hand to chase his dreams, Jamar said he used the resources available to him to push his business forward. He recognized that he did not have the cooking tools available in large restaurants so he "hacked" his oven to allow him to bake up to four pizzas at a time. This way he is available to prepare up to 25 pizzas a day.
From his first month in business, Jamar said he felt as if he had found his niche as his products were "blowing off the shelf", adding he believed the effort he put into perfecting his cooking has borne good results.
"A lot of people do things certain ways, but I don't do as other people do it. I try to be innovative. Basically make it better than most people do it."
And to get around not having a store front to sell his products, Jamar said he treks through the city on foot, hitting areas such as Rose Place, Little Tokyo Bus Terminal as well as China Town by the old meat market.
Jamar noted that rising prices of ingredients has forced him to find alternate ways to source what he needs.
"If I can't buy certain things in the supermarket, I will go to the wholesale and get it cheaper…that way I can keep my price at a certain level to keep the customer coming."
And keep coming they do, Jamar said, as he jokes that customers are unable to eat just one slice of his pizza.
"If you ain't have money and you eat one of my pizza, I sorry for you cause you will want more."
While JD Delights continues to flourish on the streets of Kingstown, Jamar said he has set his goals on expanding into other businesses.
And, he used the opportunity to give some advice to other young people who are interested in setting up their own business.
"Don't focus on the money, chase the goal and look for something bigger."
RELATED ARTICLE: Corn Dog Man, Jahaziel, finds niche in Kingstown