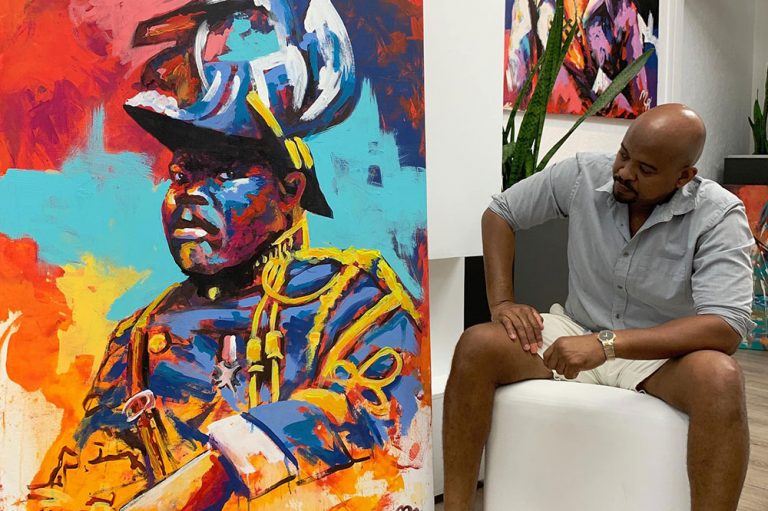 Vincentian artist Calvert Jones signs with International firm
Local creative, Calvert Jones continues to push the boundaries, and his latest move has seen him sign with Elizabeth Sloane, a Jamaican business development and deal origination firm with operations in the Caribbean and West Africa.
Jones is known locally, regionally and internationally through his brand of art, "Tropical Realism".
He is a self-taught visual artist and entrepreneur who, in November 2016, gifted Prince Harry with a portrait (of the prince), and most recently this past week, Jamaican superstar, Andrae "Popcaan" Sutherland received a piece from Jones depicting the dancehall artiste and his mother whom he fondly refers to as "Miss Rhona".
Last week Monday, January 23, Jones said he signed a deal with Elizabeth Sloane that will assist him with Business Development Services specifically as it relates to Intellectual Property (IP) syndication.
Jones said the company has worked with organizations like UNESCO, The British Council and MasterCard and while it is a boutique firm, Elizabeth Sloane is a professional organisation with a global reputation.
"They know all about the trends that are happening now with the block chain globally and they are in the creative space, so it is a better fit for me than the traditional development firms," Jones said.
He said he first learnt of Elizabeth Sloane when he was contacted by Melanie Wynter, managing director of Elizabeth Sloane, to purchase a print "of my most prized painting" which is dubbed "The Last Colonial Meal".
"…And I had told her it was not available for sale…and after I did the research on the company, I found out they worked in a lot of different fields, some of which I wanted help in," Jones said, while adding that he later contacted Wynter and explained why he was not selling the painting, but told her he wanted to get involved in things like non-fungible tokens (NFTs) and a documentary series around his work.
"That is when the conversation started and it progressed into having a deal on the table where they said look, we can help you through this process because this is the business side of stuff that we could do and we would help chart the way," Jones told SEARCHLIGHT.
He said that as a Vincentian artist, it is a good feeling to know that a company in a country like Jamaica is interested in working along with him as these companies only work with you based on certain criteria.
"Jamaica is globally recognised for the creatives. Last year, the main two TV stations had contacted me to do interviews and it is just evidence that people within the wider Caribbean are looking at us, St Vincent," Jones commented, while adding that it is not just his artwork that is making waves outside this multi-island state of St Vincent and the Grenadines ( SVG), but work from musicians and artisans as well.
He said he is hoping to do a documentary series based around one of his paintings and there is a lot involved in a process of this nature, including business development frameworks, which is where "Elizabeth Sloane will support myself and my brand".
"I am also hoping to do stuff that will help the environment and things that will address social issues," Jones stressed, while adding that to be positioned with Elizabeth Sloane, more doors will be opened while he would not be coming across as just another "hustler".
He is encouraging other local creatives to work on developing their business so that they can move into regional and international spaces.
Managing director at Elizabeth Sloane, Melanie Wynter said that Jones has engaged Elizabeth Sloane, a global business management firm to support the commercialization of his Intellectual Property (IP) for which he has a very high quality portfolio.
"The Elizabeth Sloane team will work closely with Calvert Jones to unlock the commercial value of his work," Wynter said, while adding that the company's engagement with Jones will aim to push his work into markets in North America, Africa and the Caribbean.
RELATED ARTICLE: Lighting of the Empire State Building brought tears to eyes of Vincentians