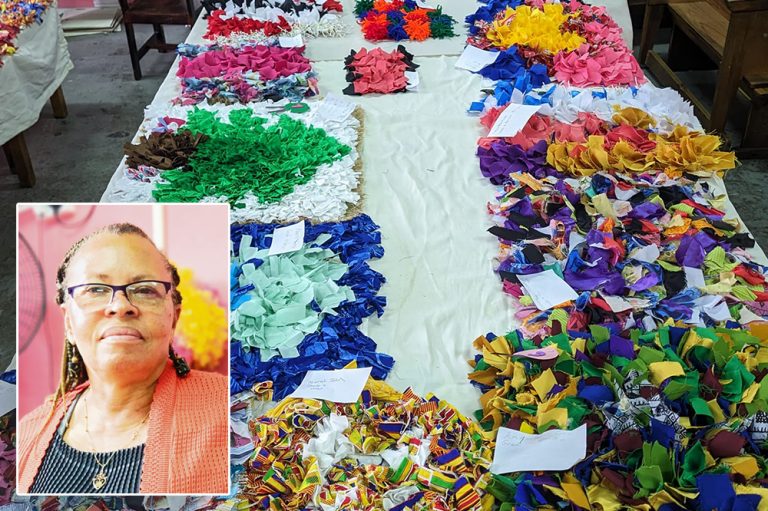 Children at Kingstown Preparatory School learn to recycle using art
Art teacher Nievet Isles is leaving a legacy of creativity and environmental friendliness as she concludes 21 years of teaching service with one of her final art projects, the scrap-mat.
Isles' art class at the Kingstown Preparatory School is designed to be a 'getaway' for the students from the mundane writing and tiresome work.
However, all things must come to an end, and unfortunately for the students from the Kindergarten level to grade four, they will soon face this reality as their art teacher will soon make her exit after more than two decades of service.
Isles' told SEARCHLIGHT that she is planning to retire in a matter of months, and she hopes that her students won't give up on art when she leaves.
"It's just that when I leave, I hope the kids will continue crafting. I hope they will remember some of the things we did and carry it in the future with them. I hope that something, even if it's one thing they have learnt over the years, that they can go ahead."
Isle recalled a moment when a young student asked her how did she become an art teacher, and she responded that she has always loved it since she was young and practised a lot. The student responded that he wants to be an art teacher also. Isle said that these little memories are what she would take with her when she leaves.
"Even when I'm at home, and sometimes I'm feeling kind of down, and I remember one of them saying something nice to me, it just brings a smile to your face. I love working with the kids."
However, all hope is not gone as Isles said that chances are, she might make a return.
"I'll be back. I know I'll be ending up here…I know if they tell me they don't have a craft teacher that I would find myself volunteering again, especially with the kindergarten; so for me it's a happy/sad moment…"
The scrap-mat project which Isles assigned to her Kindergarten class, was a competition that required students to cut up small pieces of fabric and attach them to a flour mill bag.
Some of the winners of the competition spoke to SEARCHLIGHT on Tuesday this week about their experience in the competition which took place last month.
Ellis Grecia who placed third in his class said, "Well…it was very fun to do…[the best part] was seeing who was going to come first…[my scrap mat] was good and it was fun to make."
Cheniel Da Souza won the competition for room 10 and said, "I think it was very fun…my mommy just helped me to cut out the scraps." She said she would encourage others to make scrap mats, "do what you love."
Isles said that the goal of the project was to promote environmental friendliness and the importance of recycling.
"…the purpose is so that they learn to not…clutter, try to reuse things that you normally throw away like for instance, you'd see we have projects like toilet paper rolls. We have projects that we do with bottles, where we make vases and bracelets and so on, so it's just another level where the grade fours are now using the scraps…"
She said that the parents were allowed to cut the straps and hem the stray ends of the mats, but everything else was left to the students in order to be eligible to compete.
"When I heard the fathers were involved, I was happy that they were showing that much interest in their children, because some fathers can't be bothered," Isles told SEARCHLIGHT.
"I was so surprised. When I asked some of the children, '[they said] my daddy helped me cut the straps,' I was so surprised."
Isles added that the students themselves were just as enthusiastic about the project and hope they keep up that positive attitude in the future.