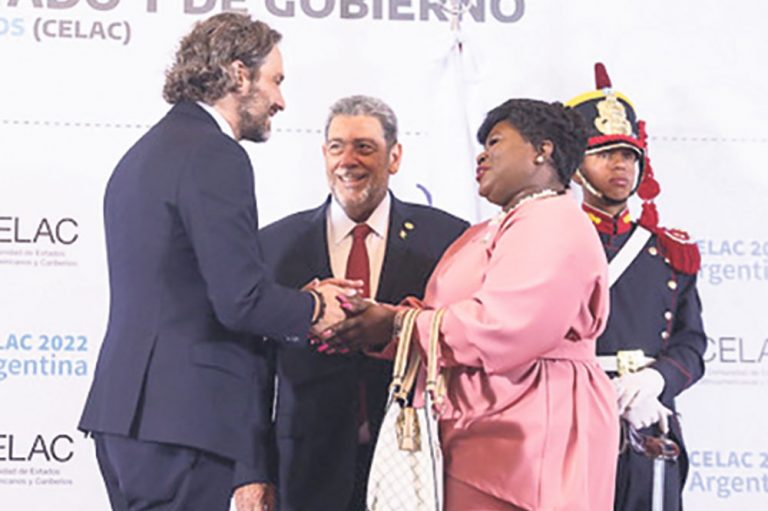 SVG's Work Plan as President of CELAC is 'ambitious', 'doable' – Senator Peters
Minister of Foreign Affairs, and Foreign Trade of St Vincent and the Grenadines (SVG), senator Keisal Peter has highlighted the potential within the Community of Latin American and Caribbean States (CELAC).
Senator Peters was among members of the delegation which accompanied Prime Minister, Dr Ralph Gonsalves to this week's CELAC Summit in Argentina.
During that meeting, St Vincent and the Grenadines was unanimously elected to the presidency of the hemispheric body.
"This organization has tremendous potential," senator Peters declared as she spoke on Wednesday January 24, upon the delegation's return from Argentina.
During the news conference at the Argyle International Airport, the Foreign Affairs Minister said "I am very happy to be standing here after an historic event took place last night, where little St Vincent and the Grenadines was unanimously chosen to be the pro tempore president of CELAC."
The minister pointed out that the population of CELAC countries is about 600 million people, with vast resources.
"There are many areas touching and concerning all our states, which allow us to be united," senator Peters noted, as she stressed that CELAC is a big deal.
The senator indicated that St Vincent and the Grenadines has already started to formulate a work plan for its year at the helm of CELAC.
She added that this work plan is "ambitious, realistic and do-able."
Recalling the voting process at Tuesday's 7th Summit of Heads of CELAC countries in Argentina, the minister said, "one by one, each country gave their support to St Vincent and the Grenadines."
She repeated a statement made in one of their bilateral meetings, that it is not the size of the country, it is the leadership that counts.
In her opinion, St Vincent and the Grenadines has shown "that we have the capacity and the capability to lead and to do so effectively and efficiently."
The senator observed that Prime Minister Dr Ralph Gonsalves is taking diplomacy higher for St Vincent and the Grenadines.
"We have a lot of work to do. I know that once we work together with the personnel who will be housed at the CELAC Secretariat, that we will do exceedingly well,"she affirmed.
The senator listed such issues as climate change, and access to concessional financing as some of the pressing matters that need to be addressed, in order to raise the standard of living for the people of all 33 Members of CELAC.
The Foreign Affairs Minister also thanked Prime Minister Gonsalves for his vision in having St Vincent and the Grenadines rise to the presidency of CELAC.
Prior to assuming this status of the CELAC presidency, SVG also made history as the smallest State to ever assume the presidency of the United Nations Economic and Social Council from 2018-2019.
In 2020, St Vincent and the Grenadines also became the smallest State elected to the United Nations Security Council.