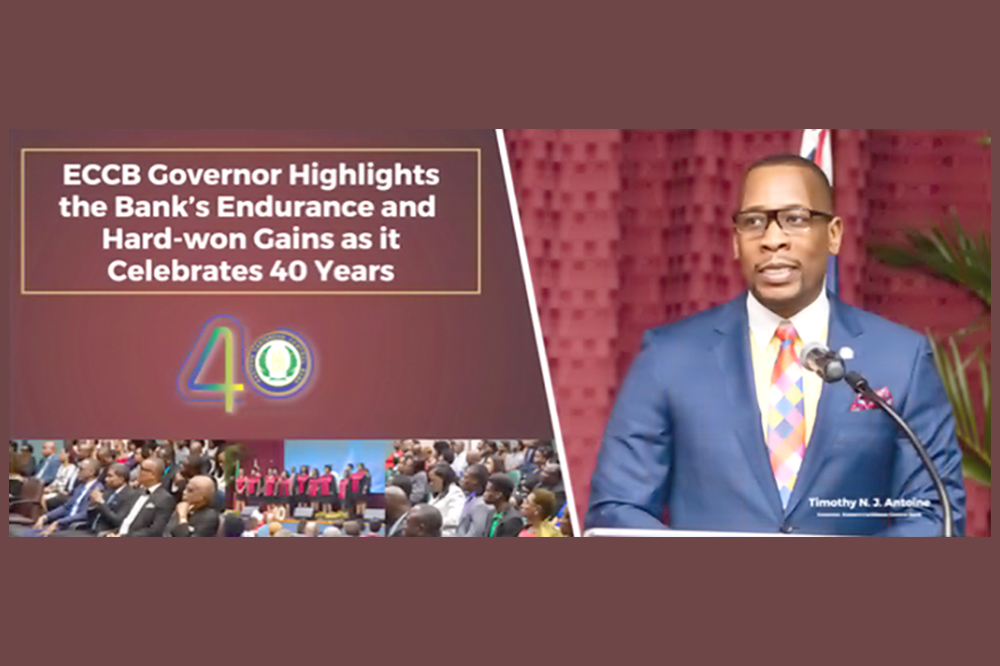 ECCB Governor highlights the Bank's endurance, and gains as it celebrates 40 years
Governor of the Eastern Caribbean Central Bank (ECCB), Timothy N.J. Antoine, has described both the Bank's 40th anniversary milestone and its accomplishments as "especially gratifying because the past 40 years have been anything but smooth sailing."
Speaking on January,19, at the launch of the 40th anniversary celebrations in the Sir Cecil Jacobs auditorium at the ECCB headquarters, Governor Antoine pointed out that, "We have endured external economic shocks, hurricanes, volcanoes, recessions and, mostly recently, a pandemic. But here we are, still standing."
The ECCB Governor said that, 40 years on: "Our foreign reserves have grown from under EC$150 million to over EC$5 billion; bank deposits have risen from EC$1 billion to over EC$24 billion, and our staff complement has increased from 55 to 272 with representation from every member country."
Governor Antoine continued: "This evening, I confirm that our EC dollar remains strong with a foreign reserves backing of 91 percent."
On July 7, 1976, the EC dollar became pegged to the US dollar at a fixed rate of EC$2.70 to US$1.00 during the existence of the ECCB's predecessor, the East Caribbean Currency Authority (ECCA), which was headquartered in St. Kitts from May, 20 1975 after Barbados withdrew from the ECCA to establish its own central bank.
On July, 5, 1983, seven Eastern Caribbean Governments signed the agreement establishing the ECCB and it was put into force on October 1, 1983, operating out of the former ECCA headquarters before opening in its present location on October 29, 1994.
The Eastern Caribbean Central Bank is the Monetary Authority for a population of more than 600,000 people spanning six sovereign states: Antigua and Barbuda, The Commonwealth of Dominica, Grenada, Saint Christopher (St Kitts) and Nevis, Saint Lucia, and Saint Vincent and the Grenadines, and two overseas territories of the United Kingdom: Anguilla and Montserrat.