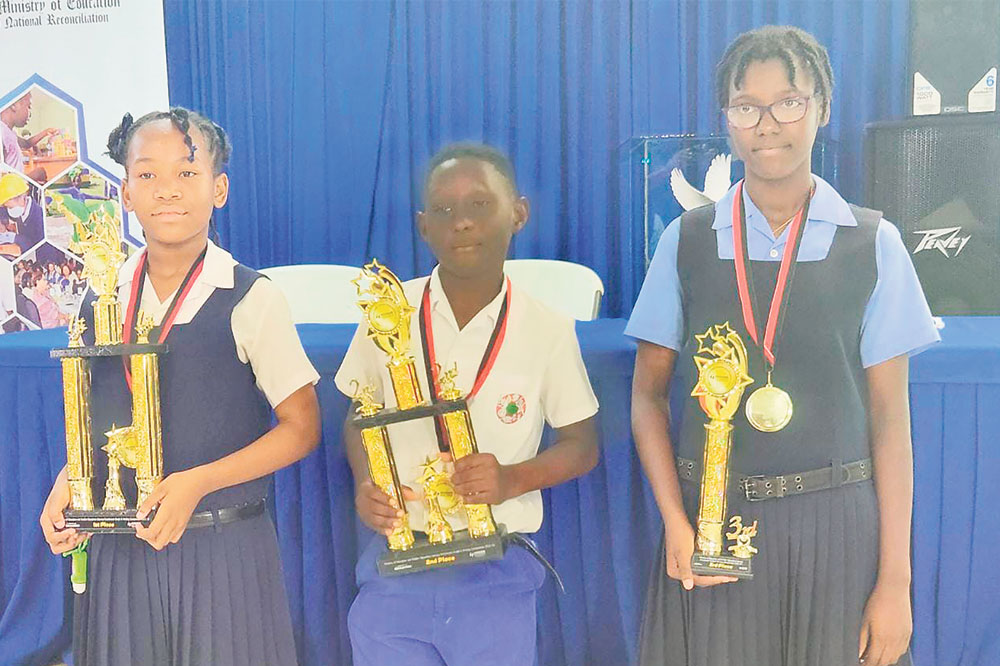 Zahndra of Kingstown Preparatory School wins Grade 6 writing competition
The Winner of the the Grade 6 writing competition, Zahndra Roberts did not think she would have made it beyond the preliminary round.
On Wednesday, January 18, the ministry of Education and Hodder Education hosted the finals of its annual Grade 6 writing competition at Frenches House where Zaundra a student of the Kingstown Preparatory School emerged as winner, while Kajj Murray of the Windsor Primary School and Crystal Webb of the Evesham Methodist School placed second and third respectively.
The finals saw 10 students compete by writing different types of discourse on pre-selected topics. These included: narrative, persuasive, descriptive and expository writing.
However, it was said that 8 of 10 students chose to write a descriptive essay with its prompt: you walk into your parents' living room and see your sister who is a toddler making a mess.
Write a descriptive essay of the scene.
Among these eight students was the winner of the competition, Zahndra Roberts, who was drawn to the prompt the moment she saw it.
"…Descriptive was my strong suit because I love describing things. I love to use adjectives and verbs to make this thing seem real…so you can imagine and picture it. When I first saw my options, I was a little disappointed because I wanted something else, but when I looked at the first one, I said I could work with this. I know what a messy room looks like…and from my experience with toddlers, I knew how much of a mess they could make so I improvised a little and put those two things together."
However, despite winning the competition, Roberts told SEARCHLIGHT that she didn't really think she would gone past the preliminaries. She continued,"…but I was hoping, I was hoping. When I didn't get a trophy for the preliminary round, I was a little sad, but then I realized I can get trophies for other things, so I tried to not let it bother me too much."
However when Roberts won, she shared that she was particularly excited that she received a prize as well as a trophy.
"At first, there was a heart-pounding rush, and when I heard my name, I was so shocked! I was so happy when I came first place and I could represent my school, and I could represent myself. I was ecstatic, I was elated, overjoyed. I was especially happy when I learned I also won…a laptop. I wasn't expecting that at all…What a shock I got, what a shock!"
She continued, "It gives me joy when I write, like for fun. When you write it gives you freedom to think of the unknown or to write the unknown. It could be anything, a man flying, someone jumping off the cliff and surviving…your imagination has no limits…so it gives you freedom to do that, and I really enjoy that."
Roberts is encouraging others who are interested in writing to start small,"but after a while, as your skill is improving or progressing you go little bigger and bigger…until you can publish it. The mighty oak was once a small nut, so [you] always have to start small and grow big, bigger and bigger so your ideas, thoughts and feelings would develop."
She also spoke of a concern she had when writing her story.
"I was actually worried that I write it more like a narrative than a descriptive so I tried to cut back and just say I walked into my parents with a story behind it."
In fact, according to Caywama Edwards-Cottle, students' inability to delineate between a descriptive and a narrative essay was one of the biggest areas of weakness that was noticed in the judging process.
"…Teachers need to have clear strategies that they teach to the students that match the elements for various genres, so they need to understand especially the purpose for writing, because one of the weaknesses we noticed was that the narrative genre was dominant, even in the descriptive pieces, so the descriptive piece often flowed like a story, instead of focusing on the appeal to the senses."
Roberts thanked her mother, her mother's co-workers, and some of her past and present teachers for pushing her to victory.
Other students were also awarded in various categories. Keyron Huggins of the Gomea Methodist School won for best narrative piece in the preliminary round.
Crystal Webb was also awarded for the best persuasive piece in the preliminary round; and both Xavontea Deane of the Lower Bay Inc.School, and Tyra Danzine of the Questelles Government School were awarded for Best Expository piece.
Despite being proud of the results, the officials of the event hope to see more schools participate in the competition.