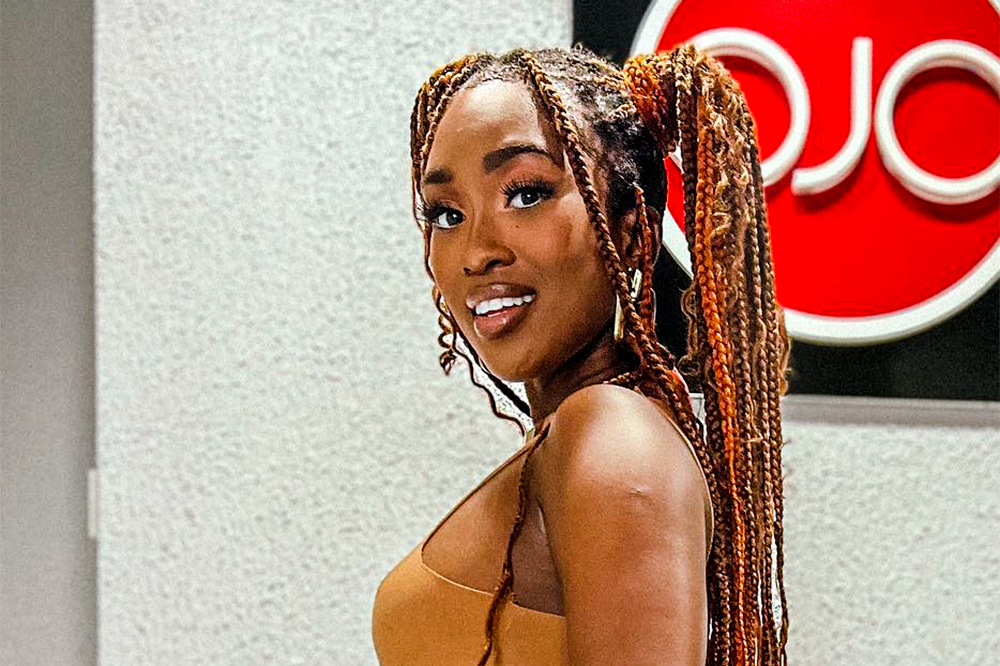 Vincy lass, Shiiloh making musical waves overseas
Persons may sometimes struggle to tie down Vincentian songbird and songwriter Shavsha Ariah Speedwell, stage name "Shiiloh", to one genre of music.
After all, Shiiloh and Preedy's "Like it" screams Afrobeats; Shiiloh featuring Konshens "Ride" is definitely dancehall; Shiiloh, Lyrikal, and Jonny Blaze's "Wifey" is soca; and "Touch", well that song done by the quickly rising star just helps to round up her raw talent.
She had early exposure to performing in public. In 2002, as a student of the Dorsetshire Hill Government School, Shiiloh, using the moniker "Princess Shiiloh", competed in the Carnival Development Corporation's (CDC) Junior Calypso competition.
"I like to say my music is very Caribbean and influenced by sounds. I grew up listening to dancehall, pop…so I like to blend," the Trinidad- based Sion/Hill Roseau girl told SEARCHLIGHT in on interview on January, 12.
The mother of two has teamed up with Kevin "Stadic" Charles of Union Island, and is making waves in the music industry in the Caribbean with a following in big, competitive music countries like Jamaica and Trinidad and Tobago (T&T). And, the wheels are already turning for a Unites States of America (USA) run.
And while Vincentians have been making waves in the music business from time immemorial, Shiiloh stands out, as her style can take you to many different places, from a slow grind with someone you appreciate in a party, to a wild soca rampage in a Vincentian Soca Monarch setting.
Shiiloh explained that she got her talent from both her mom and dad, having grown up in a home where her dad was a musician competing in the local calypso tents, and her mom being a music aficionado.
"I don't just sing; I write my own music, and for other people as well," the former Girls High School (GHS) student told SEARCHLIGHT, while adding that persons should be on the lookout for her soon to be released extended play (EP) record.
"A lot of the music that we release so far has been just testers, just to see what people would respond to but, this year, we are going to be releasing two EPs so that people can really have a proper idea of who Shiiloh is as an artiste.
"Right now we only have a bunch of different singles and they are not all in the same genre so I am really looking forward to this EP," Shiiloh explained, while noting that she thinks one of the first songs persons will cling to is called "Dopamine Tears".
"I am really looking forward to presenting this body of work to people," Shiiloh stressed, adding that the EP will have seven songs, some of them written by her, and others co-written.
She said the difficult part in her career right now is to listen to all the music she has made with Stadic and choose what to put out.
"…but that is one of the good things about being able to work with someone like Stadic, a producer, and myself an artiste, we have a great body of work and is now just to go through and pick and compile.
"I write almost every week," Shiiloh revealed, while noting that when inspiration hits her, she just pens.
"I love to sing but I really, really love creating music," she quipped.
The petite lass said to date, her most popular song is "Ride", with Jamaican artiste Konshens. It has the most plays on different streaming platforms and YouTube and, according to Shiiloh, is doing well without much marketing.
"I must shout out Konshens and his team for jumping on board and they did that for us just by hearing the song and he liked my voice and he was like 'yow I wanna be able to support somebody' and he did that off his own, so shout out to them, for lending that support," Shiiloh said, expressing gratitude to the Jamaican superstar.
In relation to her being based in T&T, Shiiloh said she would prefer to be in SVG, but her team is based in her chosen home and that is where she has to be in order to chase her dream.
"Unfortunately, SVG has no commercial studios where you can say, alright I paying for two hours and record my song and come out, so it was easier for us to be in the same place because we have access to a recording space, and then also have access to a wide community of creatives as well," Shiiloh explained.
"I love SVG and I can't wait to see the day when we are able to have a thriving creative hub where people can just tap into one another, you don't have to ask nobody to go to their studio…you just pay your money and get your thing done".
The songstress also attributes her most memorable performance to a show in SVG, called "Bacchanal Monday" held at the Arnos Vale Sports Complex in 2019 where persons like "Shensea" and Nailah Blackman also performed.
"At that time I had not released a song as yet, and we know that the Vincentian crowd is a difficult crowd, and if we don't like you, we gonna show it, and honestly that was an amazing experience because I was able to perform for the first time with nobody knowing who I was, and on such a large stage, and the reception was beautiful.
"So for me that will always be the defining moment, and I think that was the moment, I was like 'yeah man I can do this' because to believe in yourself and put yourself out there as a creative and say this is how I am going to make my living- it is very very scary and it's very hard," Shiiloh proffered.
She noted though that her performances in T&T also give her encouragement, for while the crowd there is also a difficult crowd she is, and was well received during a performance with "Yung Bredda" doing their collab, "Action".
"I am not very well known here but, I had a performance with Yung Bredda and, it was memorable because it was the first time performing with another artiste and I was well received," she recounted, while noting that "Action" is doing well on the airwaves in T&T, and she will be shooting a music video for it this month.
Shiiloh acknowledges that while the music scene in SVG has its shortcomings, it has not stopped local artistes like "Suhrawh" and "Chow Minister" with their "In the water" soca hit to make it out and create waves overseas.
"Vincentian songs did well for Miami Carnival so the only thing we are lacking is proper teams…we have the video quality and artistes who are exceptionally talented. We have great managers, and we are only a small dot as compared to Trinidad, but we are able to turn out exceptional music," Shiiloh commented, adding that social media has allowed for the breakdown of barriers.
"I am in Trinidad because my team is here but if I had Stadic based in SVG, we would have been able to do what we are doing in Trinidad, except that there are not as many shows, so it would be hard to make a living, but to produce the visuals and videos, we would be able to do that for sure," Shiiloh assured.
She said she hopes one day to work with local act "Mason", as she thinks he is a really "good artiste".
Shiiloh who once worked as a radio host at ZIP FM in Jamaica, as a journalist and presenter at IKTV, and SVGTV, also rates Vasita "Sita D Lyrical Diva" Caine.
This year, Shiiloh is hoping to do a lot of Afrobeats inspired music.
"Stadic and I started to mix in Afrobeats because it just seems like a natural progression because it's so much similar to Caribbean music and it's grounded in the same history.
"What we are seeing now is that not only is it so similar to us, it is breaking into the main stream and it is something that I have always loved because as a person who listens to a lot of soul music and grew up listening to a lot of R&B and pop music, Afrobeats allows you to cover subject areas that you would not typically see in dancehall or soca, but still allows you to incorporate the dancehall and soca element on the production side so to me, it's the best of both worlds," a confident Shiiloh said.
"My father died when I was small and it was just my mommy and I struggling to make it, and if I from Sion Hill/Roseau can make it and do the things that people are going to see me do, then trust me, anybody can do it, once you make up your mind to do it," she added.
"I have a strong support system, else I would not have the chance to chase my dreams. It is very difficult to be away from my children. It's tough, but I will say to women in general, we are all superheroes, and I owe it to them (children), to show that I am still able to achieve and be an exceptional mom and find a balance and show them that nothing can stop them.
"You owe it to yourself to show your kids things can be done despite your circumstances," Shiiloh concluded.
RELATED ARTICLE: Heartstrings Violin Academy to offer two music scholarships worth $10,000