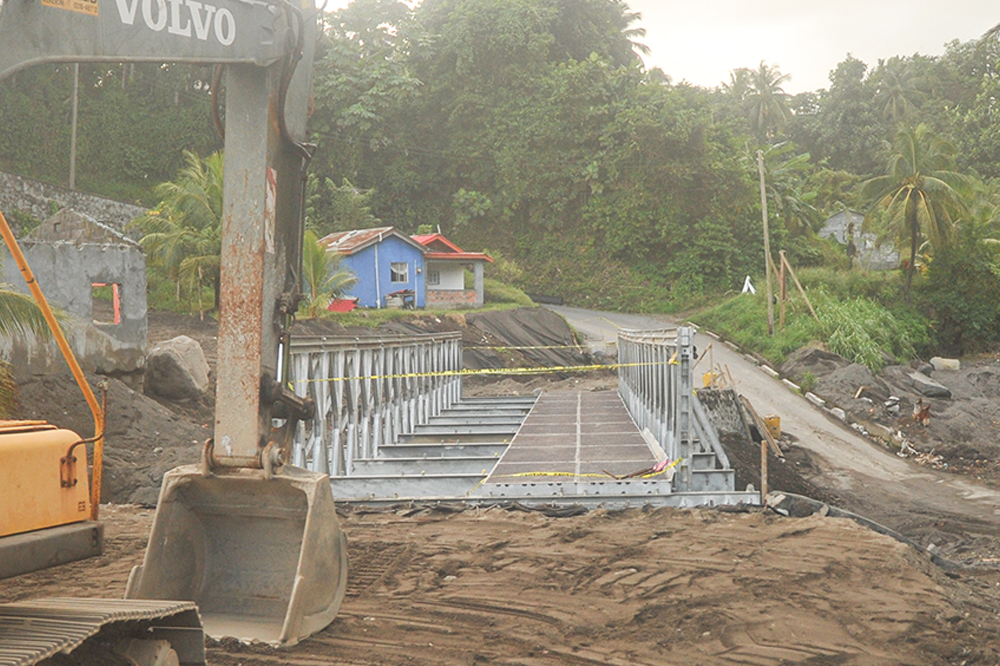 February completion for Bailey Bridges in North Windward
RESIDENTS IN North Windward communities have to wait a few more weeks for the completion of the Bailey bridge projects over the Noel and Overland River crossings.
Formerly targetted for delivery in time for Christmas, 2022, the new completion target for these bridges is February, 2023.
Speaking on NBC Radio on Wednesday, November 2, 2022 in his capacity at the time as Acting Prime Minister, Minister of Works, Montgomery Daniel had promised residents in North Windward "a very interesting Christmas present" with the opening of the bridges.
However, speaking last week on the same platform, the Minister explained that there has been a forced revised completion date due to a number of factors, and the new target for completion of the project is February, 2023.
"One would expect that by the middle of February, the end of February, that there will be access through the Bailey bridges north of the Rabacca Dry River," said the Minister who is also the Parliamentary Representative for North Windward.
This is the fourth time that the date for completion of the projects to install the Bailey bridges over the problematic Noel and Overland river crossings has been deferred. Earlier completion deadlines were August and September 2022, December 2022, and early January 2023.
Minister Daniel, speaking on NBC radio again in his capacity as acting Prime Minister, said the last discussion with the engineers overseeing the project, "did indicate the possibility existed that we could have had the access of the bridges, depending on the speed of the work by the contractors."
Heavy rainfall during the wet season in 2022 caused severe disruption of work on the bridges.
The heavy water flow dumped rocks and other volcanic debris from the April, 2021 eruptions of La Soufriere in the river beds causing a stoppage in the work on several occasions.
Daniel said it "really slowed down much of the work that was ongoing at the time."
Added to that was the influence of the Christmas season on the work ethic.
It caused the minister to observe that "Once it's Christmas time, that kind of work ethic, the work attitude is by the 15th of December, you're ready to go off."
Residents continue to exercise patience, and some residents of those affected communities told SEARCHLIGHT last Friday, January 6, 2023, during a visit to the projects that they can walk from Overland and be picked up on the other side of the Noel river, walking over the Bailey bridges even as they are at present.