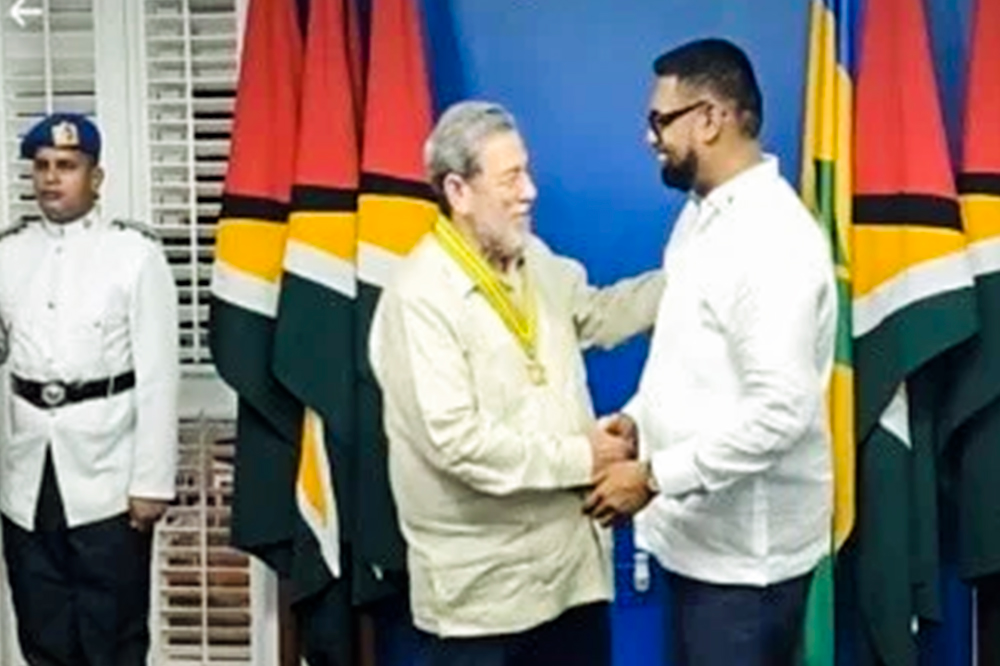 Guyana bestows second highest honour on PM Gonsalves
Prime Minister, Dr Ralph Gonsalves received Guyana's second highest national award during his visit to that South American country this week.
On Tuesday, January 3, Gonsalves was conferred with the Order of Roraima, by President of Guyana, Dr Irfaan Ali.
The award ceremony was held on Tuesday evening at the State House in Georgetown, Guyana.
The Vincentian Prime Minister was awarded for his dedicated and sustained leadership; and for his commitment to regional development.
According to Guyana's Department of Public Information, President Ali said that the most important attribute of any state is its commitment to democracy and the rule of law.
He said that Dr Gonsalves has demonstrated character and integrity, and described him as a "Caribbean man."
He also thanked the Prime Minister Gonsalves for ensuring that democracy and peace were upheld in Guyana.
In receiving the award, Gonsalves expressed his appreciation for Guyana's show of honour.
"I am truly humbled and honoured by this," Prime Minister Gonsalves stated.