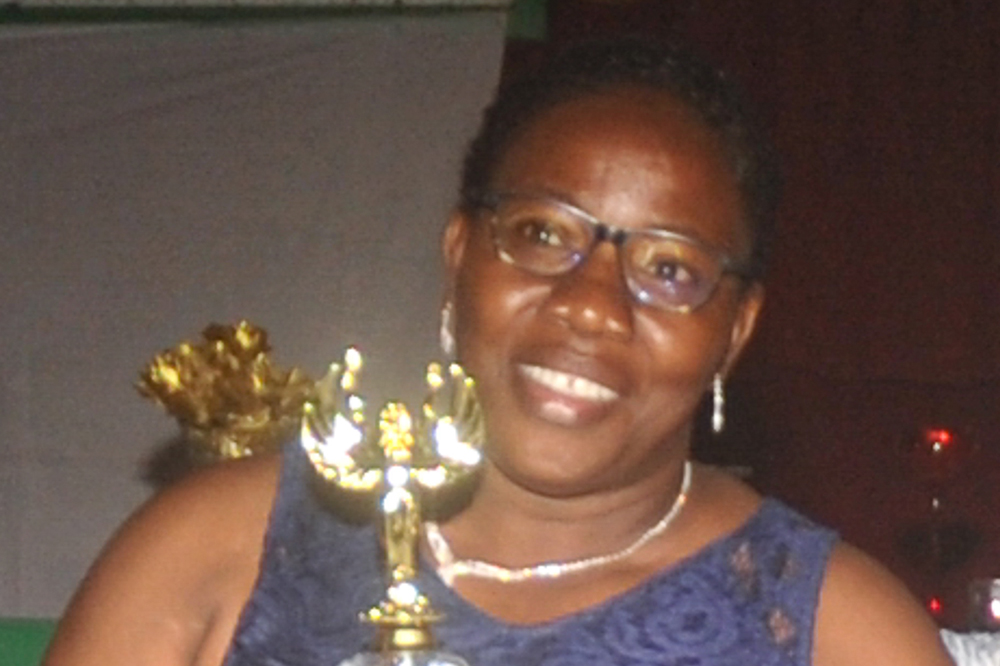 Disciplined, astute RRU Corporal is Policewoman of the Year
The officer who was named Policewoman of the year, 2022 said if she had the chance to do it all over again she would become a police officer.
Corporal 615 Lafleur Williams who received the 2022 award at the annual Police awards and dinner on Friday, December 30 is currently attached to the Rapid Response Unit (Black Squad), and has been a police officer for 18 years.
The veteran officer told SEARCHLIGHT "I'm elated. I'm overjoyed. I'm lost for words…I love the action, that is my thing…"
Corporal Williams said joining the police force superseded her expectations and she has no intention of leaving the police force anytime soon.
"I see myself in the next fifteen years still being a police officer. I love the job, and if I were to do it over again, I'll still be a police officer."
Corporal Williams's arrest record for 2022 was acknowledged and celebrated at the event. These include but are not limited to: seizure of illegal firearms, seizure of 500 grammes of cannabis, seizure of 59,939 grammes of cocaine, confiscation of US$8,200 counterfeit. It was also stated that Williams always makes a concerted effort to remain calm during the most difficult and pressured situations, especially when dealing with cases of illegal drugs, guns and ammunition.
The citation also highlighted some of Williams' qualities and her work ethic.
"She is committed and astute in meeting work-related deadlines, always punctual and her attendance record is A+. She is dedicated, disciplined, and extends herself beyond the call
of duty on many occasions.
There are times when she would remain on the job after her shift has ended to make sure her work is completed effectively and efficiently.
"She is very reliable and can be called upon in moments [at] short notice to perform tasks without fuss. "
Corporal Williams also shared her dream of becoming a defence lawyer and plans to begin pursuing that goal in 2023. She said that she hopes to study criminology as she loves the defence part of law.
Williams also used the occasion to encourage all the officers who attended the event but weren't awarded.
"Work hard, and still strive for excellence, even though you were not rewarded, see it as a success for your unit or your department because…it's a collaborative effort, so let us join hand in hand…so that we can curve the crime situation that is happening presently in St. Vincent and the Grenadines".
The police officer said one of the greatest lessons she has learnt in the RSVGPF is to be honest, loyal, true and to have 'esprit de corps.'
She added that, "a chain is as strong as its weakest link so therefore if somebody is weak, you pull them together and try to bring them on par."
Corporal Williams also used the opportunity to encourage youths to make a career out of law enforcement as there are lots of opportunities available in that field.
As for those who are already a part of the police force, Williams encouraged these officers to be honest with themselves.
"That is the most inner part of any person's life in moving forward. Just be honest, do a day's work for the people's money, and just be loyal, basically. Our oath is to protect and serve, so once we protect and serve, the people will have more confidence in us and that is what we want. We want to regain the trust of the public, so hence we can make our work much easier," she said.
The officer however, noted that the gender dynamic is one of the biggest challenges that she has faced while being a part of the police force.
"The females competing with the males, it isn't an easy job. There are other challenges that I will not say, but at the end of the day, we get the work done. We make use of the limited resources that we have so hence we try to make St. Vincent and the Grenadines a better and a safer haven and even for the visitors…we try to encompass everybody so that everybody will be okay."
The corporal revealed how thrilled she was to have shared what has been the proudest moment of her career with her fiance who has been "instrumental" in her life for the past 15 years.
"He has moulded me into becoming the woman that I am today," she declared.
She also expressed her gratitude to superintendent Samuel, and ex inspector Haywood; as well as her co- workers who she said have always encouraged her as a woman and who see
her as someone they could look up to.
The Award Ceremony and Dinner took place at the Russel auditorium,Stoney Grounds and was held under the theme "Amidst the challenges, we continue to Care, Serve and Protect."