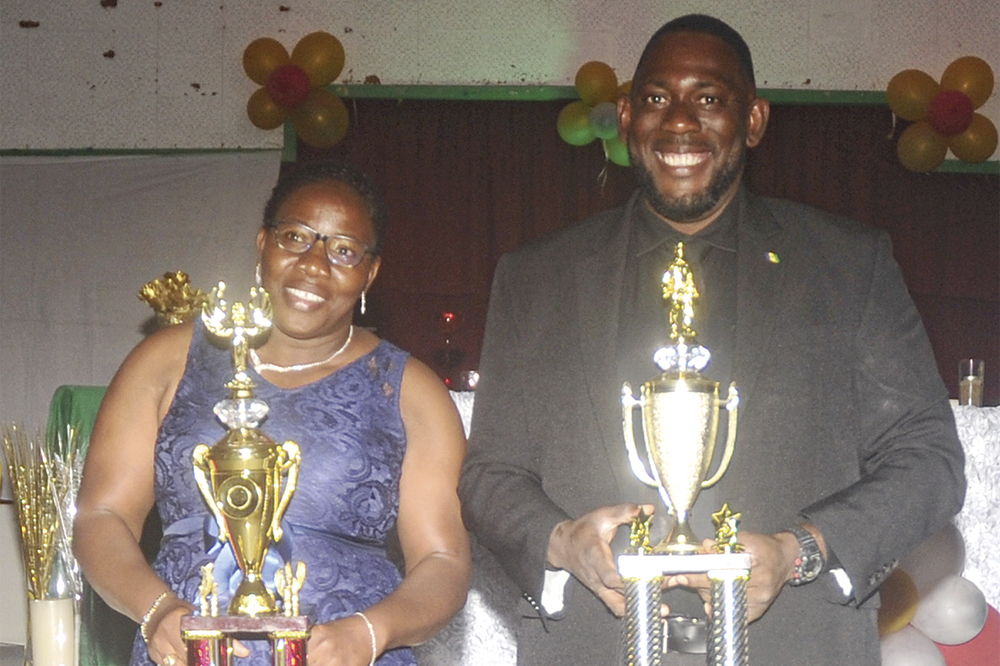 Detective Sergeant is SVG's Policeman of the Year 2022
Detective Sergeant 740 Biorn Duncan was on Friday, December 30, 2022 named Policeman of the Year.
The honour was bestowed on the veteran officer at the annual awards and dinner of the Royal St Vincent and the Grenadines Police Force (RSVGPF), which took place at the Russell's auditorium at Stoney Ground.
And, Duncan has pointed out to the younger generation of police officers that their job is more than "just something to a collect a salary."
The officer has been a member of the RSVGPF for more than 18 years and has been a detective for his entire career. He is currently attached to the Major Crimes Unit.
After receiving the award, Duncan told SEARCHLIGHT how overwhelming and unexpected the moment was.
"Wow, this is a good feeling. I am so elated. I didn't expect it. I know that I will be given an award, but the the Policeman of the Year! This prestigious award is so overwhelming, and I would like to thank all the persons who were instrumental in me achieving this award. I'm very, very grateful," an exuberant Duncan said.
The detective who has been distinguished by his diligence, focus and determination took the time to encourage his colleagues to do likewise.
"Be true to your job. You know it have some places where people might look at wherever they work as just something to collect a salary? Look at it as a career, treat it as a career. Do your work fairly. Do your work honestly. Work on behalf of the citizens to ensure that justice is served; protect and stay true to the oath that you took," he urged.
Duncan also encouraged those who are not yet enlisted to consider law enforcement as a career.
"It is a good profession. It is good to serve people. It is good to protect people. You have to do your work with fairness and quality, with diligence and so on; make sure that people go to bed feeling happy, feeling contented, feeling good that they are able to walk the streets feeling peaceful and so on, and if any crimes are being committed against them, that they can safely come to the police and we would investigate that matter properly and thoroughly in the interest of justice," the detective sergeant stressed.
These qualities were reflected in Duncan's citation which stated: "Sergeant Duncan habitually investigates several high profile cases including the bank fraud, deception, corruption, money laundering, and murder, to name a few. He has had several convictions in the law courts resulting from his thorough investigation of the cases that came across his desk.
" Throughout his career, Sergeant Duncan has been commended publicly by the court prosecutors, magistrates and judges for the excellent investigative and evidentiary skills that he brings to the law courts."
Duncan used the opportunity to some of the best moments he's had in the force which includes giving evidence in court, and investigating crimes.
"Sometimes you investigate crimes without any clue but we treat it as a puzzle. A puzzle has different pieces that may seem insignificant. Each piece might be insignificant on its own but with a puzzle, when you put it together you will get the true picture so I love investigating. I love giving evidence, and I love seeing people get justice."
The top performing cop for 2022 further said that it was always his intention to be a detective and work in the Criminal Investigation Department (CID), however he did not get his desires right away.
"When I joined the organisation, I was attached to the traffic branch, and I so wanted to be a detective that whenever I'm off from official duty at the traffic branch, I would join in with the persons at CID to patrol and so on, and showing this kind of enthusiasm until I actually went to CID in 2005," the officer said.
Duncan joined the Major Crimes Unit in 2008 and is still attached there.
After receiving numerous accolades in his near two decades of being an officer, Duncan outlined where his satisfaction truly lies.
"…it takes great pleasure in me for me to serve and to make sure that justice is done. I know people would have aspiration in terms of being promoted and moving upwards, yes that is good, but for me personally, serving the people and looking at faces of people and realising that they are contented with the way that you operate and the way that you treat them and so, that is more satisfying to me."
And Duncan hopes to continue serving the people of this nation for years to come doing what he loves.
The annual police awards and dinner was held under the theme "Amidst the challenges, we continue to Care, Serve and Protect".