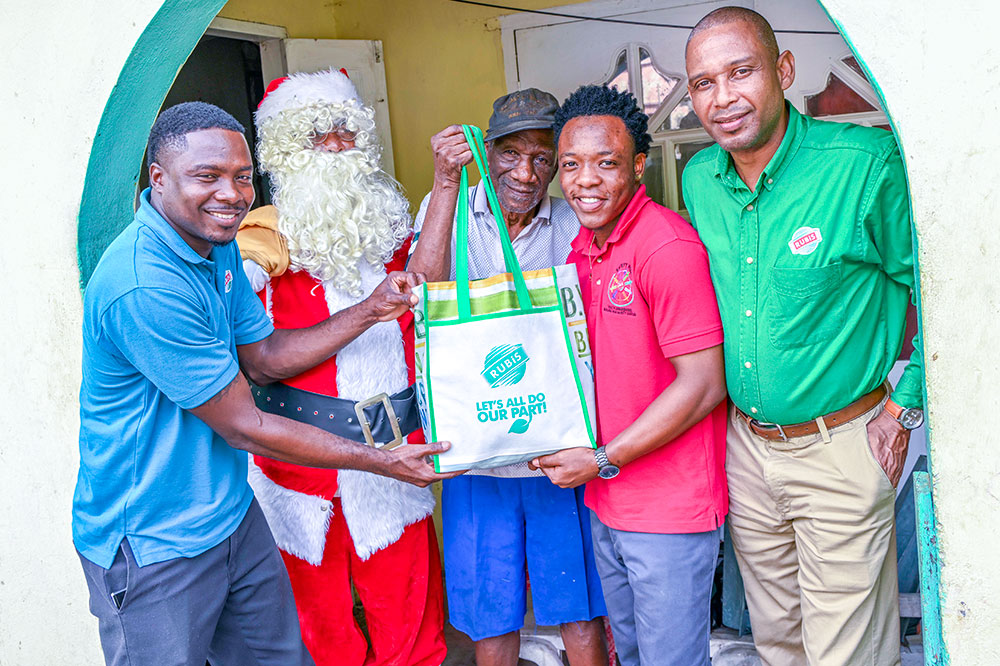 Rubis distributes Christmas hampers to needy residents in Central Leeward
In celebration of the festivities and the spirit of giving, this Christmas members of the Rubis team led by country representative Elroy Edwards, distributed more than 45 gift hampers to residents of Buccament, Layou and Barrouallie.
"The season of goodwill can be a tough one for many people including the homeless, elderly, recently bereaved, disabled and those struggling to make ends meet," Edwards said.
" We at Rubis, in light of the togetherness the holiday brings, are always happy to give back to the community and demonstrate the true meaning of this festive period which is sharing."
In a release the company explained that during their radio broadcast an appeal was made to identify people in need of these hampers and many persons called providing information which enabled the distribution of the hampers.
The distribution was done to those in need in collaboration with the Social Protection Unit within the Ministry of National Mobilization.
This act of kindness, conducted by Rubis West Indies Ltd consecutively for over nine years has become a tradition as members of the communities look forward to it every year, Edwards explained.
Buccament resident, 96 year old Ridley Antoine, expressed his gratitude and excitement at being one of the recipients this year.
"I'm very thankful to God that I'm alive to witness and receive this because I wasn't expecting it."
And 72 year old Hyacinth Cunningham of Layou, who recently suffered a stroke, was also overwhelmed and grateful for being remembered.
"I appreciate what you've done for me. You've brought happiness to my heart and returned the smile on my face that this illness took from me. Rubis thank you," the Layou resident said.
Arrowteen Lewis, a 90 year old of Layou was excited to receive a food hamper and a hug from Santa.
" Santa did pass our way this Christmas. I'm getting a basket and he didn't forget the children too. I wish I was young like the children so I too could eat all the candy and biscuits Santa is sharing. God bless you as you continue to look after us," she expressed with gratitude.
Edwards said Rubis' provision of the hampers not only expresses a sense of togetherness but creates an opportunity to see the people and parts of the community they do not witness everyday.
"I had the privilege of meeting Mr. Amiston Samuel, 100, who happens to be the oldest man in Barraoullie," Edwards noted.
His granddaughter, who is his primary care giver, expressed gratitude on his behalf.
"Not only do you provide clean and efficient fuel for St. Vincent you also look after us. This has taken off some of our burden as his son, Maxwell O'Garro, who is disabled as a result of microcephaly has also benefited from this much needed help and is greatly appreciated, thank you"
Mother of the 42 year old Maxwell O'Garro, Anita Ogarro, who is 85, also expressed her gratitude saying "you have saved us this Christmas, we were meant to be getting a barrel this year but we aren't receiving it till next year and now you brought us these things. May the lord continue to bless you".
Social Worker, Anton Caesar said "I want to thank Rubis for giving us the opportunity to be part of their Christmas initiative. It was a huge success and the aim and objective met. The company brought joy and smiles and even tears of joy to homes that received a package."
He added that "many recipients expressed gratitude towards Rubis and its team".
"I do hope that the initiative of bringing joy, smiles and laughter to the homes of the elderly through food baskets will continue next year," he further said.
"Lastly if success was measured by smiles I will say that Rubis did a fantastic job."