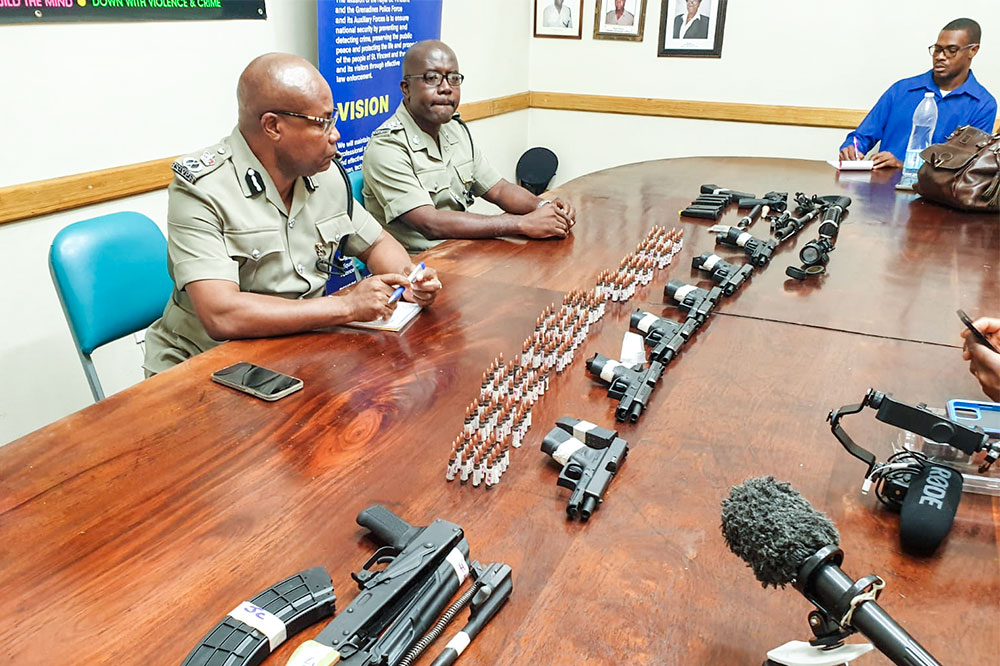 No charges yet in biggest gun haul in SVG
Charges have still not been laid in what the Royal St. Vincent and the Grenadines Police Force (RSVGPF) say is the largest arms bust ever in St. Vincent and the Grenadines (SVG).
Commissioner of Police (COP) Collin John, during a press conference on December 16, one day after the illegal haul, was tight-lipped about the investigation, only stating that one person, a male, was detained.
"He is currently a suspect…we are conducting investigations. The fact that the weapons and the ammunition were imported we would be speaking to regional and international bodies to carry out further investigations," COP John had told reporters at the police conference room in Kingstown.
The name of the suspect has never been released and no further information has been given in relation to the deadly haul.
The guns were two high powered rifles, namely a Draco and an Apache and six Glocks.
The Draco, according to the COP is a high powered rifle, relatively small and therefore easily concealed without much effort, while he revealed that the Apache was broken down into parts to be shipped to SVG. The nine millimetre pistols are Glocks.
The weapons were shipped with additional magazines and a scope, as well as 200 rounds of ammunition capable of piercing a body armour of the type that police officers wear.
The COP had also noted that he did not wish to comment on the method of shipping, "because that was touching on the evidence" but did stress that the rounds were similar to the ones used in M-16 rifles and the guns could shoot a range of over 1000 feet.
Prime Minister Dr. Ralph Gonsalves, who holds the portfolio as Minister of National Security, had later commented on the seizure.
"You know how many persons those things could have killed?" he questioned.