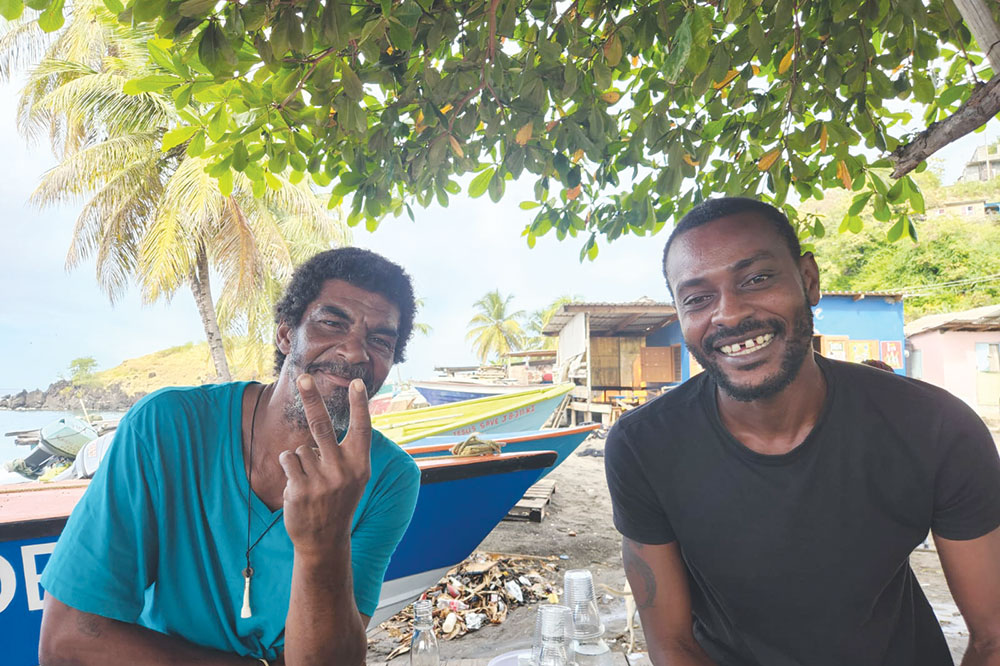 Bottle and Glass fishers want full access to public bath, wash room
Fishers are up in arms over being locked out of the public bath and wash room facility at Bottle and Glass on public holidays claiming that they are forced to find other means to obtain sanitary services.
However, a worker at the public bath and wash room has dismissed the claims by residents that they are fully dependent on the facility for their sanitary needs.
In 2019, residents of Bottle and Glass received a new Basic Needs Trust Fund (BNTF) funded wash room facility, said to have been provided as a way of eliminating the existing problem of poor sanitation which had been a persistent plague in the community.
However, after almost four years of existence, residents are speaking about their frustration that the public wash room facility is kept closed on holidays when for some, it is their only means of having access to sanitary services.
"Everybody is a fisherman and thing on the bayside, and when afternoon come, we looking to bathe, we looking to wash we clothes, or go in the toilet, and a lady (name mentioned) from quite up the hill shouting out, 'don't open the bath', and that is bad because fisherman go seawater everyday, and they need to go rinse off…" Stanley Samuel complained.
He admitted to SEARCHLIGHT that some fishers resort to using a secluded side of the bay to get rid of their body waste.
"Don't hand the key, don't send nobody there, nobody can't go wash there," said Griffith as he mimicked what he claimed to be constantly repeated when residents attempt to use the facility on holidays.
"So why they put all these sinks for people, not to wash?" he questioned.
"And the bath is for people to bathe and the toilet is for people to use…"
Joseph Griffith, another fisher interjected "Not everybody get standpipe in their yard…not everybody get toilet," as he argued that the facility should remain open at all times since it's called a public bath.
Fishers said they are uncertain as to the origin of the decision to close the facility on public holidays.
They are questioning whether it was a declaration made by the Ministry of Health or the Town clerk, but either way they say nothing has been done concerning the issue despite numerous complaints.
Bottle and Glass resident, Cleo Griffith explained that on the morning of Monday, December 26, she was heading to the public bath to take her first tub with curtains to wash when she was informed by a friend that the bath will not be opened that day, as the security had sent a message prohibiting entrance.
However, Griffith said that permission was finally granted. She added, "As soon as we opened it yesterday, you know the amount of people who came yesterday to use the wash room? And that's the purpose they have it there for, for those who don't have."
She further said, "It's a public bath and it's supposed to open everyday and that is not the first time we kick bad against it."
She added that the facility usually opens at 6:00 a.m and closes at 8:00 p.m which everyone seems not to have much of a problem with; its only on holidays that issues arise.
Griffith said that when they complain they are told that the workers at the facility need time off for themselves.
However, she has suggested a change to the work schedule- either having those who work only on weekends work on the public holidays, or have no one at the facility except the person who cleans.
"If it's a public bath, it's not supposed to get any workers, it's supposed to just be open and whoever is cleaning it, supposed to open it at morning time," was Griffith's proposal.
She said if there are three holidays in a month, on those days the facility will be closed, and that should not be so.
"It is not right because [there are] people who use the toilet every single day, who use the bath every single day for their purpose; and [during] the holiday time, they cannot get it to use,"she complained.
Griffith begged the question on behalf of the fishers, "…when holiday time comes and you lock it up, what if they want to use the wash room? What would they do? Tell me, what would they do? They would go and pollute the place where they don't want them to pollute?"
Griffith also raised the case of a resident of Bottle and Glass who is living on the bay, suffers with a kidney problem, does not have a toilet in his home and therefore depends on the public wash room facility; she said that's one of her concerns.
However, Debby Gabriel a resident of the area who works at the public facility, said she was given instructions not to open the facility on holidays and believes in that rule as workers need time for themselves whenever there is a public holiday.
She said that she knows of two persons who have been complaining about the matter and said that (as far as she knows) "It don't have no one down here who depend on [the public facility]…everybody have their own bathroom…"
One other person is employed at the public bath and wash room facility, but she declined to make a comment.