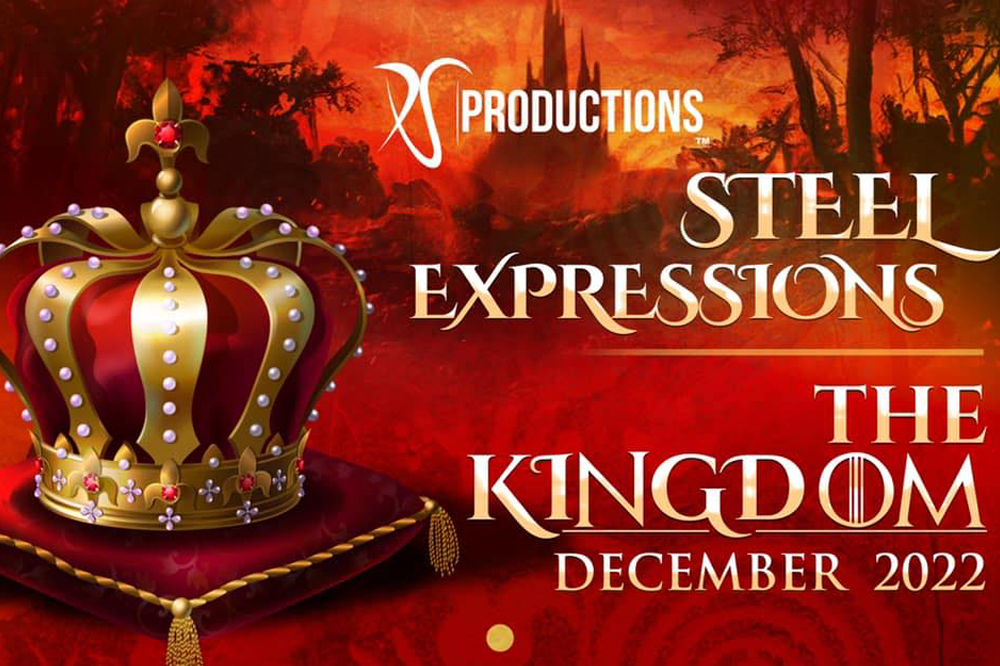 Small promises phenomenal Steel Expressions 2022
Rodney Small is promising another phenomenal production at this year's "Steel Expressions-The Kingdom, " a celebratory event marking 11 years since the start of the show.
On Friday December 30, RS Production will present the annual showcase, Steel Expressions at the Arnos Vale Playing Field.
St. Vincent and the Grenadines, Home, Land of the blessed, Paradise, Blessed place on earth, a place where you vacation, are some of the words and phrases that Small said are used in describing this country. However Small explained at a media launch of the event on December 19, that for him, it's a bit more personal than that- as St. Vincent and the Grenadines is his Kingdom.
"Every kingdom has its kings, queens, and royal lineage. The Kingdom, St. Vincent and the Grenadines is no exception and it is the aim of the production team of Steel Expressions 2022 to shine the spotlight on the known and unknown Royalties of this Kingdom and also encourage the patrons to recognize themselves as royalties," Small added at the Gate 3 launch at the Joshua Centre.
He said that while it is not a Christmas production, it is an event that the entire family can enjoy during the Christmas season and many people mark it as their Christmas event.
Some of the "Kings and Queens of the Vincentian entertainment industry" who will be joining the 2022 cast are Dr. Alston "Beckett" Cyrus; Bridgette Blucher, Abuza; Anthony "Papa Das" Glasgow; Theo Homer; Joshua "Chillbill" Lewis; Zahily Laidlow from Havana Cuba- and a lot of surprises all powered by Dynamic Sounds.
The show, which has been said to cost over $190,000 to execute, aims to provide an avenue to showcase the talents of people; provide patrons with quality entertainment at an affordable cost in an all-engaging ambience; raise funds to assist with taking Steel Expressions to the audience in the Diaspora and other charitable causes; and provide a platform for young and upcoming talent within the Creative and Cultural Industries.
Small said "Vincentians are strong, helpful, creative, skilful, brave, courageous, hard to go with, resilient, determined, and in most cases- stubborn people. But ultimately, we have big hearts, hearts that allow us to show up in a time of need and comfort."
He also paid homage to some of these Vincentian individuals and entities- "kings and queens" in their own right: Miss Ferdie; Mike Findlay; Yank Bakery; Tannie Peters (deceased); David 'Darkie' Williams, Mr. Fergus (Snow cone man); Inford Burnett (photographer); Gordon 'Tarya' Boucher and his Ital Shop; Frankie Mc Intosh; Junior 'Spirit' Cottle; Hugh Raguette; retired traffic officer Calvin Glasgow; Roy and Owen Ralph (deceased); Alida Derrick- Cordice; Dennis Joyette of Joyette's Garage; 'Sardo' (annual depicter of the Right Excellent Carib Chief Joseph Chatoyer);Dr. Alston Becket Cyrus; Kevin Lyttle; and Jean Johnney-Findlay who heads the Mijé Personal Development and Advertising Agency.
Minister of Tourism and Culture, Carlos James who was present at the launch gave Small his fullest support in his venture on behalf of the government of St. Vincent and the Grenadines.