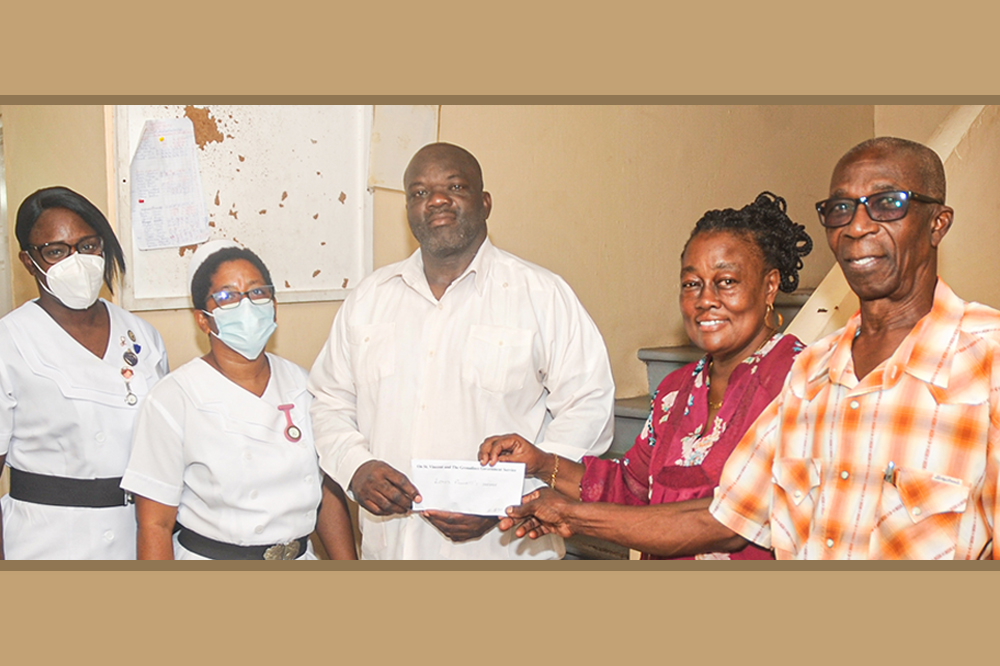 Cousins of Curtis King assist Lewis Punnett Home
On Wednesday December 21, Minister of Education, Curtis King on behalf of family members residing in New York, presented a cheque of about EC$1,800.00 to the management of the Lewis Punnett Home; a donation which was most welcome.
According to King, these cousins of his "live in New York and they often send stuff for different agencies and persons who are not so well off," and do not want any publicity such as their names being mentioned.
Receiving the donation was Dr. Marie Davis-Blake, the departmental manager of the Lewis Punnett Home.
She said "We are very thankful, especially when you know Vincentians leave St. Vincent [and the Grenadines] and go to other countries. I know it's not easy. It is very nice.
"As young adults, they could think of such, and especially give to the less fortunate persons especially at Christmas. So I would like to take this opportunity to say thank you. Thank you on behalf of the residents and staff, make God continue to bless them richly."
Although it is a challenge managing the institution and ensuring the continued well being of the residents, assistance is received from a number of agencies and private citizens, in addition to the resources put in by the Government of St. Vincent and the Grenadines.
These donations said Dr. Davis-Blake "help us considerably and at least it eases some of the burden off…the government."
Pastor Adolphus Isaacs, a member of the Board of Trustees of the Lewis Punnett Home said the Trust "plays an integral part in the whole operation here because from time to time, when government cannot speedily do something, the Trust has to come in to make sure that the residents are taken care of, because that is our responsibility. The thing is that the Trust is there to make sure that the residents are comfortable. So we do as much as we can to assist."
He pointed out that those who made the contribution are good, patriotic Vincentians because "they are considering their less fortunate brothers and sisters. Even though they have gone to bigger pastures they look back and they say it is my roots, and let me see what I can do to help and so we are grateful to them for that".