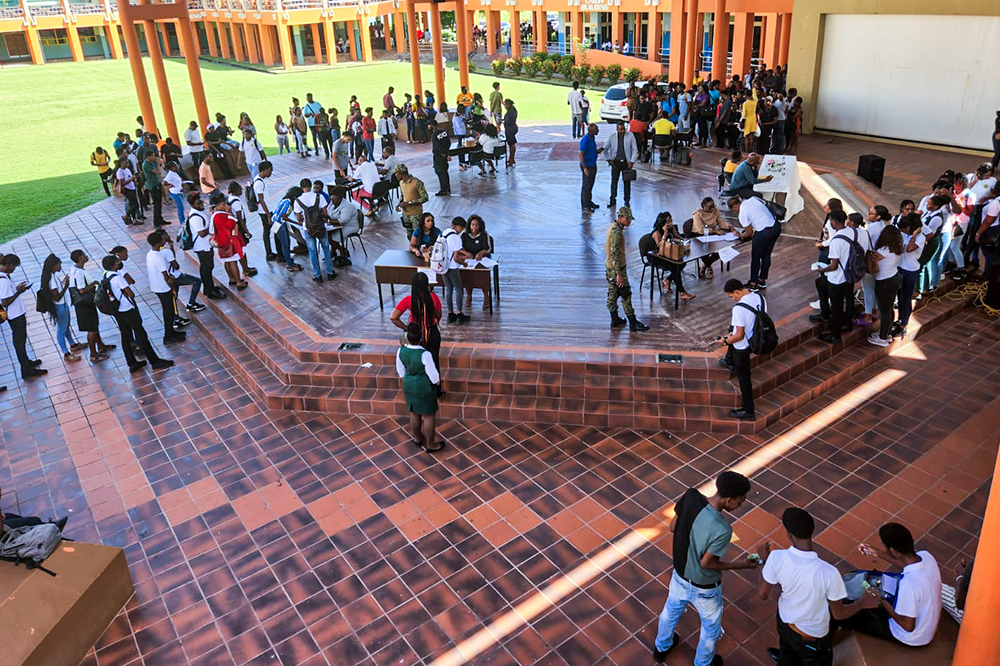 'Do your best', PM tells Community College students
Prime Minister, Dr Ralph Gonsalves gave encouraging words to students of the St Vincent and the Grenadines Community College (SVGCC), who received $500 cash payments last Friday, December 16.
"We want students to begin to appreciate that when you are doing any activity whether it is work or study, or you're doing a sport, you have to try to do your best…if you perform well, somehow there will be an incentive for you over those who don't perform as well," he said as he explained the reason for the payout.
The Prime Minister added that before March 2023, he hopes to meet the students who plan to go to university to give them some advice and guidance for their new endeavours.
A total of 764 students each received the payment having successfully completed the 2022 Caribbean Advanced Proficiency Examination (CAPE); Caribbean Secondary Eduction Certificate (CSEC), or Associate Degrees.
Minister of Education, Curtis King congratulated the students "for their magnificent achievement" noting that this reward is the Government's testament to its commitment to education and also as part of "our overall aim of encouraging our students to continue to perform, and perform better."
King credited the success of the students to their principals,teachers,parents and guardians, and also recognized the various sponsors of the students.
CSEC students were required to attain five passes from Grade I-III, including Mathematics and English A; CAPE students had to obtain passes from Grade I-VI in at least two unit subjects as well as communication studies or Caribbean Studies in two consecutive years; students in the various Associate Degree programmes were required to gain at least a B average; and Teacher Education Programmes demanded a GPA of at least 2.75 in order to qualify for a $500 pay out.
Keman Duncan, a year one student who was one of the recipients told SEARCHLIGHT that he was pleased that his academic efforts were recognised.
"I feel content receiving my $500 knowing that my efforts didn't go unnoticed or unappreciated, and I feel like this money can help other people with their necessities."
Past Student, Nalia Browne sharing similar sentiments also said "college was hard and after all that hard work, it feels really good."
Year one student, Nya Scott told SEARCHLIGHT she "felt grateful" after having received the reward.