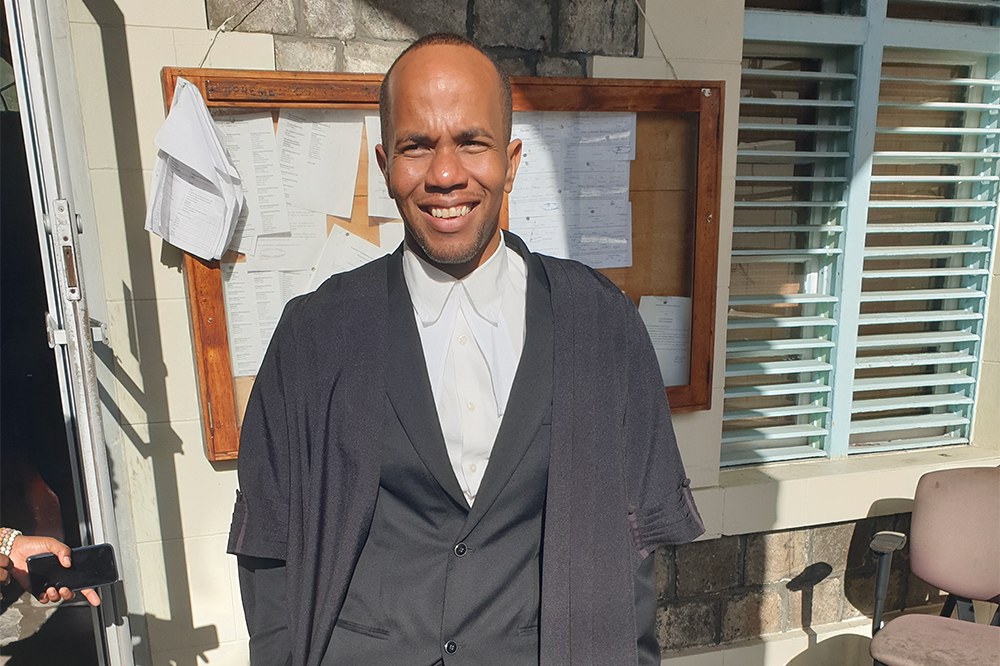 Luke Browne called to the bar
Luke Browne has added to his long list of accomplishments having, last Tuesday, been admitted to practice as a Barrister and Solicitor in the Eastern Caribbean Supreme Court, St Vincent and the Grenadines (SVG) circuit. 
"….As I said in my maiden speech before the court, I dedicate my service to the cause of legal and political representation for the people of St Vincent and the Grenadines, and I am taking that seriously.
"Today basically puts me in a position to be even more effective in those pursuits so this is a great day for me," Browne told SEARCHLIGHT after his call to the Bar at the High Court in Kingstown.
Browne's call was accepted by Justice Birnie Stephenson after Chief Magistrate, Rechanne Browne (Luke's sister) presented the case for the call which was supported by lawyers Theodore Browne (Luke's father), Saboto Caesar (Luke's brother in law), Stanley John QC, Rene Baptiste, Cecil "Blazer" Williams and Mandella Peters.
Born on October 4, 1985, Browne said becoming a lawyer one day after his father celebrated his 47th year as a barrister and solicitor is a dream come through.
He stressed that his father has always been a role model and someone he emulates.
"…For me to be able to be called to the Bar of St Vincent and the Grenadines, it is a culmination of a long journey of study so I feel the euphoria of achievement and the occasion was made more special by the fact that I was able to be surrounded by family, friends, and loved ones," Browne said.
He noted that he grew up in a legal environment at Browne and Browne Chambers and as a result became accustomed to the operations of a law firm from the early stages of his life.
The new lawyer said his support network encouraged him not only to take the day in stride but also to keep working hard for the representation of people.
Browne, an economist and politician who contested elections in East Kingstown on a Unity Labour Party ticket on three occasions, promised in his maiden speech that he is not going to give up on the constituency he hopes to one day represent in parliament.
"I ultimately gravitated to law and I will be operating out of that law firm (Browne and Browne Chambers) in the interest of continuity, and clearly, I have broader interests as well.
"I have interest at the constituency level…to continue my involvement in politics because I think it is important that we have leaders who continue the job to help people", the country's newest lawyer stated.
He said that at the end of the day, it is about helping people and representing people and that is what motivates him and keeps him ticking.
"That is what I do and what I think about doing when I get up every day and keep on the grind," said Browne, a recognized cricketer and community person.
Browne has an outstanding academic record. He was a top performer at the then Common Entrance examinations in 1997, the top performer in the 2002 CXC/CSEC, a national scholar in 2004 and the first person to win a Rhodes scholarship as a national of St Vincent and the Grenadines (2008).
He has a Bachelors of Science in Economics and Mathematics from The University of the West Indies (UWI), and studied applied statistics at the Master's level at Oxford University.
Browne's law journey started with him doing a graduate diploma in law (by distance) at the BPP University while he was Minister of Health.
In 2020 he took a sabbatical from government to complete the Bar training course in the United Kingdom, and in August 2021 he pursued his Bar training course at BPP in England. He completed it on schedule and with distinction after which he was called to the Bar of England and Wales in the UK, paving the way for his call to the Bar in St Vincent and the Grenadines (SVG).
Luke is the second son and fifth child born to lawyer R. Theodore L.V. Browne and his wife, former educator and Permanent Secretary in the Ministry of Education, Laura Browne.