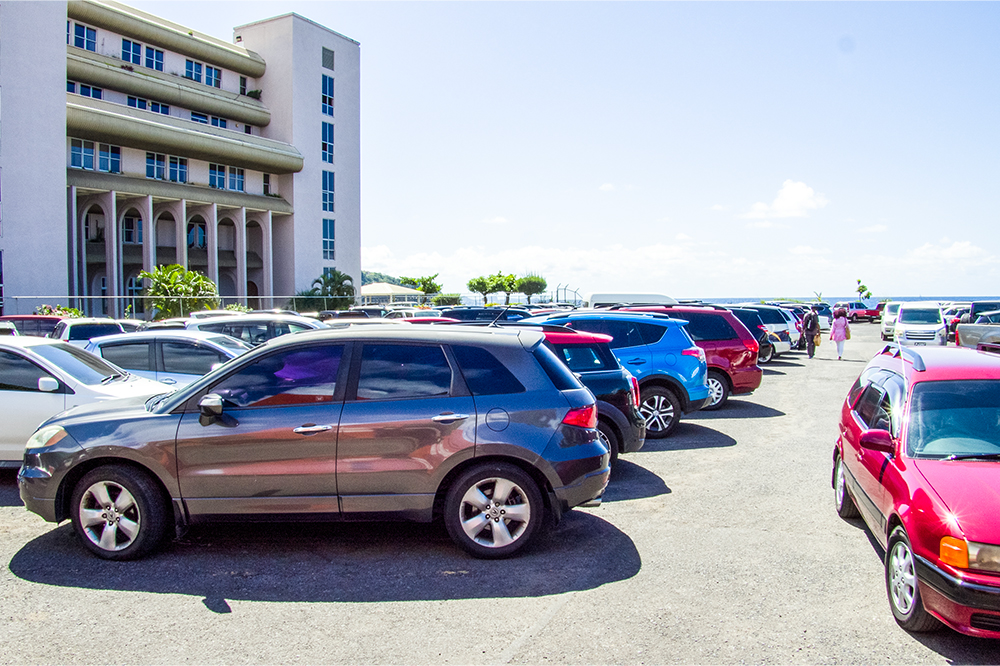 No increase in congestion from Court House yard parking ban – Traffic head (+ video)
Police say the decision by Cabinet to restrict parking in the Court House yard has not made it more difficult to find a parking spot in Kingstown.
Registrar of the High Court, Andrea Young, in an email sent to lawyers and their clerks on Friday, November 18 gave official notice that with immediate effect, the Court House yard would no longer be available to them for parking.
The Registrar's email came just one day after Prime Minister, Dr Ralph Gonsalves said it was unfair that lawyers were getting free parking in the Court House yard every day.
And while the vendor congestion problem has been resolved with the recent opening of three new vegetable markets, the areas on the street formerly occupied by vendors are now mostly being used for parking, with some of the spots being used by those denied entry to the High Court yard.
There are those who may have reasoned that the decision to restrict parking in the Court House yard would lead to increased income for operators of parking lots in the city, as there are persons now requesting monthly or daily parking. This has led to the reduction in the number of parking spaces available for drivers who pay by the hour.
Noel Jackson, one of the managers of the Solidarity Inc Car Park on Bay Street told SEARCHLIGHT on Tuesday, December 6, that he has received applications from four lawyers to park five vehicles in the car park.
He said the requests are being processed, but what this will do is limit the number of spaces available for persons who want to park for a few minutes or hours.
The daily, weekly or monthly rates are discounted, so the car parks are able to turn a bigger profit from persons who park for shorter periods then leave, making way for other users of the facility.
Chris Hinds, who operates Bargain Auto, Rental Parking and Detailing in Paul's Avenue was unable to say if the restriction on parking in the Court House yard has positively affected his business as he is not sure who some of the persons are that come by to park; they may or may not be persons shut out from the Court House yard.
Employees at the Kingstown Town Board's Parking Lot- behind the General Post Office- and the Coreas Parking Lot on Lower Bay Street also told SEARCHLIGHT that they were unable to determine whether or not the persons parking are lawyers or others affected by the Cabinet decision.
Weighing in on the issue, Head of the Police Traffic Department, ASP Parnell Browne, told SEARCHLIGHT on Thursday, December 8 that the department has not seen congestion in Kingstown because of the new court house yard stipulations.
"Persons who were parking in the court house yard are now parking in the paid parking…provided by the private entities…," the officer said.
ASP Browne added that the spaces freed up by the relocation of street vendors into the new markets are being used for parking.
He said he is not sure how many persons have been affected by the court house situation but he is asking persons to be more law abiding and obey the traffic signs and signals that are placed on the surface of the road and in other places.
"If you do that will you have no problem, and persons have to drive with reasonable consideration for other road users also and if that is the case we have no problem in Kingstown," said the traffic boss.
SEARCHLIGHT also spoke to persons who on Thursday, were seeking parking in Kingstown. Among them was Barry Shortte, who said as it relates to the court house yard, he thinks there were a number of repossessed vehicles there.
He suggested that people with property in and around Kingstown can open up their spaces to be used for paid parking, therefore capitalizing on the parking issue.
Pointing to a car boat that had just dropped off several vehicles, Shortte said the number of vehicles in the country is problematic as there is not an upgraded road system and the road network is the same one that is being used since the '40s.
Virden DaSouza, another person who was seeking a space to park in Kingstown on Thursday, said that even before vehicles were blocked from parking in the court house yard, there was always a problem to find parking space in Kingstown.
He said he thinks the Solidarity Inc. Car Park has enough space to add a structure for overhead parking.
"If we have to upgrade and we say we country develop, parking is a necessity.That is what we really have to focus on, especially in the city," said DaSouza who added that he sometimes spends upwards of $20 on parking when he goes into the capital.
Frank Ross, a returning national who lives in Toronto but hails from Carriere, pointed to the congestion in Kingstown.
"I try to manoeuvrer and get around pretty good. I usually come and park here (Solidarity Inc.) every time I come into Kingstown so I don't have a problem with parking," Ross said but noted that sometimes he has to wait outside the car park for at least 10 minutes before he gets a space.
Ross said there is no room in Kingstown but persons are working with what they have. He feels that unless land is reclaimed from the sea, the main city should be moved to Arnos Vale.
Ross also said he thinks the lawyers should have been allowed to remain in the court house yard.
RELATED ARTICLE: