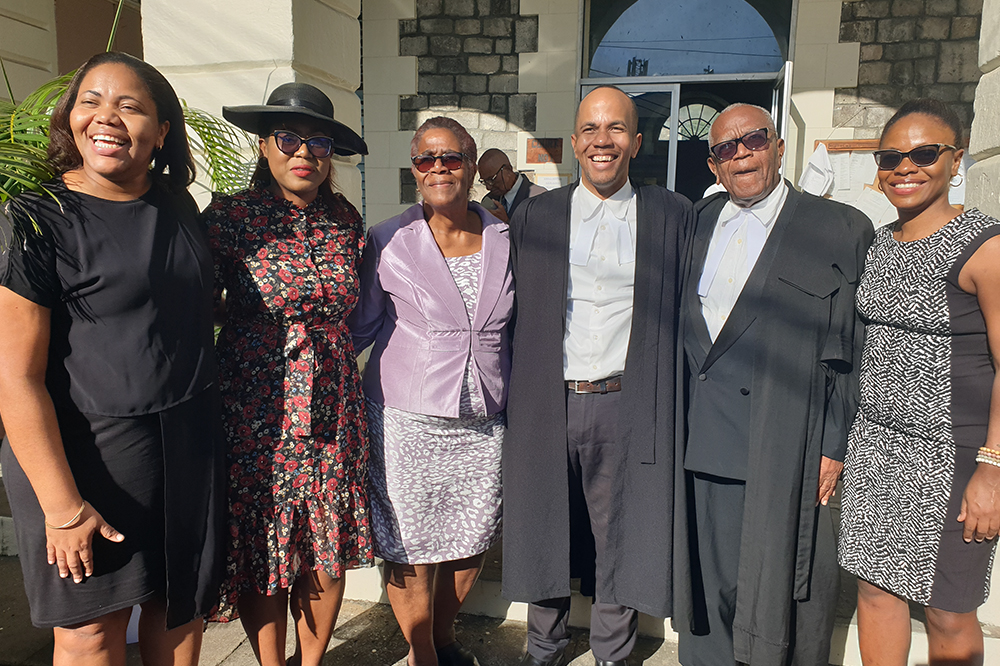 Luke Browne to focus on personal injury cases and land reform in his law practice
Personal injury cases and land reform are two areas of law on which this country's newest lawyer, Luke Browne, will be focusing.
The politician was called to the Bar on Tuesday, December 6, at the High Court in Kingstown and told the gathering that the deadly accident that took place on February 7 this year at the St. Vincent Distillers Limited construction site was something he took note of.
"I have a professional interest in personal injury cases. This area of the law combines my dual passions for mathematics and law that resulted from the combination of genes I inherited from my mother and father," said Browne, the son of Theodore Browne and Laura Browne.
After the accident, which took the life of Delano "Scrapie" Spencer and Maxwell Seales, and injured Cameron Moore, the management of the distillery issued a release indicating that the men were part of a work team hired by an independent contractor to demolish and reconstruct one of the buildings at the distillery.
"They were not employed by the St. Vincent Distillers," the letter stated.
"I took note of the distillery accident in Georgetown that occurred in February this year," Browne said during his address to the court after his Bar application was accepted by Justice Birnie Stephenson.
Browne also told a full court house that he feels the anguish of the policyholders who are suffering as a result of the collapse of insurance providers, CLICO and BAICO.
The companies collapsed in 2009, igniting one of the worst financial shocks experienced by the region to date.
"I am concerned about the protection of employment and consumer protection issues. I cannot be at ease in the knowledge that someone is disadvantaged for a lack of knowledge of legal rights. I think of myself as a public interest lawyer, " said Browne whose call was presented by his sister, Chief Magistrate Rechanne Browne.
The former Minister of Health said he believes there is a need for reforms in relation to land law.
"We should probably consider a registered land system in this jurisdiction. I look forward to the complete digitization of the records at the Land Registry."
He Browne also thinks there is scope for legislative intervention with respect to the administration of estates.
"How do we fairly resolve the problem of the owner of a property dying intestate with several of his children living in different houses (or parts of a house) on the land," he questioned.
"How do we solve the problem of derelict homes that result from family disputes? I suppose that I am also signalling an interest in land law, and equity, and trusts which are all important areas in the context of human society," the lawyer/politician said.
Further, Browne said he plans to be part and parcel of the thrust towards Alternative Dispute Resolution (ADR) as he sought to give the court a sense of his interests but not a detailed blueprint for his legal career.
He is expected to join Browne and Browne Chambers, a private law firm which his father, Theodore Browne, set up in 1984.
The newly called lawyer also mentioned his "very special relationship" with the deceased Parnell Campbell QC who was once his mentor.
"I hope I could live up to the expectations he would have had of me and to continue his work for constitutional reform in St. Vincent and the Grenadines to a successful conclusion," Browne commented while noting that he wants to be an agent of positive change in law and public affairs.
"I give the solemn undertaking to speak out against favouritism, unfairness and injustice. I believe in efficiency and that justice delayed is justice denied. I would therefore be an advocate for an efficient and effective judicial system," he promised.
"…In relation to the conduct of law and general affairs, I am allergic to excessive bureaucracy, red tape and bottlenecks. I understand the fierce urgency of now.
This is not at odds with due process and procedure," Browne concluded.