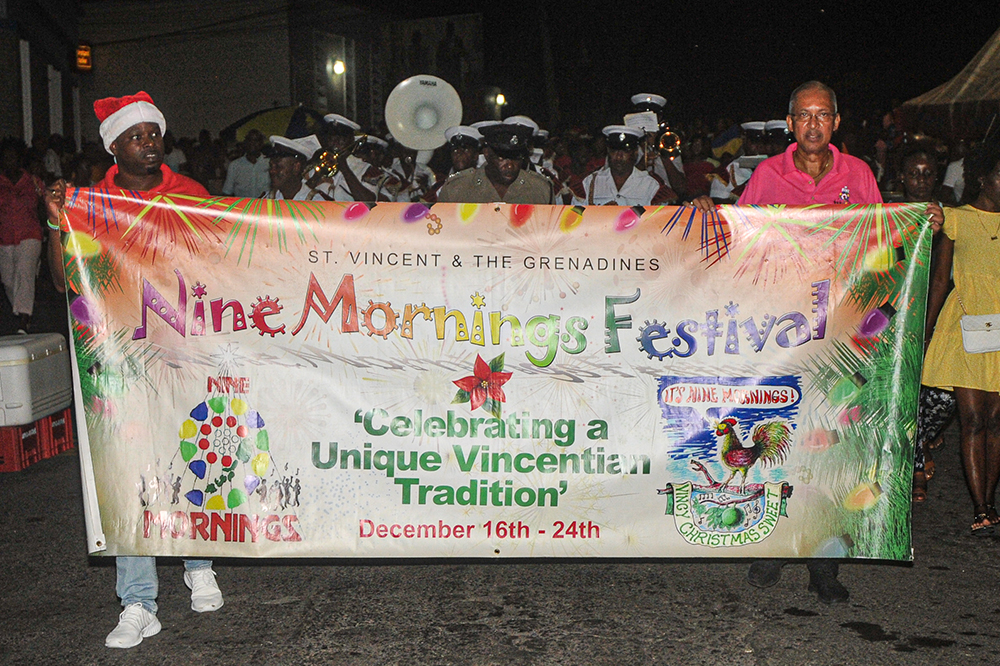 Vincentians urged to keep Nine Mornings Festival alive (+video)
by Christina Smith
Kingstown was overflowing with the Christmas spirit for the official launch of the 2022 National Lotteries Christmas Nine Mornings Festival over the weekend.
After a scaled back version of the festival in 2021 due to the COVID-19 pandemic, the young, old and in-between came out to the capital, Kingstown on Sunday, December 4, for the street parade and launch.
Community groups from as far as Fitz Hughes and Colonaire beat steel pans, drums, sang Christmas jingles and danced through Bay Street to mark the start of the festival which is being held under the theme 'We Christmas Again'.
Chairman of the National Nine Mornings Committee, Orandi 'Bomani' Charles, said the unique Vincentian tradition has "immense tourism potential" and he commended community groups, organizations and individuals who work to keep the festival alive despite challenges over the last two years.
Minister of Culture , Carlos James called on Vincentians to do their part to keep this unique part of Vincentian culture alive and thriving.
"I want to applaud… each and every one of you going into your communities, having the activities… turning on your lights in each community across St.Vincent and the Grenadines helps to keep the culture of Nine Morning's alive and particularly among the young people and the children.
" This is an important part of our culture. We have to preserve it. We have to make sure that Nine mornings is a staple on the calendar of activities in St. Vincent and the Grenadines. In a few days from now, we will welcome hundreds of people to St Vincent and the Grenadines.They are coming here to enjoy our Nine Mornings your Nine Mornings."
Just before 8:00 p.m, Minister James launched the countdown to light up the Nine Mornings Village, to the delight of the hundreds present at Heritage Square.
The festival again received an injection of funds from sponsors, the St. Vincent Electricity Services Limited (VINLEC) to the tune of $20,000 as well as $300,000 from the National Lottery Authority (NLA).
The festival launch also featured a community singing competition. Fitz Hughes claimed the first prize, while Black Fish City from Barrouallie, Mango City from Stubbs, and
Georgetown Community group took the second, third and fourth position respectively.