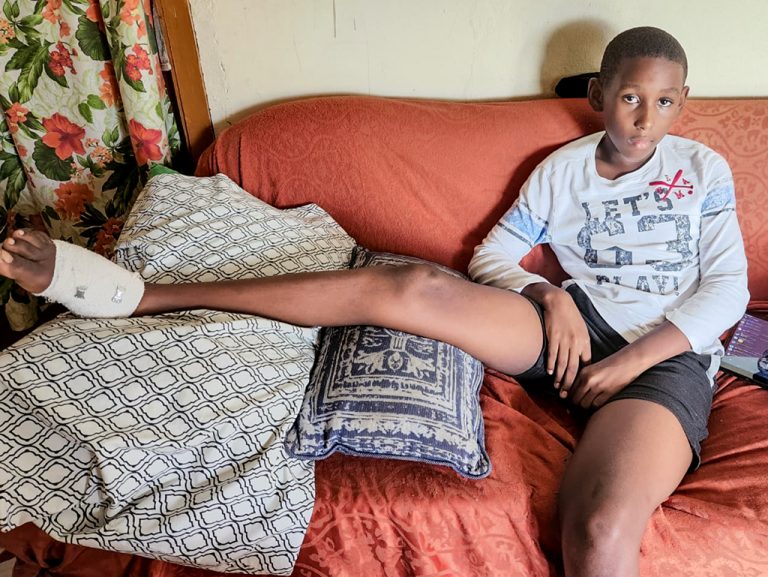 Parents of injured children still waiting to hear from Barrouallie Town Board
by Jada Chambers
Parents of the children who were injured by a piece metal on a playground located in Barrouallie say they have received no sympathy from the Barrouallie Town Board.
Eleven-year-old Simlet Pierre of Keartons Hill, and nine-year-old Dequari Fraser of Bottle and Glass are two of five victims who were reported to have fallen prey to the piece of metal that was protruding out of the ground at the playground.
The piece of metal was said to have been attached to a slide which was removed a while back.
In an interview with SEARCHLIGHT, Simlet Pierre's grandmother, Anita Pierre said that an official of the Barrouallie Town Board whom she named, was present at the playground on Friday, November 18 when her grandson got injured.
"She was there the same day the thing happened to the child, the same night."
Pierre said that the official told her that she would inform her boss about the matter and would either get back to her the following Saturday or Sunday, but did not do so until Wednesday.
On Wednesday, November 30, Pierre said that the Town Board official said she would report the matter to her boss.
"She called and say her boss would come by me [the following] Wednesday but I tell she I had to go to town with him (grandson)…and carry him…to the hospital tomorrow; so she say she will talk to her boss and up to now, she never call me back to tell me nothing."
Pierre said she hopes the playground will be renovated as schools carry children there to play. "Fix it, take out all those break up things that they have inside there so that children could have privilege to play."
The grandmother said she blames the Town Board for the injuries her grandson sustained "because if I employ you to work with me, right… I supposed to come around and see what you doing…and you're supposed to complain to me and tell me well such and such in the park isn't right…so all the time that thing there was ripping up people in the park, they never ever do nothing to it, so now that happened to him… as it's in news, that's why they go and dig it out," Pierre added.
She also spoke of her frustration that there is no light in the park "in case of anything and [they] know them have that kind of steel with thing breaking out to damage people. "
Simlett told SEARCHLIGHT that he does not go often to the playground and was only in the area because of a crusade that was being held on the square.
"I knew about the steel, but then I was trying to avoid it but how the place was dark, I didn't see the steel and then it hooked me,"he explained.
The piece of steel has since been removed but residents are uncertain who removed it.
Pierre, recounting the moment she heard of her grandson's injury said "I was vex because I tell you when I watch it, It was really amazing to see such a big injury he had there. I know he's upset because he loves school."
However, it was reported that the principal and a teacher of the Central Leeward Secondary School which Simlet Pierre attends, visited the boy and assured him that he will get his school work.
Just five days before Simlet's injury, Dequari Fraser hurt his knee on the piece of metal while playing on the playground.
His mother, Janice Griffith told SEARCHLIGHT that she did not make any complaints to the Town Board nor was she really expecting anything from them but still noted that no apology or sympathy was even shown on behalf of them.
"Well, my reaction, the same day I was telling the boy to don't go anywhere. I always tell him to stay home and help out in the shop, I would tell him to stay home but he would say home [is] boring…so at first… I was saying, it's how you're hardened and you don't hear because me nah send yo ah park; me nah send yo out dey but it's my child, me put him in the vehicle and I go around at nurse and then the nurse carry him over clinic and stitch it up because he took eight stitches, so he got stitches and I bring him back home, the night he was bawling for foot and pain," the mother recounted.
In an interview with SEARCHLIGHT, Dequari recalled the moment he got injured stating that it was quite painful.
He explained that he and a friend were playing around.
"Mommy told me not to go to the park and…I go, and after a boy pinched me…and after I run, and after I fall down,"he said.
Dequari's mother said although her son is able to walk, he has not fully recovered and still cries for pain from time to time SEARCHLIGHT contacted the Town Board official named by Anita Pierre concerning the incidents but she refused to make any comments.