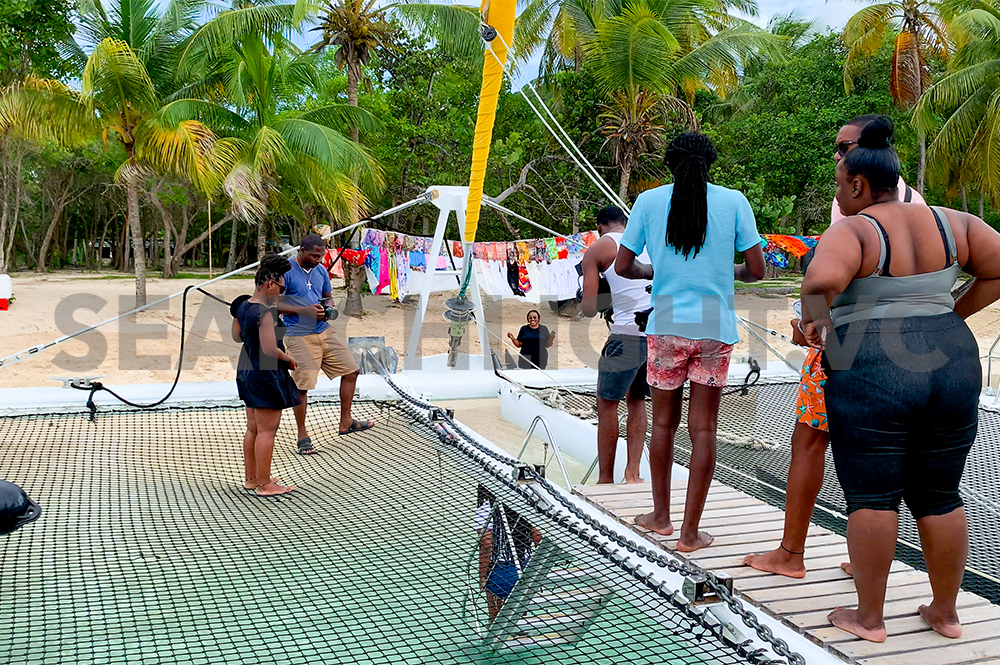 Appeal of Mayreau brings Martinique resident to the island repeatedly (+video)
by Eldonte Samuel
The appeal of the island of Mayreau in the Southern Grenadines is so alluring that a resident of Martinique says he has been unable to resist frequent visits there.
The Martinique resident told SEARCHLIGHT that Mayreau and its beauty keeps him coming back every year.
He said he has visited the island for more than 20 years, so that works out to around 10 times per year.
Mayreau in the Southern Grenadines, is among the 'must go to' places for visitors.
But, on November 11, a catamaran, the Emotions 2, taking members of local media organisations dropped anchor on the small island.
The familiarisation tour to Mayreau and the Tobago Cays Marine Park was conducted by the Ministry of Tourism, Civil Aviation, Sustainable Development & Culture.
Daren Friday, first officer on the catamaran, said passengers usually leave positive reviews about their experience on the catamaran, praising it for the way it handles rough waters.
"Yesterday, one of the tour guides told me that they want to use this catamaran again for the next tour," the Bequia resident said.
When asked about the record high tourist numbers expected this season, the first officer said for them, it's off to a rough start but he is hopeful that things will turn around for the vessel.
Friday said that when cruise visitors dock at some of these islands in the Grenadines they are unable to spend much time enjoying the scenery as the cruise ships operate on strict timing and usually leave the Kingstown wharf between 5:00 and 6:00 p.m.
"They never used to leave five o clock, six o clock, they used to leave at night so you have time to breeze and come back…you have to start from the people first, start doing something to make the cruise-ships say, 'stay here till 10 o' clock in the night.' Once we could figure out something, then we good."
The Emotions 2 docked in the waters of the Tobago Cays Marine Park, where senior park ranger, Benjamin Wilson gave the media practitioners a brief about the islands and some of the rules and regulations of the Marine Park.
"So…there's no speeding; not allowed to leave you trash here; the yachts are not allowed to dump their sewage into the park, as in the toilet, so you have to use your holding tank while you're here."
Wilson explained that these rules and regulations were put in place to conserve the islands' environment and to protect all wildlife that inhabits the Tobago Cays Marine Park.
The Ministry of Tourism is anticipating a great tourist season 2022/23.
RELATED ARTICLE: Tourism stakeholders urged to re-license for the 2022/23 cruise season (+Video)