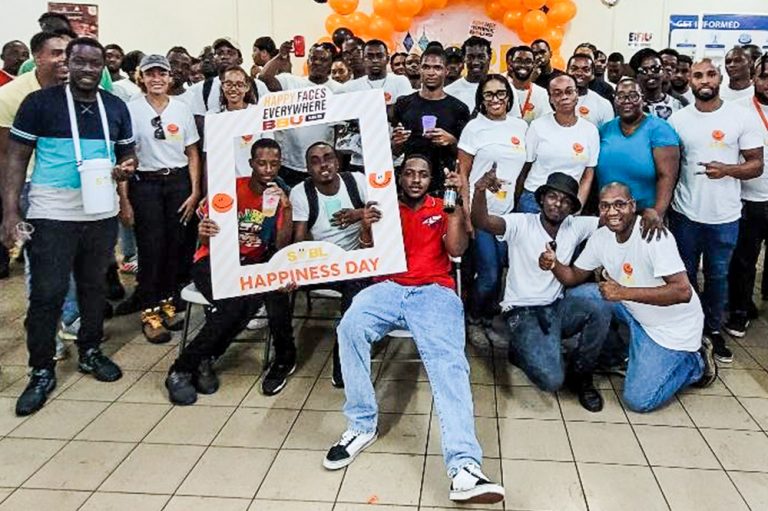 Happy Faces everywhere at St Vincent Brewery Limited
On Wednesday November 2, the management and staff of St Vincent Brewery Ltd celebrated the company's inaugural Happiness Day.
The Happiness Day event was the initiative of Plant Manager Colin Huskinson, and was hosted so that the company could show appreciation to the staff for their hard work and dedication.
Huskinson has worked with the Brewery in varying capacities for around seven years, filling the role of Plant Manager most recently over the last seven months.
The day was filled with fun outdoor and indoor activities, to a soundtrack of popular music, played by a local DJ.
There were cricket and dominoes tournaments, giant tic-tac-toe and four-in-a-row played outside. Indoors, there were board games, Jenga, Safety bingo, table tennis and even a PlayStation 4 football tournament.
Over 50 prizes were awarded to the winners in several categories.
"Despite facing several challenges over the last few years our staff has shown resilience and commitment. Happiness Day is the company's way of saying 'Thank you. We appreciate your hard work'", Huskinson said.
He added, "It was important that we do this on a day that would otherwise have been a production day, so the staff could see that their happiness is just as important to the company as volume or profits."
A key feature of Happiness Day was managers and supervisors behind the counter serving breakfast and lunch to the frontline staff.
One staff member commented: "I am so touched by that gesture of leaders serving us. Thank you."
Another employee called for the event to be held at least twice yearly.
St Vincent Brewery Ltd is a subsidiary of AB Inbev, the world's largest brewer.