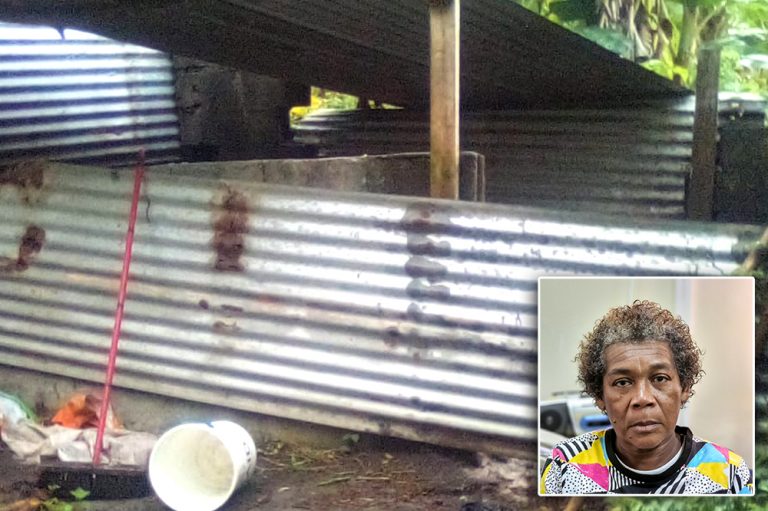 Sandy Bay woman crying out over stench from nearby pig pen
A resident of Sandy Bay is crying out for relief from the "overbearing" stench emanating from a pig pen that is situated close to her house.
Ophelia Lorraine claims that she cannot live comfortably in her own home due to the stench of the pig pen and she told SEARCHLIGHT that she has to keep her doors and windows closed "I cant eat. I can't drink a glass of water. I can't eat a plate of food in my porch. I can't even take a nap as how I used to take it before. I cannot do anything,"she related.
The woman said what really frustrates her is that the owner of the pig pen had built a previous pen further up on the land, but decided to locate a second one down the road near to people's homes.
"He [is] very spiteful…and I'm very disappointed in him. I did not expect that of him…He live down in the village, why [doesn't he] put the pig pen in the yard, like back of the house?…That is spitefulness, wickedness and worthlessness,"the Sandy Bay woman declared.
She said as well, that her injured husband is no longer able to rest in the porch of their home; he has to be indoors due to the unbearable stench.
"It [is] heart-wrenching for me…I wake up to go church, the place stink. You going market, it stink, mountain, it stink. It [is] overbearing, it stink too bad."
Lorraine said that residents in the community, including her husband, approached the owner on numerous occasions about the pig pen but he responds angrily.
In an effort to stave off the scent, the woman said she purchased an extra fan for her home, but has had to contend with an increased electricity bill.
The Sandy Bay resident said that she complained to the Public Health Department and was told that workers would be sent to do an inspection, but it has been more than three months now and no one has shown up.
"I'm appealing, I'm crying for help…somebody help me.. I am crying for help. This [is] ridiculous."
The pig pen is said to be situated to the right of Lorraine's house with a road between.
SEARCHLIGHT reached out to the Public Health Department, and a female member of staff who responded said while they were not able to confirm this specific complaint they have received numerous complaints originating from the Sandy Bay area.
She said they are particularly concerned about the small children living in the area, and the health implications that may result from the stench of the pig pen.
She did not say, however, whether there were any plans by the department to visit the community to assess the situation.