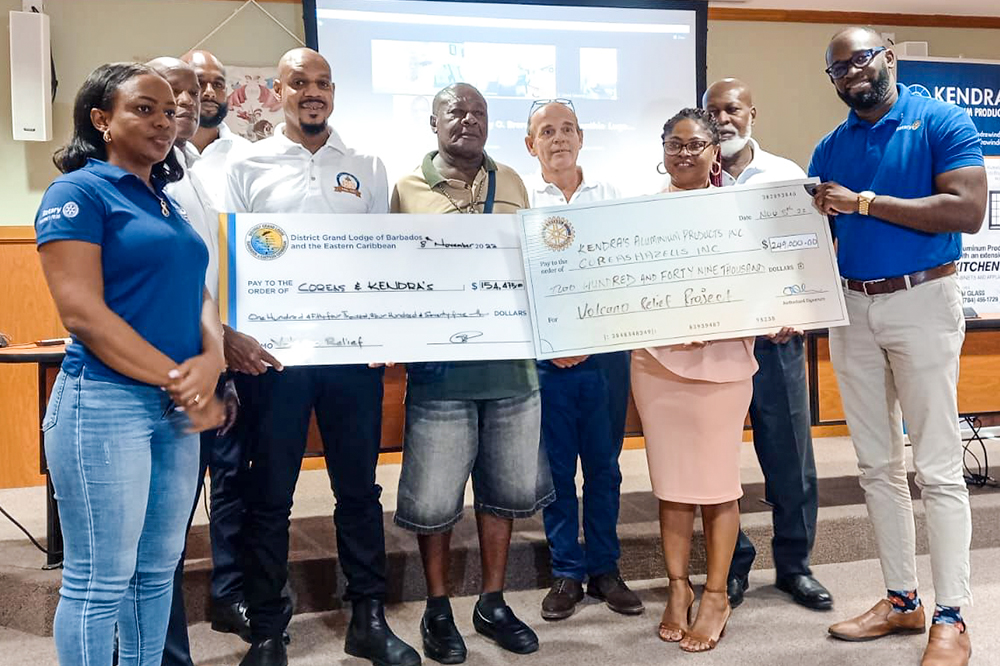 Red zone families receive support for housing repairs from Rotary and St George Lodge
More than 100 families earlier this week received housing repair support valued at EC$449,600 from the Rotary family in St Vincent, and the St George Lodge (Freemasons).
On Tuesday, November 8, at a ceremony at the Conference room of the National Insurance Services (NIS), 124 families who live in the red volcanic hazard zone each received vouchers ranging from EC$1,200 to EC$4,000.
These is to enable them to purchase doors, windows and materials to repair their roofs which were damaged during the April 2021 volcanic eruptions.
The doors, windows and construction materials are to be purchased from Coreas Hazels Inc, and Kendra's Aluminum Products Ltd which have partnered with the Rotary family in St Vincent and the St. George Lodge in this initiative.
This week's donations constitute phase two of a collaboration between Rotary and the Lodge. Earlier this year, they provided similar support in excess of EC$170,000 when they executed part one of their housing project.
The Rotary and the Freemasons received financial support for the project from numerous organizations and corporate entities, as well as their colleagues across the region as part of continued efforts to support the recovery and rehabilitation of families impacted by the recent volcanic eruptions.
Speaking at the ceremony, Worshipful Master of the Freemasons, Edmund Jackson thanked the Lodge's regional counterparts.
"With their assistance we have been able to coordinate seamlessly with the Rotary family to bring relief once again to families across SVG," Jackson said.
Presidents of the local Rotary Clubs Kurt Dougan and Daniel Campbell expressed how keen the local Rotary family is to welcome such a collaborative and direct impact initiative especially at this time during the rainy season when families are faced with challenges of leaking roofs caused by the volcanic eruptions.
Rotary Assistant Governor, Shafia London, who coordinated the initiative added that "Rotary International is an international service organization whose stated purpose is to bring together business and professional leaders to provide humanitarian service around the world.
" This program valued at half a million East Caribbean dollars is an example of how we can join hands to support communities with a shared future for humanity."
Corporate partners, Coreas Hazels Inc and Kendra's Aluminum Products Ltd were represented at the ceremony by Brian George and Juliette Jacobs respectively. Both companies provided a 25 per cent discount on the purchase of vouchers for the programme.
For this phase of the project, the Freemasons donated EC$154,475, while the Rotary donated EC$249,000.