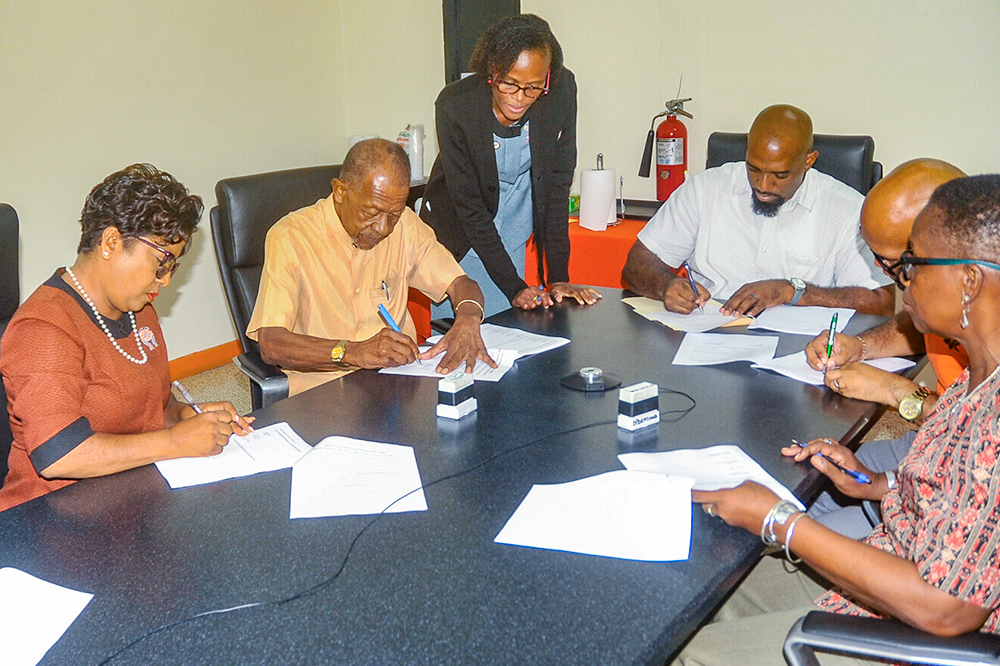 GECCU and workers Union sign new collective agreement
The General Employees Co-operative Credit Union (GECCU) and the Commercial Technical and Allied Workers Union (CTAWU), on Tuesday, November 8, signed a new collective agreement on behalf of workers at the credit union.
The Agreement is retroactive and covers the periods: 2021/2022, and 2022 to 2024.
In an interview with SEARCHLIGHT, president of GECCU, Michael Sayers said "having completed our negotiations and signing off with CTAWU, it has been a privilege and a pleasure to be a part of this to ensure that we put things in place for the betterment of our staff, and membership as a whole.
Sayers said that he and his team trusted the negotiating process, and the agreement reached "will indeed be in the best interest of all parties involved. It shows that we care about our staff, we care about our membership, we care about them, not just in terms of the financial packages that we offer, but also in terms of their mental, physical and emotional well being."
Sayers further told SEARCHLIGHT that the signing of the new Agreement has sent several messages to investors and the business sector that " GECCU is a solid and a serious institution".
"We are growing and we are moving forward. We trust that everything that we do will continue to show that we are not stagnant, but we are continually climbing for higher heights in our society," the GECCU president added.
General Secretary of the CTAWU, Joseph 'Burns' Bonadie, who led the union's negotiating team told SEARCHLIGHT that the negotiations at times were very robust, but "I am very happy indeed that I could have led the negotiating team this year because we had the best advisors."
He said they were very happy with the outcome.
"GECCU is the largest credit union in St. Vincent and the Grenadines, and over the period of years that we have been representing the employees, we have been able to get some preferential rates for the members. We have seen GECCU move from strength to strength, and I want to pay a compliment to the staff, particularly the staff, in GECCU with longevity," Bonadie said.
" They have been working for years, they have seen the institution grow, and they were able to share with the union areas of improvement for our members."