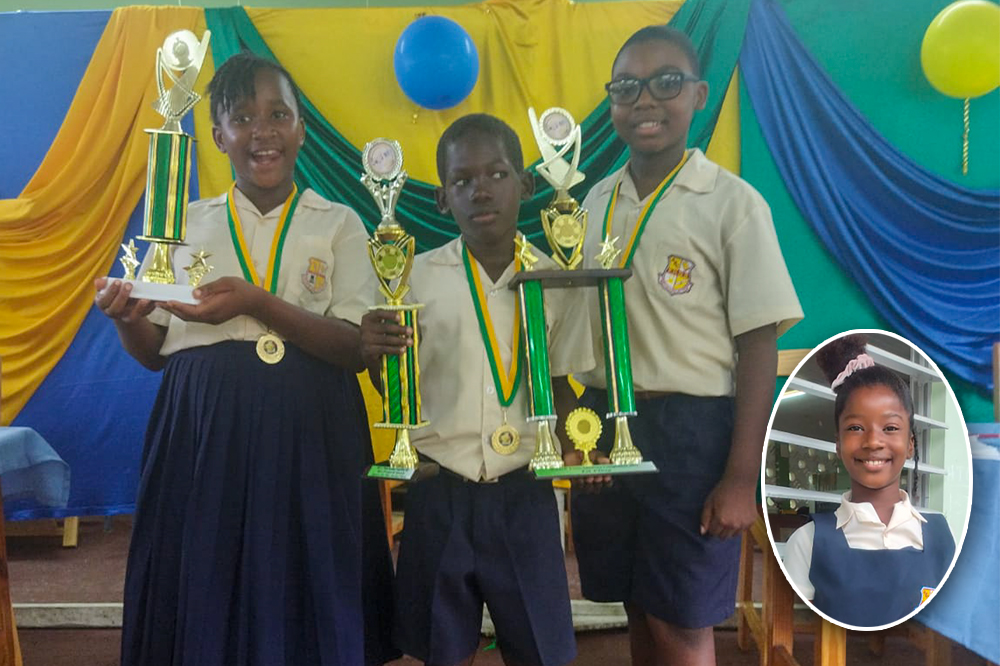 Fitz-Hughes student argues for Social Media in schools, wins public speaking contest
If teachers hope to educate children for the world in which we live, then social media must have a place in our schools.
This was the proposition made by Jahvi Walters, winner of the inaugural public speaking competition of the Fitz-Hughes Government School.
The competition, which took place on October 25 saw participation by four students – Mollyah Bobb (Grade 4), Javid Harry (Grade 5), Jahvi Walters (Grade 5) and Nairobi Peterson (Grade 6).
During the prepared speech round, students debated the topic: "Should Social Media be allowed in school?"
Walters said the benefits of allowing social media in school are far-reaching.
"Today I stand before you advocating for change, change that will improve the lives of students, a change that will keep students abreast of modern times, a change that is inevitable, a change that will allow social media to be included in our schools…
"If teachers hope to educate children for the world in which we live, then social media must have a place in our school," Walters argued.
He questioned: "Doesn't it make sense to raise the bar and step up our game? Why teach digital natives using traditional methods?"
Walters said because social media platforms are integral to the lives of young people, educators should teach with and about social media.
"Chairperson, today's students were born during the technological age. We are digital …[natives], we are not technophobic. We are not afraid to use technology. We are in the 21st century; it demands changes in the traditional methods of teaching and learning to keep up with the modern time."
Walters said social media can offer students and teachers experiences that expand the classroom beyond Fitz Hughes, beyond St Vincent and the Grenadines and beyond the Caribbean.
"Come with me on a virtual tour around the world. Yes that's the Eiffel Tower, oh yes you got that right that's the Buckingham Palace… let's go over to China, yes that's the Great Wall of China, ah yes! that's the Nile river, the longest river in Africa. Did you ride on a plane to visit those places? Did you even leave the classroom? And I'm sure bet it was all educational. Do you see the power of the integration of technology in education?"
Walters also argued that social media can provide motivation for students to learn and is great for capturing students' attention especially with the use of YouTube videos.
After the two keenly contested rounds of prepared and impromptu speeches, Jahvi Walters was named overall winner, and winner of the best prepared speech and walked away with the Jozelle Adams Award.
Nairobi Peterson captured the best impromptu speech award.
The four competitors were awarded medals of participation and a $50 cash prize donated by John Williams of Fitz-Hughes.
The principal and staff thanked everyone for their support and said they are looking forward to hosting an inter-primary schools competition in the coming year.