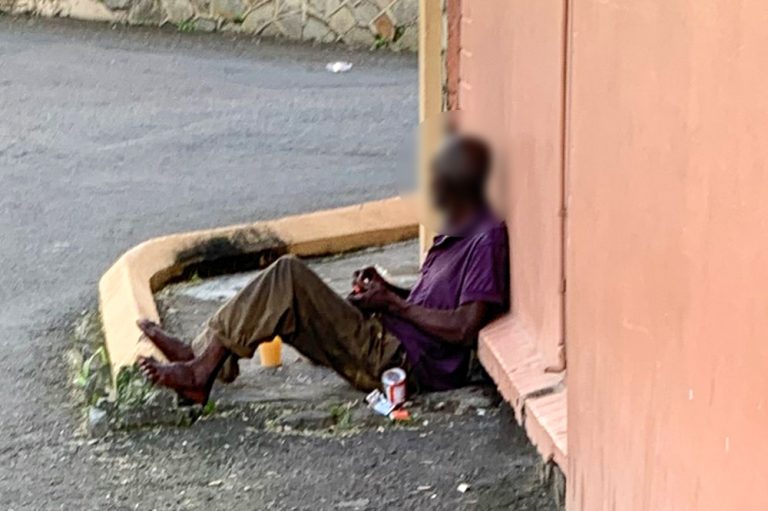 Aggressive vagrants becoming a worry to business persons in city
by Jude Knight
The aggressive behaviour of persons who roam the streets of Kingstown is a concern to some persons who operate businesses in the city.
And, a few of them, relating to SEARCHLIGHT the unsavoury encounters with some of these 'street roamers', have said the Government needs to step in and deal with the problem before things get worse.
"Government has to do something to address this quickly, especially those who are becoming a menace before someone is seriously hurt or killed by one of these persons," one business woman told SEARCHLIGHT of the street dwellers who can frequently be seen rummaging through garbage containers in search of food.
The businesswoman recounted having several frightening experiences recently with some of these vagrants who treat her establishment with scant regard.
"They would come in the store, pick up items and refuse to pay, and when you speak to them they threaten you and your staff with violence."
She said there is a particular individual whom she described as "a regular", who would walk in, take up items, push past customers waiting in line at the cash register, throw some coins on the cash desk, "hardly enough to cover the costs", and simply walk out with the items.
The businesswoman said that she and her staff are powerless to stop these persons without risking injury, or worse. The store owner said that recently, one such person entered the store and attempted to walk out with some items. When she spoke to him, he threatened to return with his scissors and stab her, so she allowed him to go with what he had taken.
She said that she looks on from her store as they harass members of the public and tourists, and "if we are not careful this could also damage our fledgling tourist industry".
A shopper at another establishment which sells food items, also echoed the call for government to have a permanent residence for these "vagrants". She said these homeless people have no real access to toilets or bathroom facilities "if they even care to use them", and some even urinate and defecate on themselves.
"…Where do they clean up or wash their hands?" she queried. The customer said she has also witnessed some of them handling items on the shelf at the business establishment, and she believes that some measures should be taken to discourage such unsanitary practices.
"I remember some time ago, witnessing one homeless man strip naked in front of a store in the heart of Kingstown, and he was literally bathing himself in his own faeces, and that was particularly nauseating," she related.
She also said some of them openly claim they are 'crazy' and "if we lash them we would go to jail, but if they lash us they will be sent to mental home and be back out soon after".
The customer acknowledged that "while it is clear some of these homeless persons are suffering from mental illness, it is also obvious that there are others who have left their homes for one reason or another and would prefer to beg or steal than to find gainful employment".
A few days ago one of these 'street roamers' reportedly struck a male student of a secondary school with a piece of brick.
In our issue of May 28, 2021 SEARCHLIGHT reported on an incident in which a woman complained about the "rude" and "disrespectful" behaviour of two street boys who were not only physically violent, but also verbally abusive, one of them even going so far as asking her for sexual intercourse.
She too called on the 'authorities' to address the problem.
While some of these homeless people sleep on pavements and in the doorways of establishments in Kingstown, others are sometimes found to be using abandoned buildings in and around the capital as places to lodge.
SEARCHLIGHT understands that one such 'settlement' is situated not far from the Inland Revenue Department.