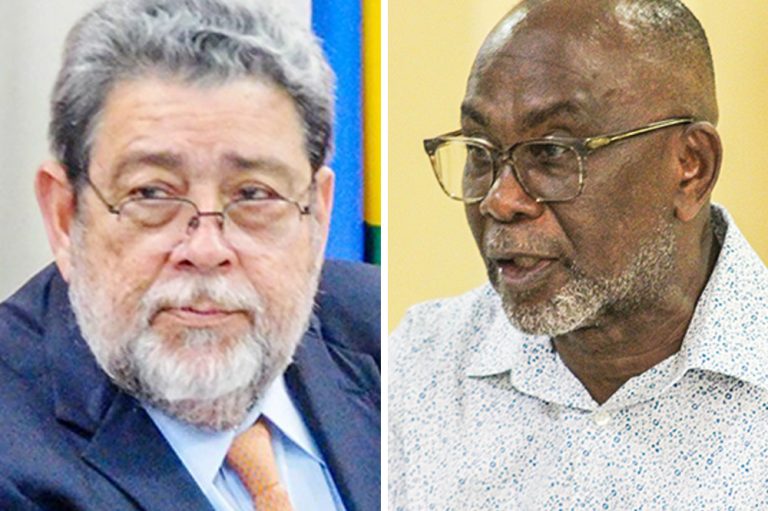 Leacock, 'nobody is offering you' a board house – Ralph Gonsalves
Prime Minister, Dr Ralph Gonsalves has responded to comments by Vice President of the New Democratic Party (NDP), St Clair Leacock in which he expressed opposition to the Government sourcing wooden houses from Guyana for some displaced families in St Vincent and the Grenadines (SVG).
Speaking on the Issue at Hand programme on Sunday November 6, Gonsalves said that "Leacock just doesn't know what he is talking about."
The Prime Minister described Leacock's comments about the wooden houses as "absolute foolishness."
"I read his words carefully, he says he personally rejects it.
"Well St Clair, nobody is offering you one, you have your big wall house."
The Prime Minister further advised Leacock "don't waste your breath" if he was speaking from a policy standpoint.
Making specifically about the greenheart houses, the Prime Minister said, "once we get them at a price, which I believe we may get them at; we will buy."
He added that not only will government buy the greenheart houses but "will give them to people in the country, the poor and the working people. We will provide houses for them."
Gonsalves said he saw a photograph of one of these houses, and it was beautifully designed.
In addition to their beauty, these houses are long lasting, "those things would last you a lifetime," he said on Sunday's programme, adding, "they make beautiful houses".
Speaking on November 2 on his party's New Times programme on Nice Radio, Leacock was critical of government's effort to secure wooden houses, as it continues the rebuilding process in the aftermath of the volcanic eruptions of April, 2021.
Leacock, who is Vice Chairman of the Opposition New Democratic Party (NDP), had used the radio programme to voice his personal opposition to government's building wooden houses for Vincentians who are displaced.
He said he personally does not support Vincentians going back to board houses.
"I don't care whether they are made from mahogany, greenheart, or whatever it is "We have passed that kind of stage," Leacock said last week.
While expressing a "personal point" on the New Times programme, Leacock added that he will not accept "those kind of houses as part of the new architecture for accommodation in St Vincent and the Grenadines."
Last month, Minister of Transport and Works, Montgomery Daniel and Housing Minister, Orando Brewster, along with two engineers went to Guyana to seek further information and pricing of greenheart houses from that country.
Gonsalves indicated on Sunday, that once the prices are affordable, the pre-fabricated houses will be bought for Vincentians.
He recalled that in its 17 years in office, the NDP never built a single house for Vincentians.
Instead of building and helping, Gonsalves accused the NDP of "naming and shaming" Vincentians who were unable to meet their financial obligations to the then Housing and Land Development Corporation (HLDC).