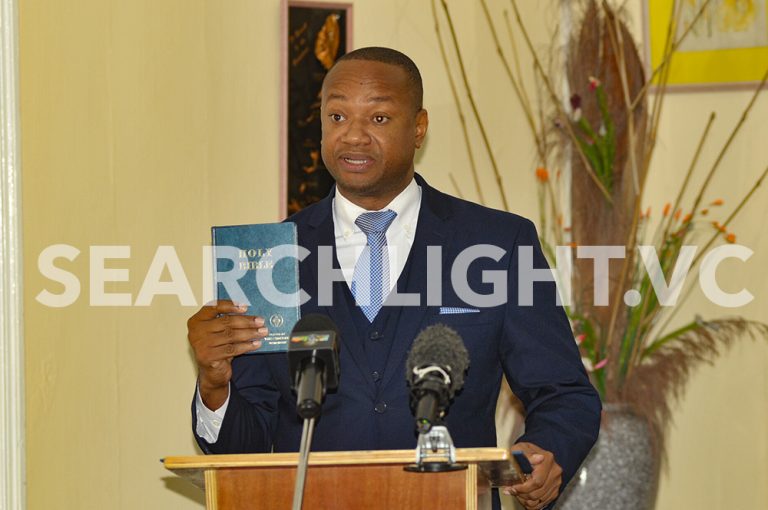 Grenville Williams officially sworn in as Attorney General
The appointment of Grenville Williams as the Attorney General of St. Vincent and the Grenadines was made official during a swearing-in ceremony on Friday.
The lawyer and third AG to serve under the Unity Labour Party (ULP) administration, swore the Oath of Allegiance, Oath of Office and the Oath of Secrecy to formalize his coming to office.
Before an audience which included Governor General, Dame Susan Dougan, Acting Prime Minister Montgomery Daniel, former AG, Jaundy Martin and staff of the AG Chambers at Government House, Williams thanked the government and people of SVG for the "trust and confidence" placed in him with the appointment.
Williams says he intends to perform his duties with the "utmost professionalism and effectiveness" and stressed that it is the "cardinal responsibility" of the attorney general to "protect, preserve and uphold the rule of law".
Quoting the inauguration speech of the 35th President of the US, John F.Kennedy where he said  "ask not what your country can do for you, ask what you can do for your country", Williams says it is his aim to apply these words to the "Vincentian context".
"I am humbled and honoured to answer the call to serve my country, to be the principal legal officer for the government, to serve all Vincentians and the wider regional community who will be impacted by the actions and decisions of the office of the AG and the state machinery."
In his remarks, Montgomery Daniel says the AG's appointment "marks another milestone in our country's development".
"…we in this government know very well, that the task of an attorney general is not an easy one. For it, was Martin Luther, who said, injustice anywhere, is a threat to injustice everywhere. And this, this government prides itself in upholding the law, not only here in St. Vincent and the Grenadines, locally, but regionally and internationally."
The ceremony was also attended by Williams' wife, Shafia London and their two sons.
RELATED ARTICLE: Grenville Williams is new Attorney General