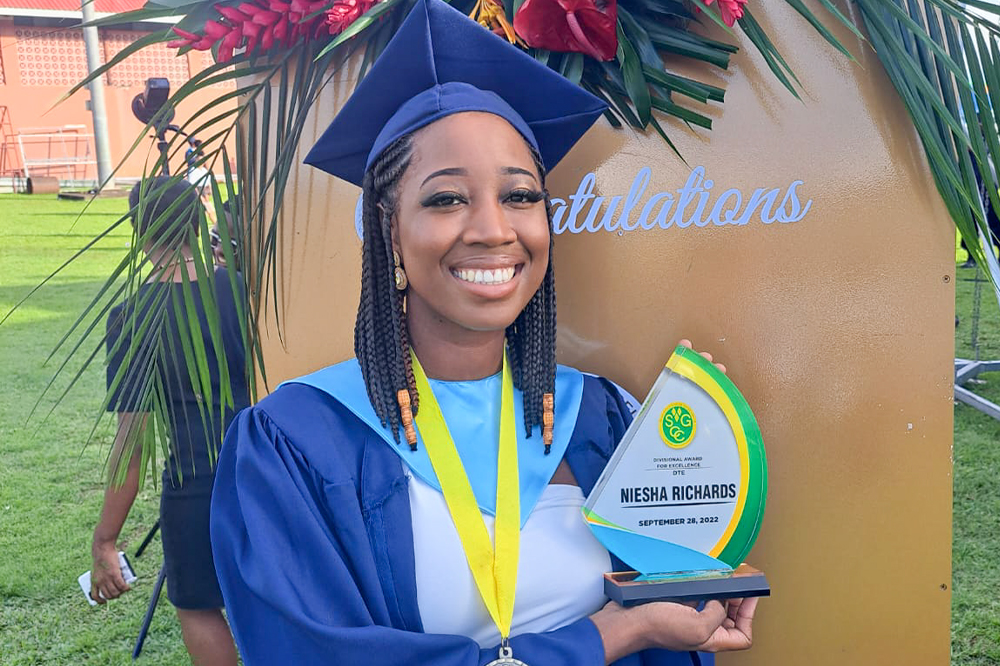 VINCYCARES congratulates Niesha Richards on national award
The VincyCares Board of Directors has extended congratulations to Niesha Richards on receiving a three-year Bursary Award for academic excellence from the Government of St. Vincent and the Grenadines (SVG).
The awards were presented last month to students who excelled in the 2022 Caribbean Advanced Proficiency Examination (CAPE) and Associate Degree programmes.
Richards, who attended the Belair Government School, was one of the first recipients of a VincyCares five-year scholarship 10 years ago, a release from VincyCares states.
Thanks to the generosity of her sponsor, Chris Matthews-Child who donated the scholarship to honour the memory of her beloved sister
Magdalene Matthews, Niesha was able to successfully complete her secondary education at the St Vincent Girls' High School.
She then went on to study at the St. Vincent and the Grenadines Community College (SVGCC), and recently graduated Valedictorian in the Division of Teacher Education.
While at the SVGCC, Niesha also received a scholarship from VincyCares, sponsored by Dr. Sheldon Lewis, in memory of his grandmother, Camelete Crichton.
During her tenure at the college Niesha emerged the Best Speaker- finals and Best Speaker- overall in the 2022 Windward Islands Debating Competition.
Her team, representing St. Vincent and the Grenadines Community College, won the competition.
VincyCares said Richards has proven over the years the importance of not wasting an opportunity. She made a promise to VincyCares, and her sponsor, Matthews-Child that the investment in her education will not go to waste.
Matthews-Child also commended Niesha's efforts in her academic journey thus far.
"I couldn't be more proud of Niesha. She has kept her promise to me and to my sister Mag. Well done!"
In response, Niesha reiterated how thankful she is to VincyCares for taking a chance on her all those years ago.
"If I didn't have the financial and emotional support the organization provided during those pivotal years, I have no doubt I'd be in a less favourable position today," she said.
Asked how she feels about receiving the Bursary Award, Niesha responded, "I am ecstatic and deeply honoured to be a recipient of such a prestigious award. This accomplishment is a significant milestone in my life, and so I wish to extend my deepest gratitude to all those who have supported me on this journey."
The VincyCares Board of Directors said it has full confidence that Richards will make the best use of this Achievement Award, as she continues to excel, and wishes her much success on the next phase of her journey.