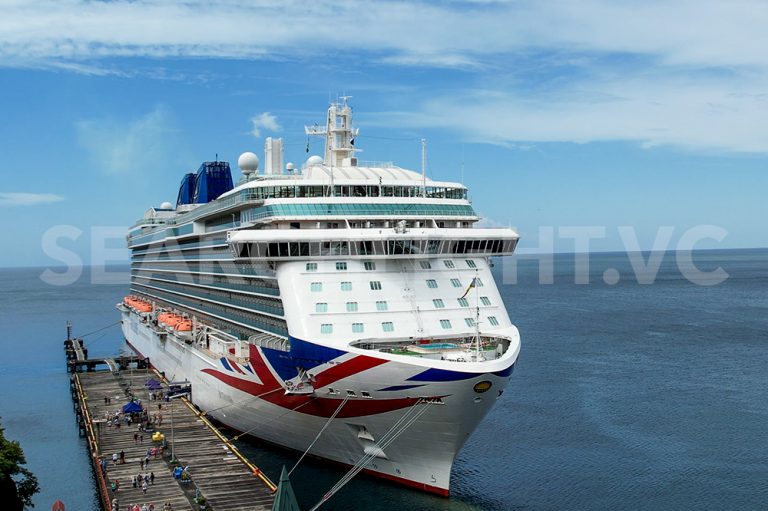 Rainy start as SVG welcomes first call of 2022/23 cruise season (+video)
It was a rainy start to the 2022/2023 cruise season but by all reports, vendors at the Cruise Ship terminal and taxi operators have high hopes about what is expected to be a record breaking season.
On Monday, Minister of Tourism, Carlos James announced that St Vincent and the Grenadines (SVG) was expected to receive 305 cruise calls with a total of 326,000 passengers expected.
Earlier this month, the COVID-19 protocols governing the arrivals of cruise visitors to SVG were lifted, allowing the unvaccinated to enter without restriction for the first time in two years.
The first expected call set for Wednesday, November 2 was cancelled, making Thursday's arrival of the BRITANNIA, the first to open the season. Travelling from St Lucia on Wednesday, the vessel arrived in Kingstown Port carrying an estimated 3,650 passengers on board to grey skies and heavy showers.
Vice President of the SVG Professionals Taxi Association, Wayne Butler, told SEARCHLIGHT while most of the operators were able to secure jobs, the weather affected the decision of some visitors to venture out across the island.
"The day started off rainy. Some of the passengers were complaining but they were so happy when the weather changed. Those that I took, they were so happy to be in St. Vincent."
Butler added that with the removal of the COVID-19 vaccine mandate for the taxi operators, the group is expecting a productive cruise season.
"This [cruise] season is beneficial for everybody… the guys [operators] were all smiling, everybody was happy."
Vendor in the Cruise Ship terminal and owner of AC's Summer and Swimwear, Avanelle Walcott, said the weather did play a big role in visitors choosing to stay on board the vessel. However, the retailer said sales were fair.
"Today was good, it was not bad. In spite of the rain this morning it worked out very good for me. My hope is that we make lots of sales this season because you know with the COVID-19 so this should be an exciting time for us and we are expecting a lot."
The captain of the Fun Tours catamaran cruises told SEARCHLIGHT they had a full house with 37 passengers.
The BRITANNIA departed Port Kingstown on Thursday evening headed to Bridgetown, Barbados.
According to the Cruise Time Tables, the Kingstown Port is expected to receive its second call today from the AIDAperla with an expected 3,286 passengers.