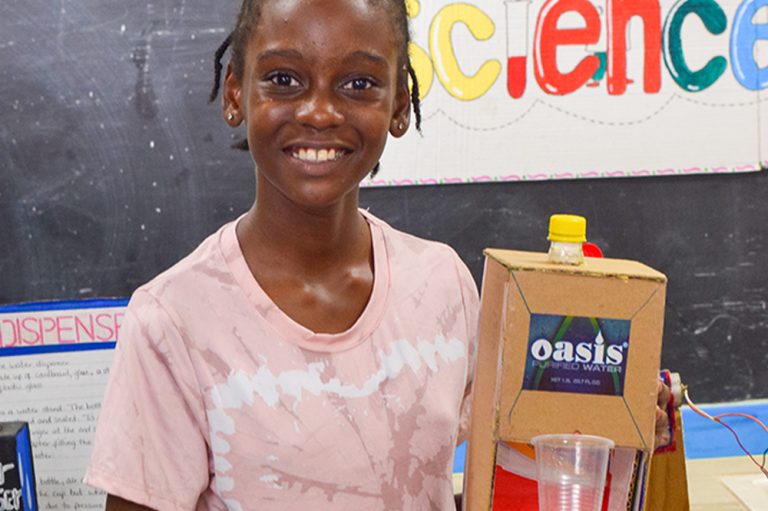 CW Prescod Primary hosts successful Science Fair
The first ever Science Fair planned and executed by the Science Committee of the CW Prescod Primary School, proved to an undertaking that surpassed expectations.
Featuring 120 entries, with students from Grades 1 to 6 participating, the fair ignited their scientific potential.
The entries, comprising projects and some innovations, all had a scientific component to them, and stuck to the theme: 'Scientific Innovation and Creativity : Keys to our Nation's Resiliency".
The students' efforts thus struck a chord of satisfaction, causing Minister of Education, Curtis King to give his nod of approval to the overall efforts.
"As small as they are, they might very well have answers that are sustainable to some of our development challenges that we call everyday problems…and these solutions they are coming up with are very innovative, very creative approaches to dealing with these problems", King said commenting on the fair.
He said that participation in a science fair is absolutely important and necessary for young students.
Giving support to the Education Minister's remarks, was the school's Principal, Suzette Abbott- King.
"As a school we are happy for this opportunity where our students can come up with ideas and develop confidence in conceptualizing, preparing and presenting their projects…", she said.
"This science fair has provided the opportunity for our students to be scientifically literate and provides the platform for them to showcase their talents and creativity", the school's principal added.
And, the chief organiser of the fair, Gregory Hoyte noted that the event was able to ignite the interest of students especially.
"What the fair has done was to pique the students' interests in Science and hopefully it is the stepping stone for greater things for them…It was really worth the effort…We were really taken by surprise by the response from the students, parents and teachers… It was tremendous and the enthusiasm shown by all, was overwhelming", Hoyte related.
He said the top entries will go forward to the VINLEC National Science and Technology Fair set for the Anglican School's Annex from November 7-11.