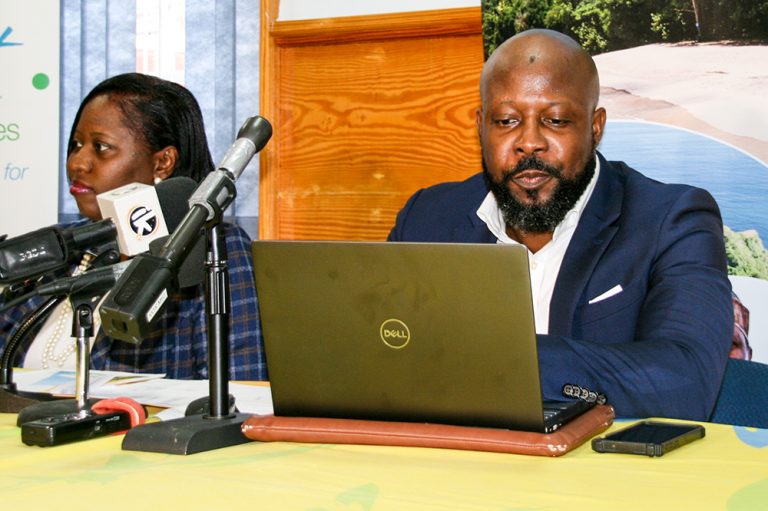 Record arrivals of cruise visitors predicted for 2022-23 season (+Video)
A record number of passenger arrivals to St Vincent and the Grenadines (SVG) has been projected for the 2022/23 cruise season.
Minister of Tourism, Carlos James at a press conference on Monday, said this year, there will be approximately 305 scheduled cruise ship calls to SVG, of which 12 will be inaugural calls.
"We are expecting a passenger count of roughly … 326,000 passengers, this is well over quarter million passengers, this year, and from my checks, it will appear that it will be a record year in terms of our numbers of passenger arrivals for cruise in St Vincent and the Grenadines."
Using pre-pandemic numbers as a benchmark, the Minister said the projected numbers for 2022/23 represent a 29 per cent increase in cruise calls, and a 44 per cent increase in cruise passenger arrivals compared with 2018 /2019.
"By all of the indications this is a pretty good showing in terms of the work we had put in, even in the pandemic period… " James said, adding that he got intimately involved in discussions with cruise line officials to ensure that St Vincent and the Grenadines remained a favourable destination, despite the pandemic and the explosive eruptions of La Soufriere."
"These figures … will likely to be our best performing year in the last 20 years as far as cruise is concerned," the Minister said at the press conference which took place at the conference room of the Carnival Development Corporation (CDC).
James said despite these numbers, SVG could have welcomed "a lot more" calls to the destination, had it not been for the "limitations" in our capacity to accommodate more than two ships at the same time at the cruise terminal.
"We are unable to dock three and four vessels per day. In fact, there are some vessels which some cruise lines wanted to come into St Vincent and the Grenadines at a particular time, but because that slot was already booked and given to another cruise line, it became challenging for us to accommodate a number of cruise lines who would want to come on the same day in terms of the scheduled calls."
The minister said he is pleased that construction work on the cargo terminal at the west of Kingstown has begun, which when completed will free up space within East and Central Kingstown, which will facilitate the expansion of the cruise terminal.
The 2022 / 2023 cruise season begins today, November 1, with the first ship scheduled to arrive on Wednesday, November 2. The second call will be on Thursday, November 3, when the Britannia, with over 3000 visitors, will dock at Port Kingstown.
All protocols which had been introduced in 2021 as a result of the COVID-19 pandemic have been lifted, so there is expected to be a free flow of visitors disembarking the ships and moving throughout the country," James said.
Quality Assurance Manager of the St Vincent and the Grenadines Tourism Authority (SVG), Nathalie Shortte encouraged all stakeholders, particularly taxi operators, to get licensed in order to participate in the 2022/2023 cruise season.