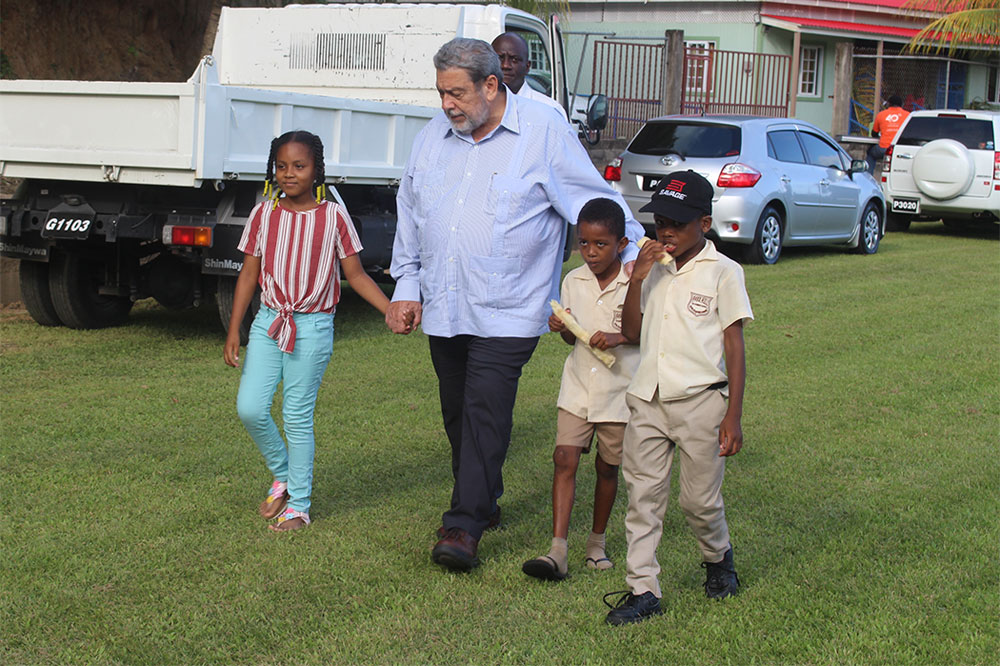 PM in students' crush at World Food Day event (+Video)
PRIME MINISTER, Dr Ralph Gonsalves was thronged by a group of excited students during the World Food Day celebrations in Park Hill last Friday.
World Food Day was observed across St Vincent and the Grenadines on October 14, and the Ministry of Agriculture held a ceremony and exhibition at the Park Hill Playing Field in the afternoon during which Gonsalves heaped praise on two state agencies.
When the Prime Minister arrived at the celebrations, a group of children ran excitedly to meet him and more joined in as he walked along the park.
Even more students joined the crush when the Prime Minister walked about visiting the various booths which had a range of produce, products and other items on display.
Even when the Prime Minister mounted the platform, the students remained on the ground, waiting to hear him speak.
A number of schools were represented at the event, including: Park Hill Government School, South Rivers Methodist School, North Union Secondary, Georgetown Secondary and George Stephens Secondary Schools. Gonsalves who is the Member of Parliament for the North Central Windward constituency, which includes Park Hill also heaped praise the stateowned National Broadcasting Corporation (NBC Radio), and the Agency for Public Information (API).
He told the gathering at the Park Hill Playing Field that both NBC Radio and the API, "have improved their work tremendously over the last recent period."
And Gonsalves said he had to commend these information agencies for their improvement.
Earlier this year, the Prime Minister was publicly critical of the API over some of it's television productions.
Speaking on his regular Wednesday programme on NBC radio on May 4, Gonsalves had chided the API for not properly editing press conferences and other government functions before showing them on television.
"They show you the whole long thing, and they wouldn't take out bits and pieces which they consider to be significant," the PM said then.
The API is now being manned by Sean Rose, who became it's Director on July 1,2022.