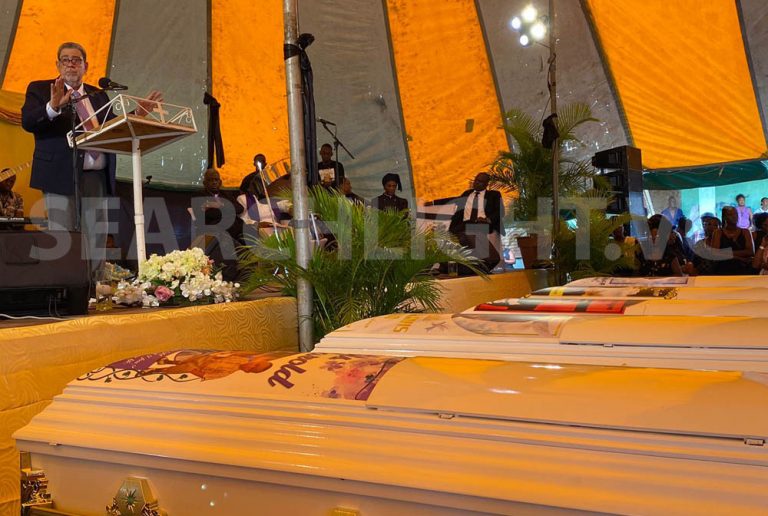 PM promises scholarships to honour Clare Valley five, Rock Gutter seven
Prime Minister Dr Ralph Gonsalves says the Government will introduce two new university scholarships from next September in honour of the Rock Gutter seven and the Clare Valley five.
The Prime Minister was speaking during the funeral service for the Clare Valley five, Khalil Robin, Govanni Barker, Kenroy Phillips, Elvis Logie Harold and Ishmael Dorrel Bruce.
All five died when the passenger van they were traveling in crashed on September 11 in Boney River, Old Sandy Bay.
Their joint funerals were held on Sunday at the Clare Valley Playing Field.
Gonsalves, Opposition leader, Dr Godwin Friday and South Leeward constituency representative, Nigel Stephenson all paid tribute to the men during the service.
All three arrived shortly before 10 am and went straight to view the five bodies.
The wails and screams of relatives, friends and neighbours could be heard throughout the viewing as dozens of people crowded in to get a glimpse of the bodies.
As the service carried on, hundreds of people packed the seats set out and those who arrived later spilled over to the nearby Clare Valley Government Primary School and onto to the streets around the play park.
In his tribute to the men, the Prime Minister said he will remember those family members and children of those who died.
In his tribute to the men, Opposition leader, Dr Godwin Friday said he found himself lost for words when he visited the community in the immediate aftermath of the tragic accident.
He extended condolences to the men's relatives, saying the sudden deaths of young people magnifies the pain felt by family members.