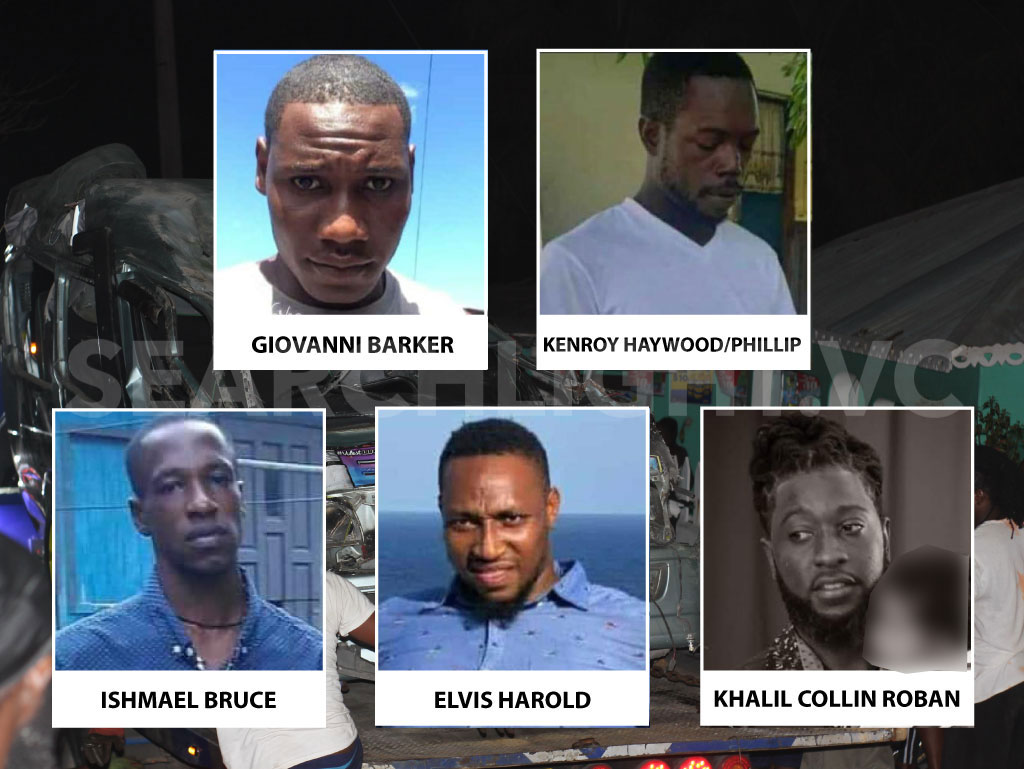 Front Page
September 13, 2022
Five young Clare Valley men die in van crash at Old Sandy Bay
Shock and horror descended on Boney River, Old Sandy Bay on Sunday when residents witnessed a gruesome road accident that left five dead and many seriously injured.
It was around 2:55 p.m on a very hot afternoon on September 11 when many of the people living in Owia and neighbouring villages were getting ready to attend the funeral of Rohan "Charla" Rawlins.
A van load of persons from Clare Valley were travelling in passenger van H8190 named "General", to attend the funeral.
It happened that at the same time some residents of Boney River in Sandy Bay were outside their houses grinding coconut, and others were inside their houses going about their Sunday afternoon activities or getting ready for the funeral.
Then suddenly, according to reports, the sound of screeching tires punctured the air, before a sound like "badadada" followed.
It was the sound of "General" losing control, and running off the road from a steep incline, knocking down a tree, and smashing through the structure of a garage.
Multiple individuals died on impact.
Bodies were outside of the vehicle lying on smashed concrete blocks in distorted positions; while others were hanging from the upside down wreck.
However, residents say it would be approximately 30 minutes before the ambulance could arrive.
"We were there about half an hour or so and no police jeep come. We were trying to help [the injured]," one of the young men of the area recalled.
A young female resident of the area heard the impact.
She said when she went outside the house people were saying "everybody's dead, everybody's dead."
"So I now say we have to check to confirm," she said, but no one was helping.
"Everybody was there, just watching, screaming down the place."
However, she said she helped some persons get out the overturned van.
They removed two persons first, one of who was a woman.
Ladders and plywood from a storeroom became makeshift stretchers.
There was a man inside the vehicle trapped, telling them, "he don't wanna die here, he don't wanna die here," the young woman recounted.
They tried a number of different tools before cutting him out, but not before he had lost a lot of blood.
She recalled that there was another man who they thought was dead, because he didn't seem to be breathing, but then she noticed he was swallowing.
"I said wait he's alive," she said, and then asked the other persons present to help her put him on a piece of ply board to carry into a vehicle.
"…In terms of help, they need to have an ambulance close by for situations like this," she commented, noting, "they took about half an hour to reach here."
In her recollection, the ambulance did not take anyone away from the scene, but rather it was private vehicles: a Kia vehicle, a truck and the manager of a funeral home.
She also said she was annoyed at the time because persons were livestreaming and sharing the live.
A couple owns the house that is attached to the garage where the vehicle smashed through and they were also at home at the time of the incident. The wife was in her bedroom, and was watching the live stream of the funeral from Owia.
Her bedroom is the next room after the garage, and her family concluded that if the garage wasn't there the vehicle may have crashed into the bedroom.
While watching the livestream, the wife heard the noise of the impact and ran outside.
"As soon as I run out from the bedroom to the living room all I could hear is bawling outside," she recalled.
In her case too, "All I could do is screaming".
The older woman, who apparently is hypertensive said she saw: "bodies in strange positions, gory head injuries", and a passenger with "his hand dey down with he head up and was bawling 'help, help, help'".
It is her second time being traumatized from such an incident as her brother's vehicle ran off the road in nearly the same spot. While her brother hung halfway out of the vehicle, her son said she had to try and assist him.
"She hasn't been feeling comfortable with living in the area because of the corner," her son said. He claimed that his father has been asking for a back wall for the area since 2007.
The police confirmed that the five Clare Valley residents who lost their lives in the incident are: Giovanni Barker, Ishmael Bruce, Elvis Harold, Collin Robin and Kenroy Haywood/Phillips.
Other occupants of the vehicle are said to be in stable condition after seeking medical treatment at hospitals in Georgetown and Kingstown.
There will be a candle light vigil tonight Tuesday September 13 for the five deceased.
Tonight's vigil is expected to begin at 6pm and persons are asked to take along their candles.