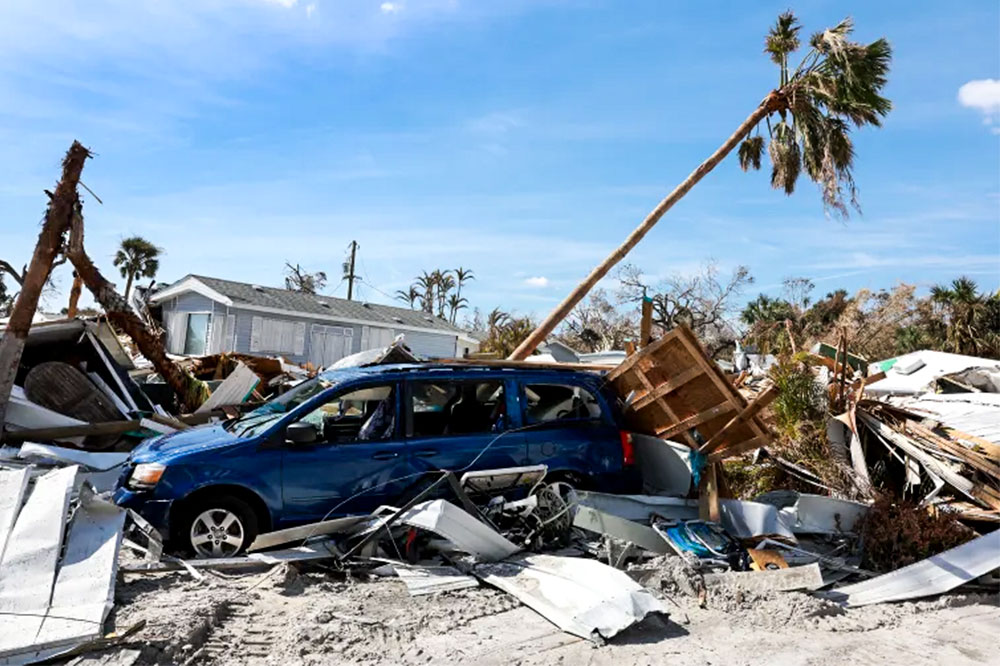 Vincentian in Florida drove through dark, heavy showers to escape Hurricane Ian
THE CONSTANT PING of tornado alerts on her mobile phone, trying to calm three small children, and high winds threatening to overturn their vehicle.
This was the experience of 32-year-old Arielle Sterling as she and her family mounted a last-minute evacuation out of Fort Myers, Florida, ahead of the 'monster' category four hurricane called Ian.
Sterling is a Florida resident, born to Vincentian parents who originated from Richland Park and later migrated overseas. The mother of five sat for an interview with SEARCHLIGHT in the aftermath and recovery of the hurricane which battered Southwest Florida, killing 102 people and causing an estimated US$75 billion in damage to Florida as well as in South Carolina.
When Hurricane Ian made landfall in Florida on September 28, it was pummelling 150-mile-per-hour winds. Meteorologists had predicted the accompanying storm surge could reach 18 feet and officials ordered the evacuation of more than 2.5 million Floridians on the morning of September 27.
"On Tuesday [September 27] I got this alert to my phone but I ignored it.Then I saw mandatory evacuation Zone B so I called my husband and asked if we are in an evacuation zone." Sterling said her husband advised her to stay, but she was not entirely comfortable with that decision. When he returned home from work around 10:00 p.m that night, he was still not keen on evacuating but she could no longer ignore the feeling that they would be in danger if they stayed.
"He asked me again if I'm sure I want to go and I started questioning myself and then at the last-minute I decided, I'm not going to chance it."
By the time the family, which included seven month-old twins and a four-year-old, got on the road, outside was dark and heavy showers had already started. They had to race against time to beat the hurricane which had grown rapidly within the previous 24 hours.
"I just remember holding on to the two chairs and holding my breath because the wind was pushing us and the car is going side to side.We were driving through tornadoes, there are no street lights, it was just raining and pitch-black on small tiny
roads with water on each side," Sterling explained. She admitted the hardest part of the journey was trying to keep herself and her three small children calm.
By 1:00 a.m, the family finally made it to Fort Lucie where they rode out the hurricane with her brother's family. Back in Fort Myers and other surrounding counties in the Southwestern region, Hurricane Ian covered homes in flood waters, ripped homes apart, and knocked out electricity to more than 2.6 million customers across the state.
Sterling was fortunate to have suffered minimal damage from the hurricane, although some homes in her communities were not as lucky.
"Everyone's homes were messed up, trees and garbage all over the road. Our house was just sitting there with nothing wrong with it. The only thing was that the gutters were blown off."
Her advice to Vincentians at home when evacuation notices are issued is to leave immediately.
"Although we went through so many hurricanes, when they tell you to go, get up and go. Be prepared at all times because you don't know how devastating it could be. Follow your gut."