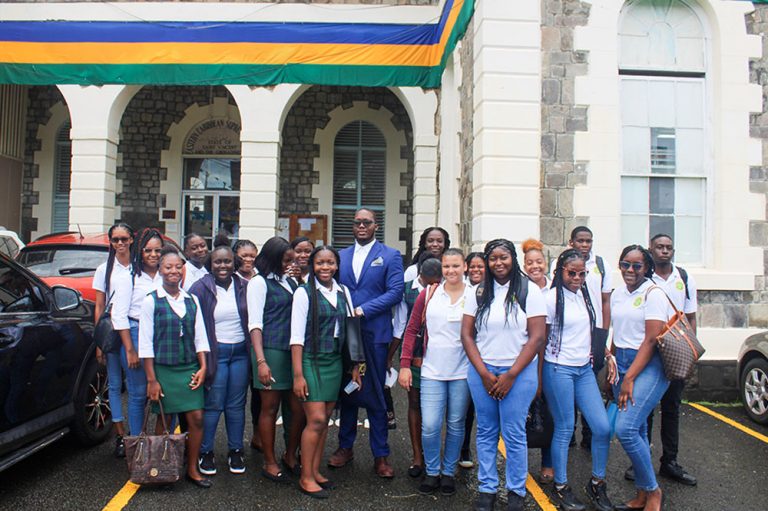 Community College Lecturer exposes his students to real life court proceedings
LAWYER AND LECTURER at the St Vincent and the Grenadines Community College (SVGCC), Adrian Odle is exposing his law students to court proceedings so they could benefit from the experience first hand.
Odle, who began lecturing at the college in 2020 began to take his students to court last year.
On Wednesday, October 5 outside the Serious Offences Court, Odle told SEARCHLIGHT that when he started lecturing at the college one of the things he wanted to do was to get his students to visit the court regularly as he believes this will help inspire them in their studies.
Odle, who is a lecturer of Paralegal Studies and CAPE Law at the SVGCC had taken some of his students to court that day.
He noted further that after the students finish their education at the community college, they have to move on to university to get their law degree and even law school in order to start practising law but a number of them don't necessarily go on to further studies.
"We have to shift from only teaching theory within the classroom and introduce practice," the attorney and lecturer said.
" I don't believe students should just sit in a classroom and learn and regurgitate theory, they should also see the theory that they are being taught actually be put into practice and that is one of the reasons why I am pushing for Law students to visit the courtroom," he added.
Odle said he wants his students to distinguish reality from fiction as he thinks " a lot of law students read or they might watch a TV series and they may think that is what being a lawyer is all about. However, being a lawyer is much less exciting and it entails a lot of research and order."
SEARCHLIGHT also spoke with a few of the second year students who had gone to court with Odle.
Sheniece Grenee, a student of paralegal studies said her first experience at the Serious Offences court was really interesting.
"…to see all the trials and as an aspiring lawyer it is a good foundation for what I want to do in life."
She was grateful for the opportunity to visit the court saying, "can you imagine a lawyer without not actually knowing what is supposed to done in court? Therefore, if I start learning at a young age I think I will be able to catch up for when the time comes."
Stafern Hackshaw said that his experience attending court was wonderful and very enlightening because he was able to get a first hand experience of what is going on — seeing the magistrate and other officers of the court at work.
And Jelancia Spring and Derian James who are both final year students of the CAPE Law programme who attended court on a separate occasion said they believe that going to court is beneficial because they get to see what they have learnt in the classroom, actually put into practice. They are learning how to develop good court etiquette.
In addition, they now realise that what they see on television isn't exactly how the proceedings are done in real life.
Odle, a young attorney operates his own law Chambers in Kingstown.